From MEC's new capsule collection to Gucci's ongoing collaboration with The North Face, brands are updating archival styles with the latest garment technology to create fashion-forward skiwear. Welcome to the era of slopestyle, where fashion truly meets function.
The skiwear trend is in line with the rise (or resurgence) in 'ugly' street fashion: chunky-soled shoes, wide-legged pants, and bold colours that don't match. These clothes rebel against prevailing standards of what's beautiful or cool—they're for everybody, and every body. In a nostalgia-fueled fashion era, the heritage skiwear styles making a major comeback, from the oversized, parachute silhouettes of the '90s to the garish colour-blocked parkas of the '70s and '80s, feel totally of the moment.
Slopestyle is the natural extension of—or successor to—gorpcore, the trend in which outdoor gear gets a street style spin. The movement is typified by a utilitarian uniform of Merrell boots, a Sandy Liang fleece and an Arc'teryx shell jacket. The gorpcore style crew could pass for amateur hikers. The slopestyle gang, on the other hand, looks fresh off the chairlift—and they probably are.
"You can get a lot of people into it because of the wardrobe aspect," says stylist Nadia Pizzimenti of slopestyle, which appeals to both style conscious skiers and fashion enthusiasts. And like golf, tennis or skateboarding, "I think you can re-engage a whole different clientele into a sport just via the aesthetic." Pizzimenti, a skier herself, says that because skiing is a pandemic-safe activity, brands like the upmarket French skiwear label Perfect Moment are poised to become slopestyle staples. Its retro styles, like slim ski pants and colour-blocked jackets, are made with down insulation systems to keep the wearer warm, but still looking cool. "I invested too in a lot of things that I had been holding off on just because I had nothing else to do. [And now] skiing is something that you can do," she says.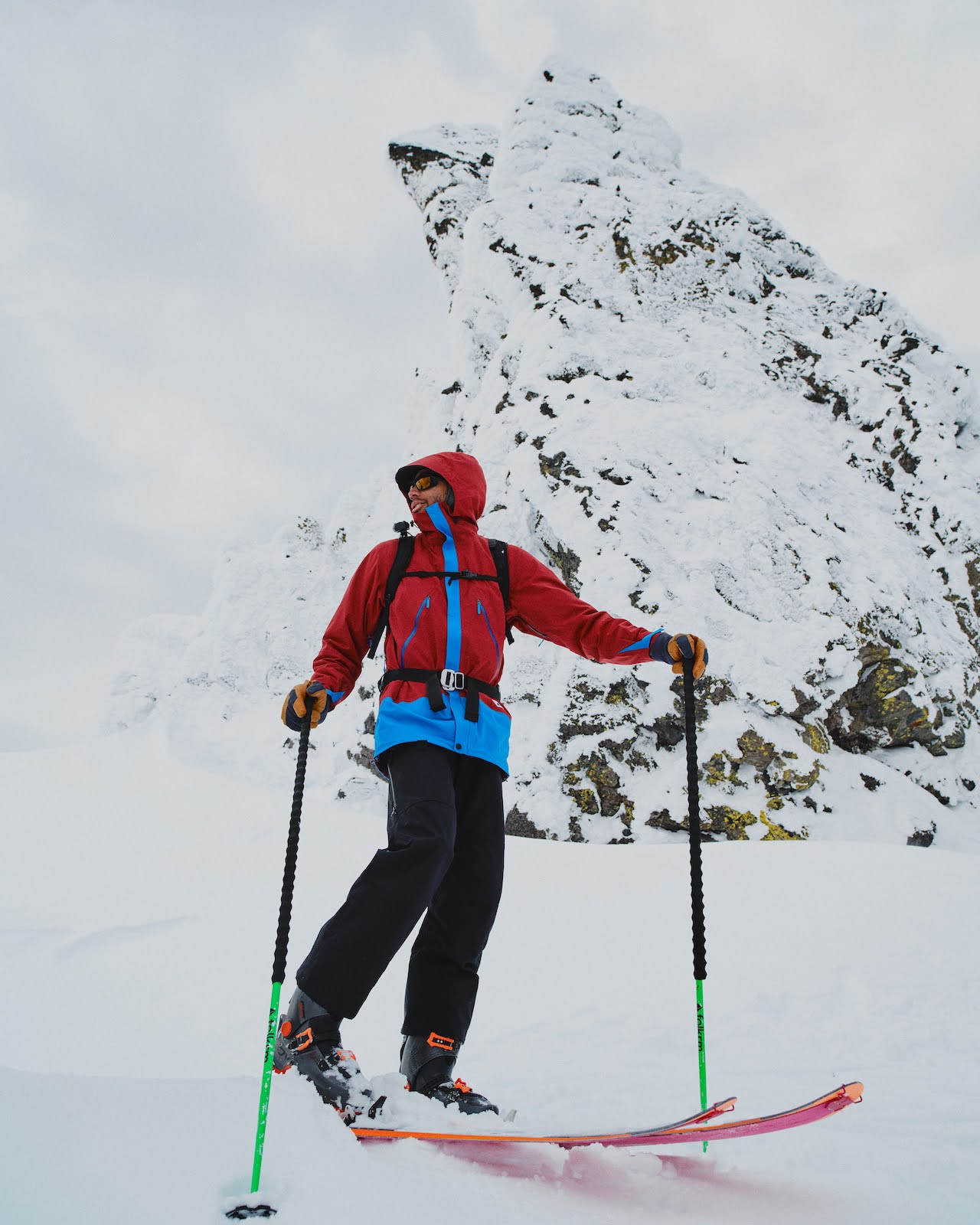 Canadian outerwear brand MEC is also getting in on the trend with its new Apex Backcountry Ski Collection of reissued '90s styles updated with innovative fabrics. Classic pieces like the colour-blocked Icefield Jacket get a tech upgrade with a polyurethane membrane made by electrospinning super fine nanofibers for better breathability and weatherproofing. Heritage styles like parkas, ski pants and backpacks also get a materials upgrade.
The trend is taking hold of high fashion, too. Gucci and The North Face's "second chapter" offers an eco-friendly luxury spin on outdoor gear, accessories, and shoes. Products are rendered in a recyclable nylon while The North Face's archival '70s prints get the Gucci logo treatment. Miu Miu, Prada's sister label and another Italian heritage label, devoted its Fall 2021 collection to "mountaineering dress" featuring glossy puffers in the house's signature pattern, logo-heavy ski mitts, and furry, knee-length boots.
From the streets to the slopes, retro-inspired technical skiwear is this winter's wisest investment.
---
Photos courtesy of MEC. Read more fashion stories.