When Justina Anzulovich answers her phone, she has just finished opening an email from Selfridges.
"They said they loved the look book," she says from Los Angeles, where the Vancouver native is now based. The look book in question is that of her clothing company Top Expert, a manicured line of luxurious basics designed to fit into the wardrobe of the Gucci– and Prada-clad woman.
"My starting place to develop Top Expert was really that I just wanted to create a high-end line of essentials," she says. "What I thought were the most beautiful pieces you could wear every day, and create a foundation for the rest of your wardrobe to build around." Top Expert's small offering of T-shirts, tank tops, and long-sleeved shirts are made to pair underneath a Chanel blazer or alongside some Comme des Garcons culottes—or even with a pair of Nudie jeans.
Anzulovich cut her teeth at A.L.C., also doing work for Co Collections and Band of Outsiders. "A lot of my background was creating textiles for these beautiful brands, so my focus has always been there: fabric first," she says. "It really makes the design come alive." As such, Top Expert items are created around the material—which itself is often a completely new invention. There are viscose T-shirts, linen tank tops, and, with the latest collection, an expansion into silks and sweaters. Many of the materials and most of the shirts are produced in Los Angeles, using the same manufacturers as brands including The Row and Rodarte.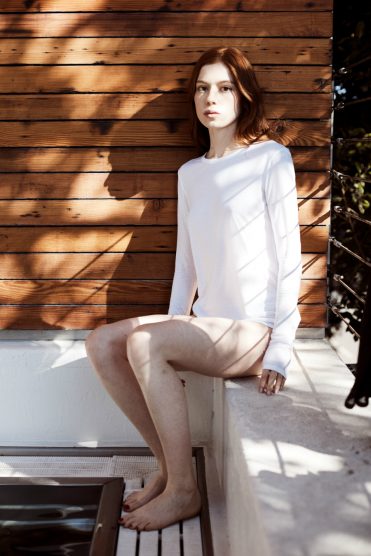 It's perfectly basic, but in the good sense of the word, culminating in the softest T-shirt and comfiest sweater—that don't sacrifice shape or style. "What I think is beautiful is the form and functionality of the clothing," says Anzulovich, who attended post-secondary at Kwantlen. "How does it work with the rest of your wardrobe? Does it help pull the rest of your wardrobe together?" She's thinking about today's woman: one who is probably taking on too much but can handle it all, who wants something of quality that outfits can be built on or finished with.
Top Expert is carried at boutiques in Los Angeles and Japan, as well as at Vancouver's Misch on South Granville. Anzulovich is careful with her baby, approaching the stores she feels are in line with her overall vision of the female wardrobe. "We only sell to boutiques that also carry luxury brands, and we want to be the foundation garment in that structure," she explains. "To provide basics to people who are buying luxury clothing. I don't do trade shows, and I don't have a showroom—all of the sales have been very organic. I kind of go after the stores I want to work with." The shirts are also available online, and a set of three comes in a sleekly branded box that demonstrates Anzulovich's attention to detail and focus on quality. But really, that story is best told through the garments.
---