WWI was fought by troops who dug down into trenches for protection and their armour against the elements was a coat that still remains culturally relevant today, though far removed from it's harrowing origins.
No one's entirely sure who should take credit for the invention of the now instantly-recognizable piece of outerwear, but two venerable British brands lay claim. Tailor and entrepreneur John Emary of Aquascutum patented waterproof wool in the 1850s for officers to wear during the Crimean War, while Thomas Burberry invented gabardine in 1879 and promptly submitted a design to the United Kingdom War Office for an army officer's raincoat. Burberry's lightweight fabric—breathable and waterproof—was a game-changer for those on the field who'd previously been burdened with heavy capes and other layers of clothing. Roomy enough to fit atop an overcoat with large pockets to accommodate maps, shoulder straps added to attach epaulettes and other military ranking signifiers, and hardware placed strategically (such as D-rings for the perfect hand-grenade clip).
Over the years, the trench coat's military bona fides gave it street cred. From Humphrey Bogart in Casablanca to black turtleneck-wearing intellectuals in the 1960s, the coat earned its stripes as both an industrious workhorse of the hall closet as well as a fashion statement powerhouse. Its enduring power has always been its ability to be both classic and stylish, a symbol of strength and mystery and— originally the outerwear of officers only—always aspirational.
As inclement weather settles upon us, it's time to dig deep in this season's crop of trenches to keep us dry and safe from the ravages of winter.
Burberry Hurst Waterloo Cow Camo Coat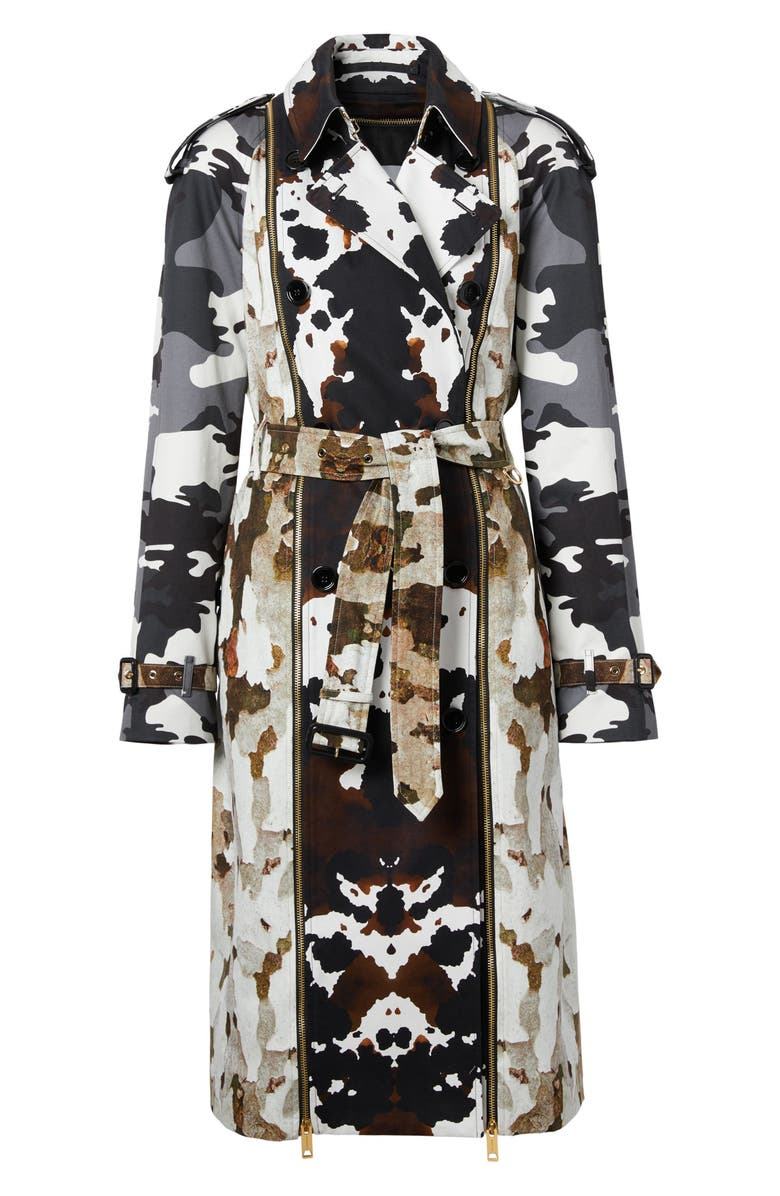 The key to adventure has always been the right gear. Ernest Shackleton was not the first nor the last polar explorer to set out in waterproof Burberry gabardine (Thomas Burberry knew how to work a celebrity angle.) Adventurous spirits unite with Burberry's Hurst Waterloo Cow Camo coat that riffs on the seriousness of the original trench coat's DNA. Clean lines dovetail with camouflage, a detachable, cow-spotted panel that can be unzipped to create front splits, classic belted cuffs, and epaulets to round out the look.
Cotton Asymmetric Belted Trench Coat by Alexander McQueen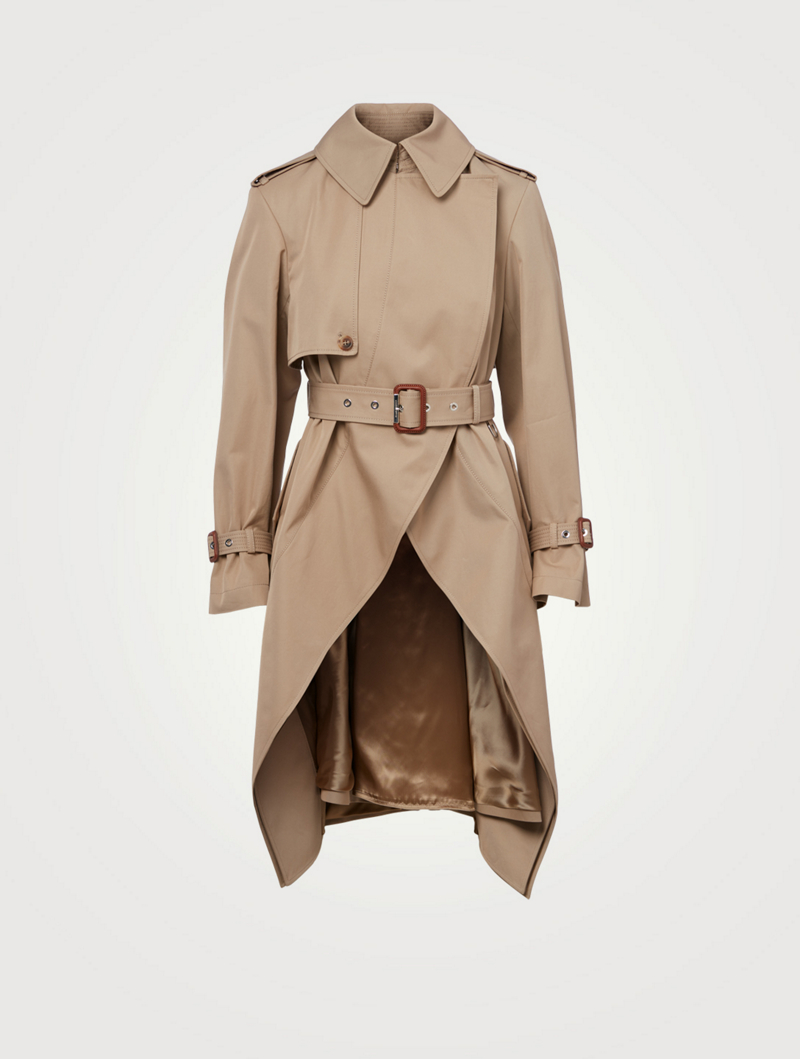 If you've ever watched McQueen, the Alexander McQueen documentary that chronicles the life of the storied yet tortured British designer, you'll know he had an uncanny ability to capture sexy and serious. This made-in-Italy asymmetric belted trench coat is business at the top with a double-breasted silhouette and epaulettes, but party at the bottom with waist-cinching belt and asymmetrical hemline. Edgy and elegant.
Corduroy Trench Coat, VVB by Victoria Beckham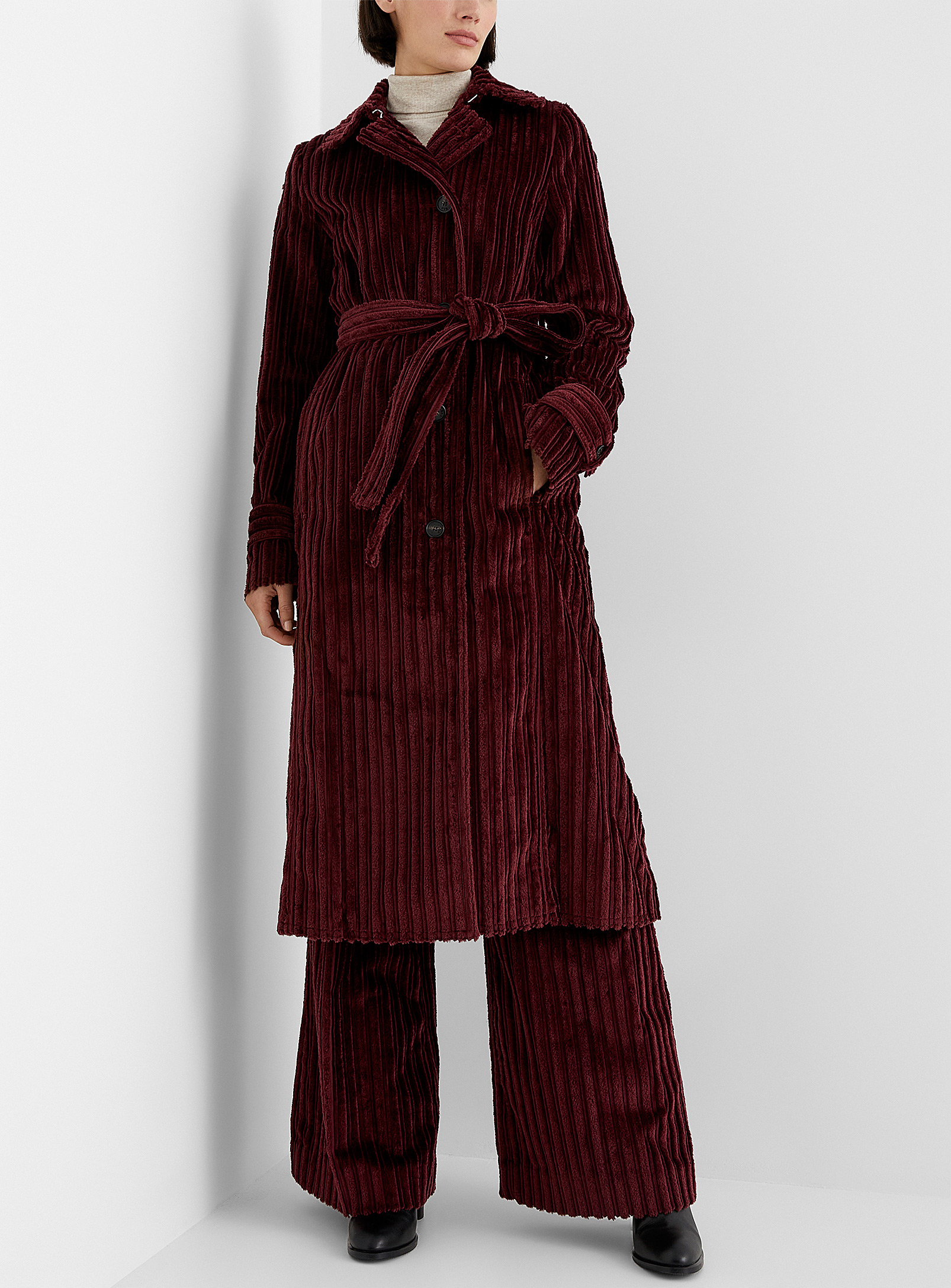 The beauty of a trench coat is that its classic proportions can translate to almost any fabric. This corduroy jacket in a shade of winter-ready wine from VVB by Victoria Beckham works both dressed-up or -down over jeans. The straight cut—in cozy soft-ribbed cotton velvet—features classic trench detailing like button loops on the cuffs and a matching belt.
Cavalry Trench by Canada Goose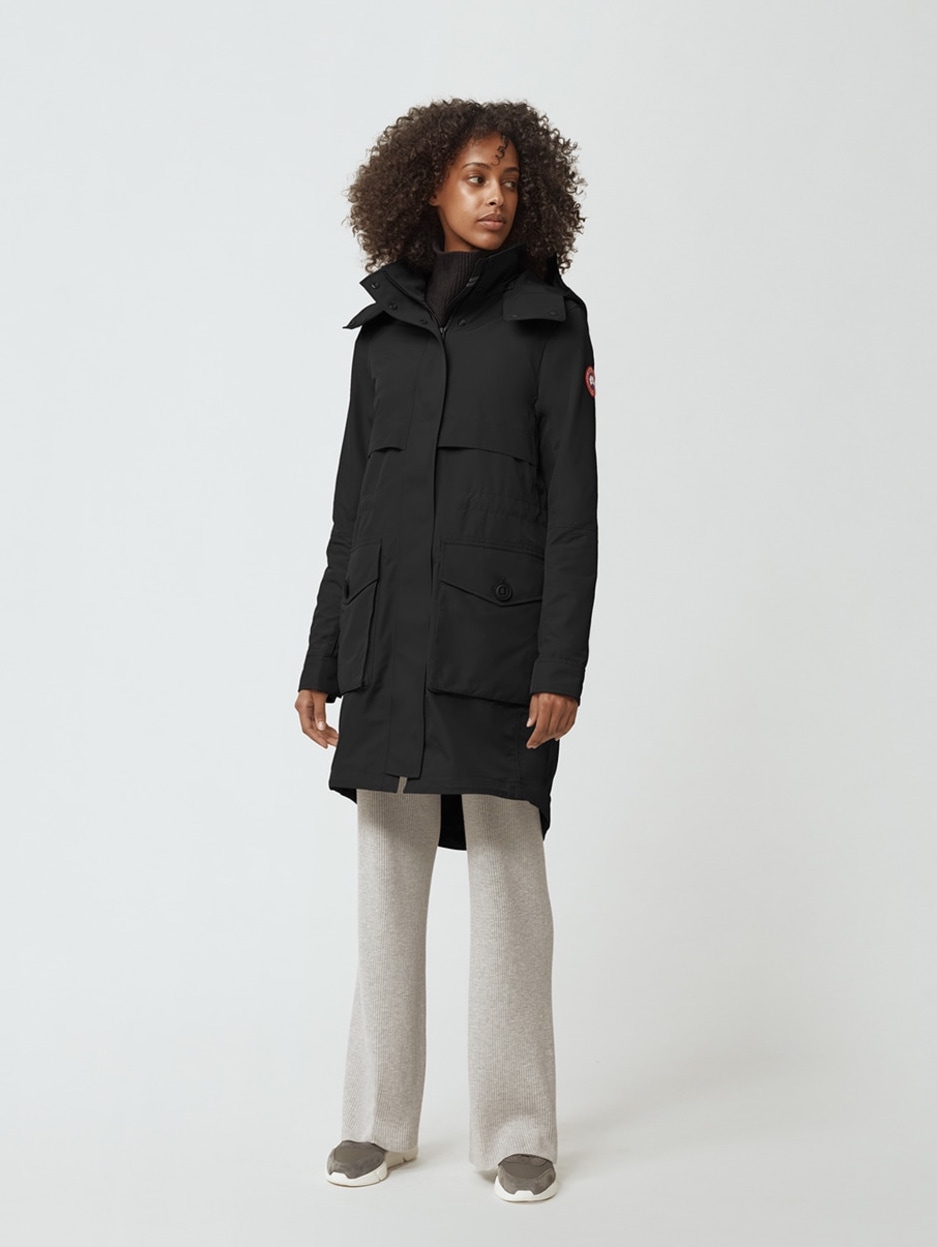 The Cavalry Trench by Canada Goose takes styling cues from a classic trench coat—adjustable cuffs, drawstring waist for cinching and traditional storm shield venting or flaps—but keeps it short and lightweight. A military button closure over the back venting helps with airflow and breathability but keeps the cold out.
(+ J) Cashmere Blend Wrap Long Coat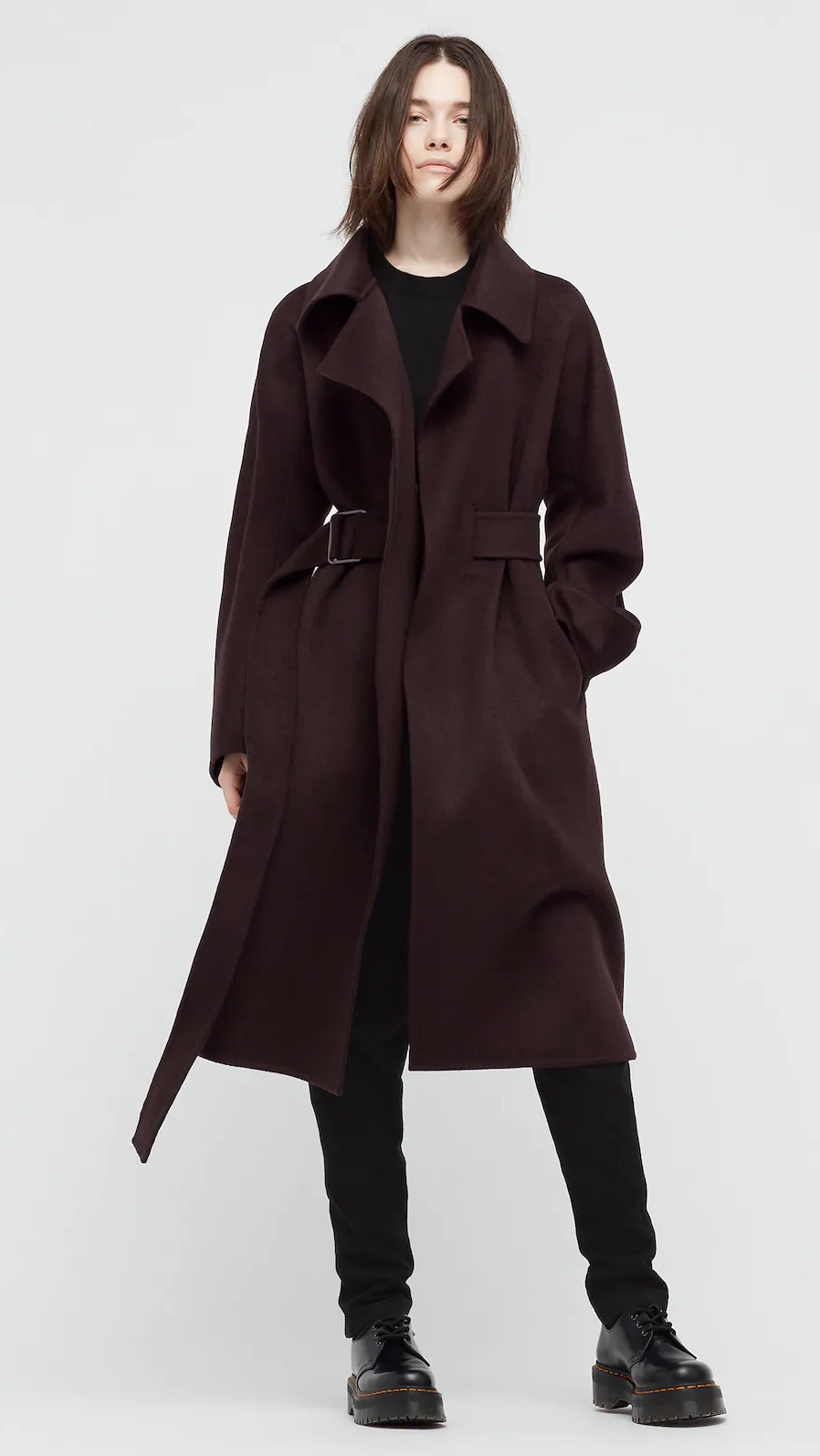 Rumour has it that one of our favourite collaborations—Jil Sander and Uniqlo—is coming to an end with the +J Fall/Winter 2021 collection from Uniqlo launching November 18th. Sander first began her legendary capsule collections with Uniqlo in 2009, bringing high-fashion tailoring and textures to everyday basics. The Cashmere Blend Wrap coat reimagines the classic trench for a modern world post-pandemic. Warm and enveloping, it keeps us cocooned, but still stylish and ready to reemerge after a long battle on the homefront.
---