Dame Zandra Rhodes first met John Fluevog 25 years ago in New York—his shoes, that is. She bought a pair of green suede Munsters, Fluevog's towering platform heels with a buckle strap. They were fabulous. Nobody she knew had them, and the British textile designer proudly walked about in them wearing a matching green velvet suit with handmade frilled bottoms.
Today, Rhodes and Fluevog sit beside each other at the John Fluevog Shoes flagship store in Vancouver's historic Gastown. They've just launched a spring/summer capsule collection that combines some of Rhodes' most iconic textile designs with some of Fluevog's most iconic shoes in five new styles and colourways.
Though they've only recently met in person—"Somebody smarter than us two put us together," Fluevog laughs—Rhodes and Fluevog are kindred spirits. Both developed their brands in the 1970s. Both have been synonymous with music and cultural movements: Rhodes was nicknamed the "Princess of Punk" after she put cutouts and beaded safety pins into couture for her 1977 Conceptual Chic collection (Versace would do the same years later with a dress famously worn by Elizabeth Hurley); Fluevog's Angels boots became a cornerstone of grunge, and rock and roll has reverberated through his work, with collaborations with the Dandy Warhols and the family of Jimi Hendrix.
Rhodes, sporting her signature hot-pink bob and cobalt eyeshadow, beams at the new collection arranged artfully on the table in front of her: Minis, Munster Maxes, and 7th Heavens in colourful, exclusive adaptations of Rhodes' Wiggle Flower, Stripy Wiggle, and Swirly Wiggle Flowers. She turns to Fluevog and smiles. "I just think that your lot have done a fabulous job."
Fluevog nods. "I'm going to ditto that and say that my lot did a fabulous job. It was a team effort. And I think one of the real nice things about this collaboration has been the working together of both parties. And there was never a point where it got messy or people got growling at each other—"
"It was just give and take," Rhodes continues. "This will work, that will work, why don't we try this? And then they'd send lovely ideas over. And then we'd suggest some other things, you know, and what prints would look good? Each time, we've tried to keep them looking very typical both of a Fluevog product and a Zandra Rhodes pattern that goes with it beautifully."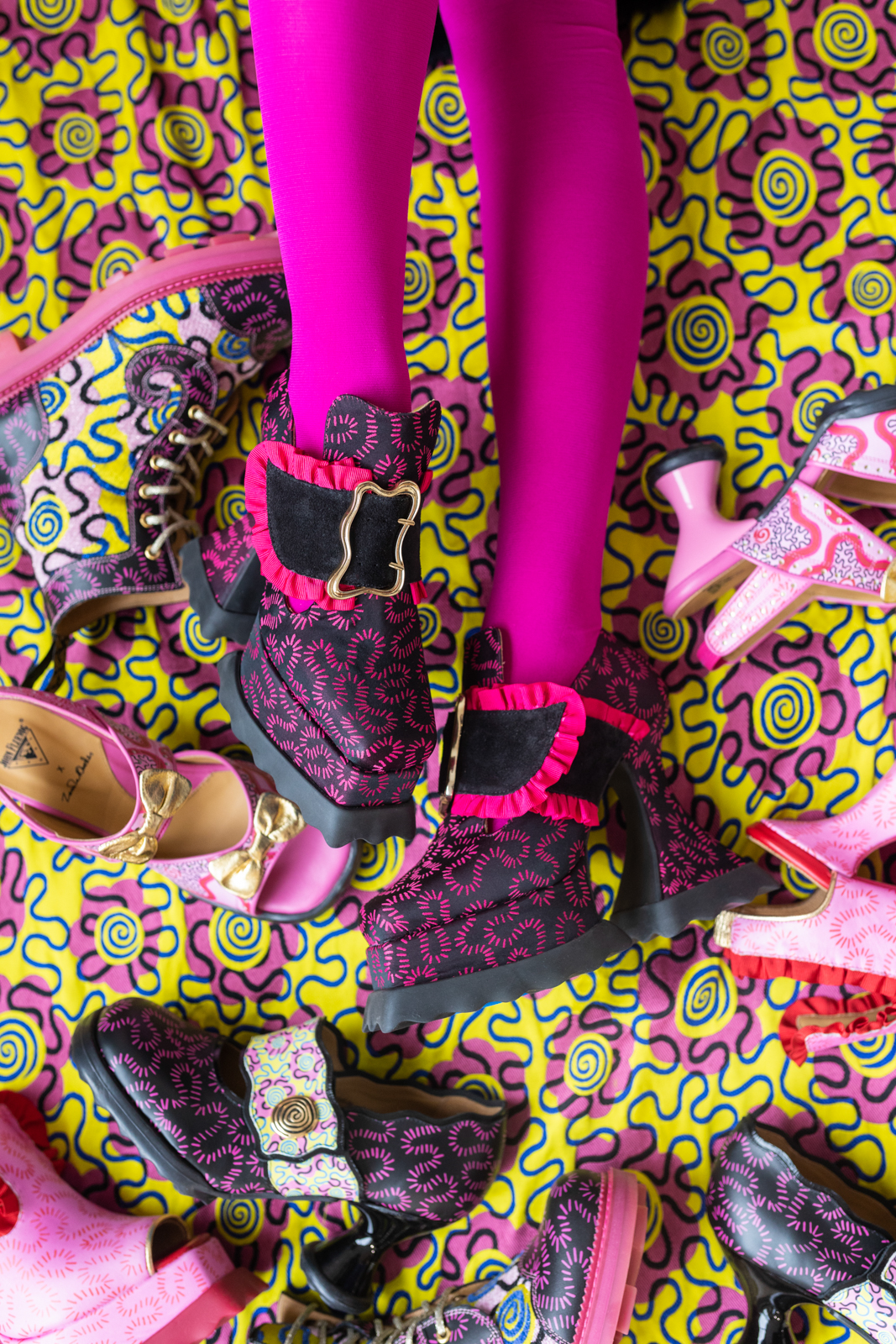 The collection embodies the groovy spirit of the 1970s. That's when Fluevog, in 1970, opened his first shoe store with Peter Fox—Fox and Fluevog—in Gastown. One of his first designs was the Pilgrim, a dusty pink Victorian-inspired loafer with a thick buckle strap. Fluevog soon realized he didn't want to just sell other people's shoes. He needed to focus on his own product to stay in business—and to grow, personally and creatively. "I never got into college. I couldn't. I was dyslexic. I had bad grades. So it was, in a sense, like a last resort for me, but it forced me to start to do my own thing," Fluevog says, adding that he thinks it was a sense of insecurity that actually fuelled his business. "You could say that my business has been an exploration of me finding out both who I was and how I was made—which now leads me to say that probably the ethos of my brand is basically telling people that they're okay. You're okay to be different. You're okay to look different."
A year before Fluevog opened his store and after graduating with honours from the Royal College of Art, Rhodes set up her eponymous studio in West London. One of her first designs—a handprinted yellow coat—was modelled by actress Natalie Wood in American Vogue. "I was designing patterns that people couldn't imagine being used on products," Rhodes remembers. "I was printing my own fabrics. And then when I couldn't sell those, I made garments from them. So really, rather like John was making shoes, I was making garments with the prints on them. … For me, when I think of what my prints can be used for, we try and think of what would be fabulous. And a lot of the time, would I wear it?"
Rhodes' bold prints and glamorous designs cemented her as an influential force who helped put Britain at the forefront of fashion. Musicians were drawn to her unique style, and she dressed Freddie Mercury, Marc Bolan, and Diana Ross. Donna Summer wore a Zandra Rhodes garment on the cover of her 1977 album, Once Upon a Time. Rhodes launched Conceptual Chic that same year.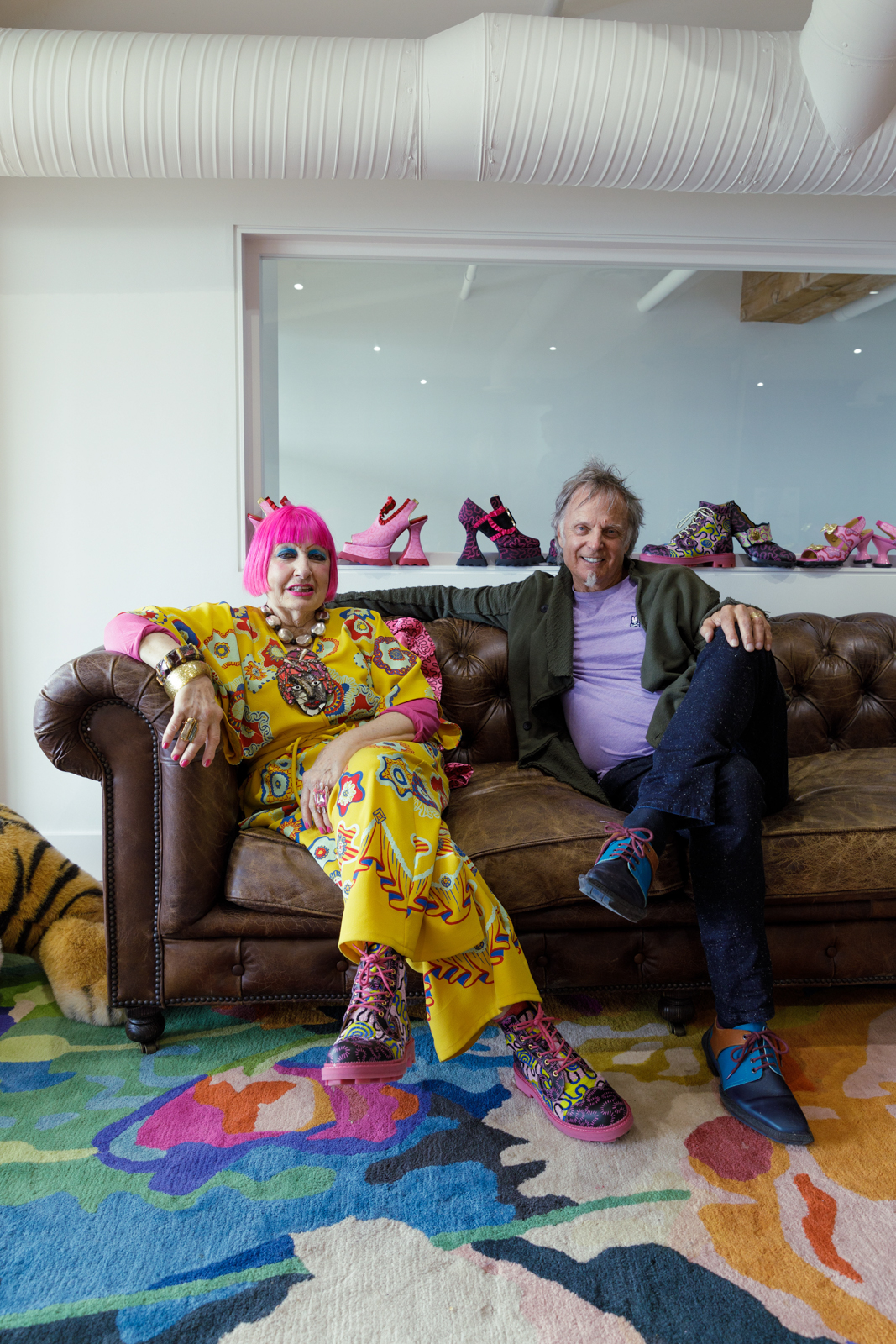 "I think, as a designer, you go through different periods of what's going to influence you," Rhodes says. "We take influences from the air, as it were … so in the same way, punk was going on in the street, and at that time I had a very chic shop in Mayfair in London. My partner had a heart attack, and I thought, I'm going to try doing some dresses with real holes and safety pins. And they didn't sell well at all. But the Met now has a collection of them."
Fluevog himself was immersed in Vancouver's music scene as punk bands like D.O.A. and Pointed Sticks were making noise in the local underground. He was likely the first North American retailer to import Doc Martens boots in the 1970s, which became identified with the genre—and also some of its dark underbelly. By the 1990s, as grunge was sludging in from Seattle, Fluevog developed his own response to the popular boot: Angels. They began with Angel soles, developed to be environmentally responsible using natural latex from the hevea tree.
"It was a back-ass rebellion, because I saw all these punk kids wearing Dr. Martens and they were skinheads and they were haters of all kinds of things," Fluevog says. "I decided to put angels on the bottom, because they are a whole lot more heavenly than devils. And I just was wanting to spread a little peace, joy, and love out there rather than hate. I thought, well, why do you need to go to the dark side to be fashionable?"
Rhodes picks up the Ruffle Lady Miss, a hot-pink platform slingback Munster Max from the Fluevog x Zandra Rhodes collection. It has a wiggly sole and dashed wiggles that swirl across the leather. The Wiggle has become a quintessential Rhodes pattern. "I actually think I first started to draw that even when I was at school," she says, "and then perfecting it and making sure I could do it easily and wear it out." She points to the 7th Heaven Derby Swirl boot. "This was rather fabulous because it's like the wiggle all over and yet it turns into flowers, you know what I mean? So it's got sort of a very feminine look to it, as well as a set pattern that goes over everything."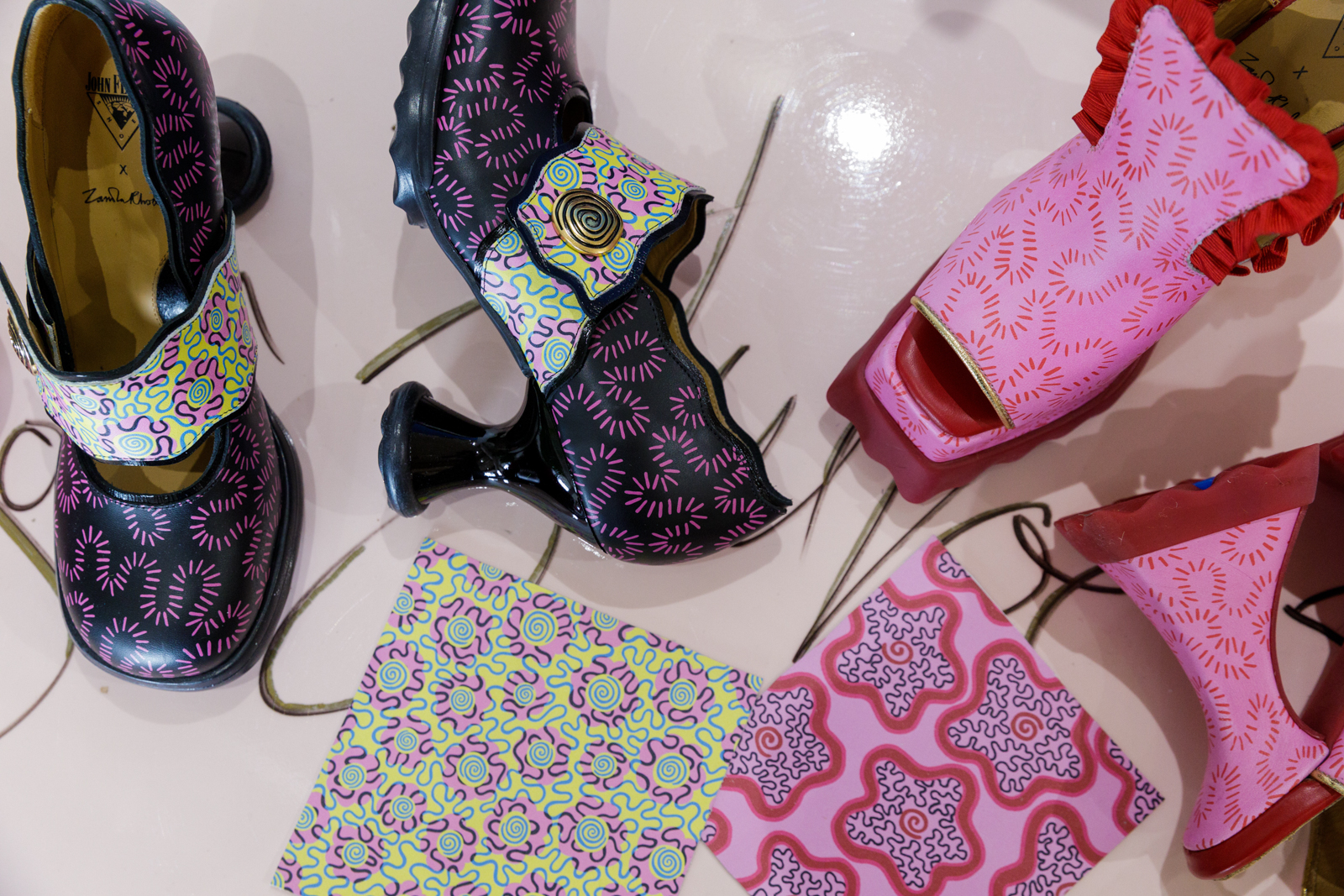 "Zandra's been in a unique position to have lasted this long and still be relevant," Fluevog says.
"I think it's the same with you," Rhodes adds.
"Same with me, yeah," Fluevog agrees. "And I believe she did that because she, like myself, we lived through the ups and the downs, but basically you start believing that you're okay. The things that we think are okay, we just carry on with it."
"You have to, and you have to push," Rhodes continues. "You have to have that belief, even though sometimes people try to knock you down."
Both Rhodes and Fluevog have built enduring legacies around attention-demanding designs that buck convention, incite joy, and honour originality. Their styles, true to themselves and their ethos, are timeless. "I think that the stuff that John produces rises above fad and fashion," Rhodes says. "I think the shoes that John makes, one covets. They're special, amazing shoes that don't date, that don't follow a fashion⁠—they follow their own. They've got their own style that they create, which is quite wonderful. ​​And so it was a privilege that John agreed to do something together with my prints."
When wearing their capsule collection, Rhodes says, "I hope people feel very special."
Fluevog smiles. "And I hope people feel like themselves."
---
Read more local Style stories.