A year ago, when Braden Quinn first thought to collaborate with a fellow sustainable designer on a creative project with a charitable mission, his motivation was clear: he wanted consumers to treat clothing as they would people.
Feeling crippled by the intense isolation wrought by lockdown, Quinn, who specializes in reworked denim, T-shirts, and sweatshirts made from reclaimed materials under the brand Tapes, teamed up with Jamie Dawes of Fyoocher, known for her patterned, colourful pants made entirely from upcycled and deadstock materials.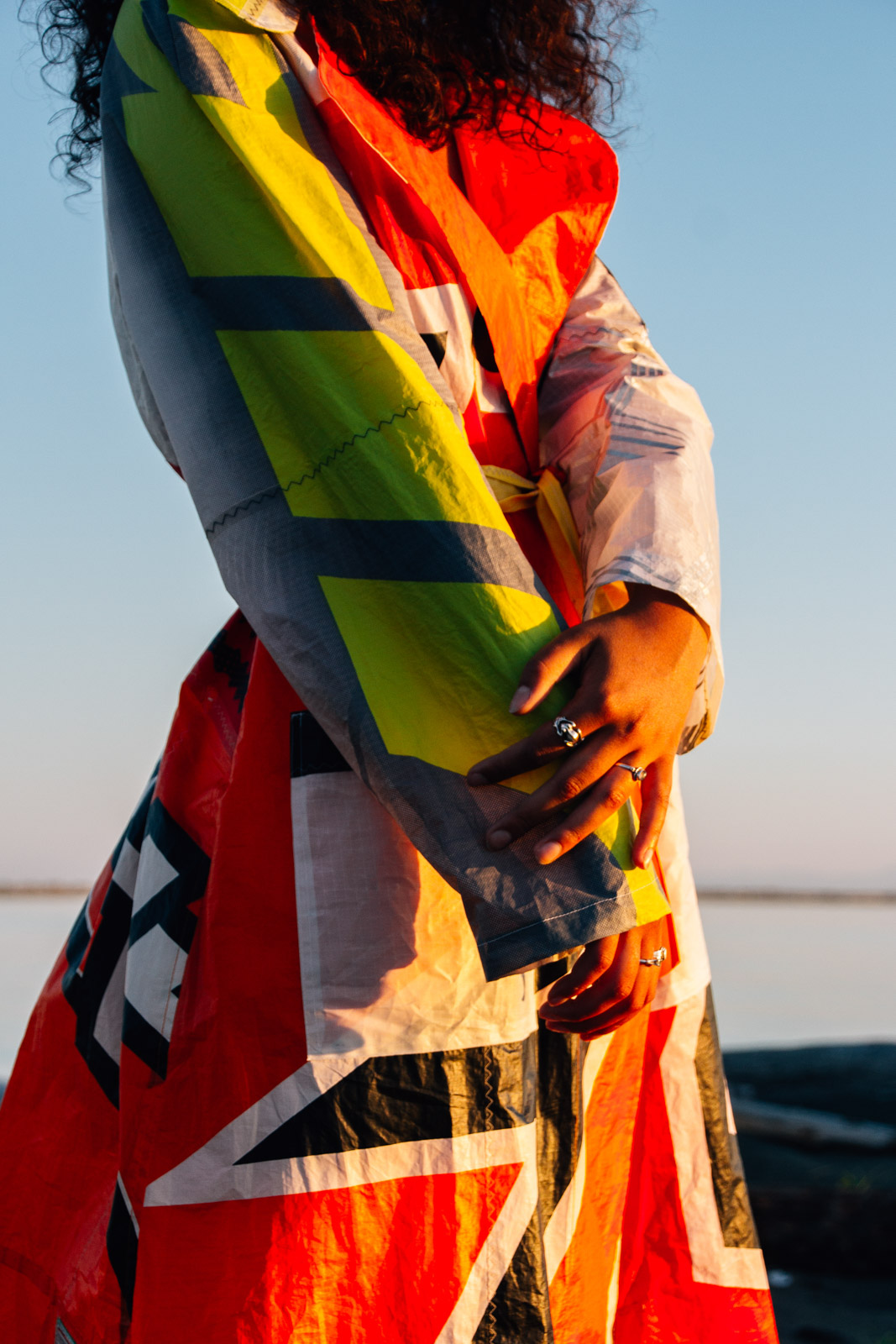 The result is a trench coat made entirely from a used kiteboarding kite, and its creation has been documented in a surprisingly moving, poetic short video directed by Quinn and cinematographer Kyle Murdoch. The coat will now be raffled off over the next two weeks (starting March 15) with proceeds going to Wirth Hats, a Vancouver company that raises money through hat sales to help lower-income people access mental health and counselling services.
The partnership makes sense. Dawes and Quinn sought to combine their dual commitments to sustainable fashion and safe and accessible spaces for people struggling with mental health challenges, which, for many, have spiked since the pandemic. "Some of the loneliest times in my life have been within the last year. And that's the case for a lot of people," Quinn says. " [This project] has given us the ability to talk more openly about our feelings."
They also hope the project will show consumers the importance of sustainable clothing production and handling their garments with care—rather than treating them as if they're disposable.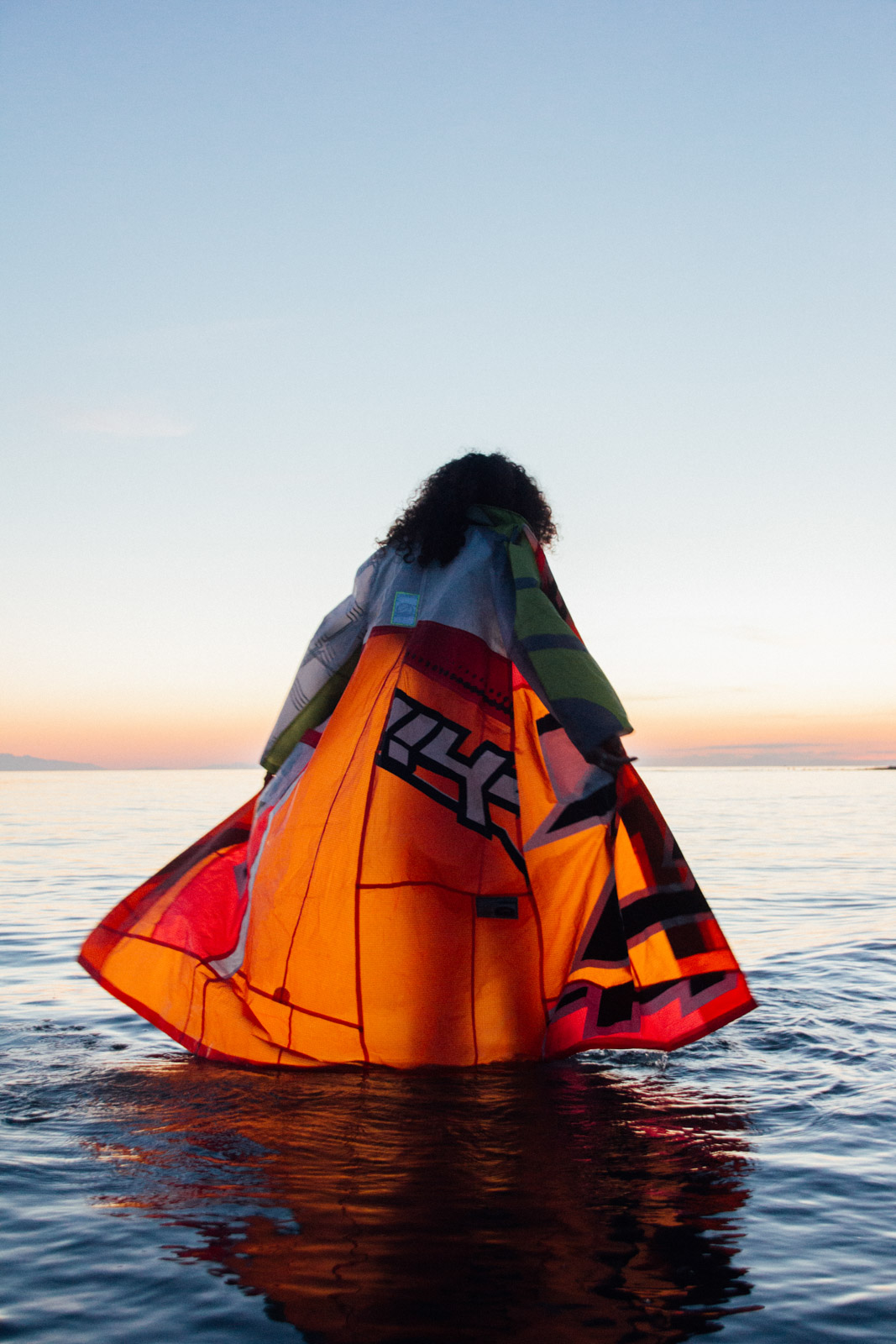 With time paused and responsibilities suspended, many of us have shifted our attention to larger conversations around sustainability and ethical consumption, especially in fashion, where the human and environmental toll of the seasonal production cycle goes largely unchecked.
Both Fyoocher and Tapes produce small-batch, limited-edition clothing handmade from existing materials for a younger generation of conscious consumers who bristle at mass-produced garments. They are part of a new wave of independent, sustainable designers trying to educate consumers about fast fashion's often perilous production processes.
"Even if you're spending $1,200 on something, and you feel like you're going to keep it forever, it's still mass production," Dawes says. "That's kind of where the little guys are stepping in and really trying to take over—making things ourselves, making garments from waste and materials that already exist. I think it's just trying to reeducate people on the real cost of a garment."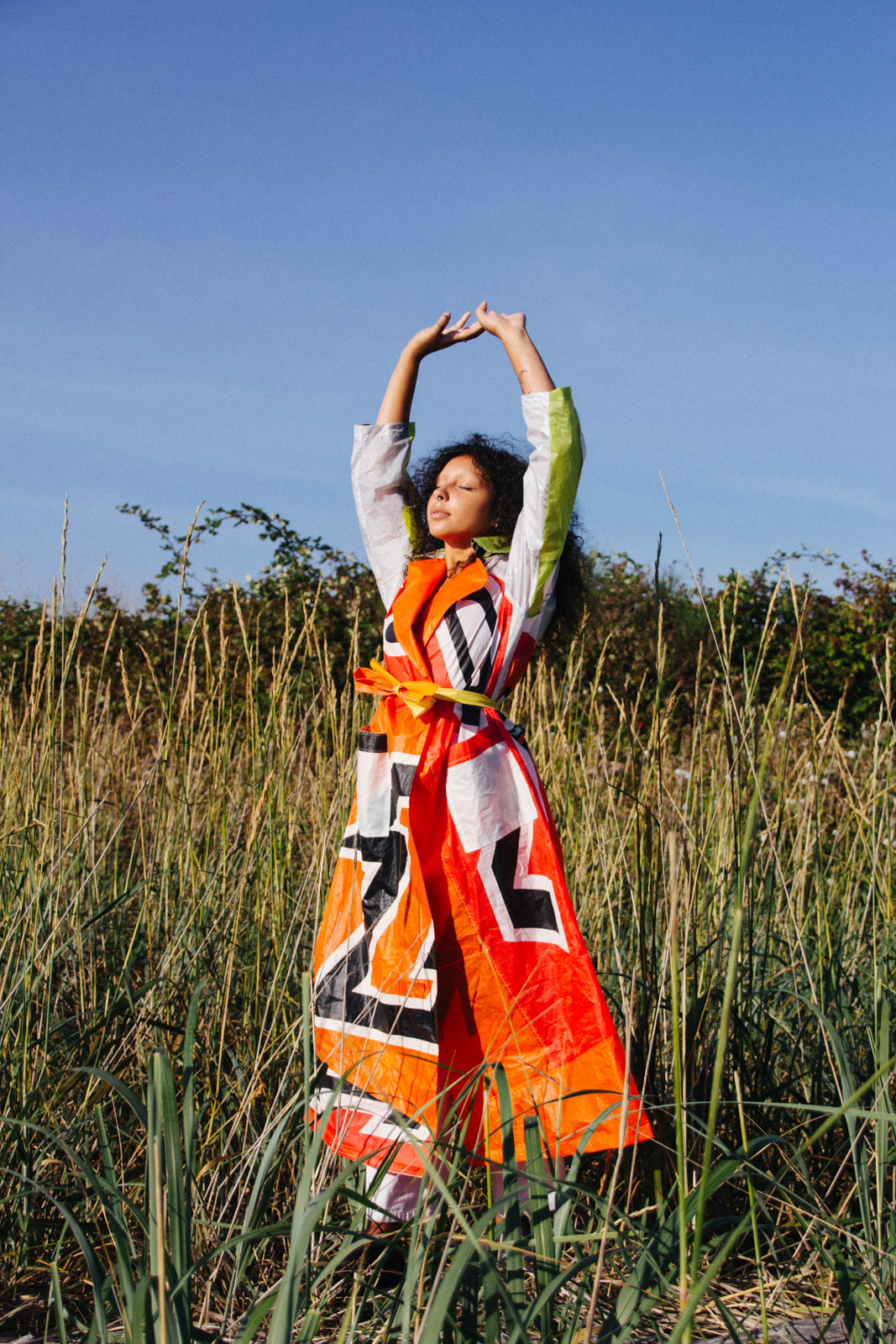 Sustainable processes such as upcycling—or creating new garments from existing waste or materials—have recently been evolving from marketing copy to more standard practice. Once thought to be the exclusive domain of crunchy poncho designers, within the past few years the terms "ethical fashion" and "sustainability" have been published in the pages of every fashion magazine, press release, and Instagram caption in an attempt to catch up with a growing consumer awareness of fashion's undeniable (and inexcusable) toll on its workers and the planet, not to mention  a booming market in pre-owned items.
It took a pandemic, though, for more established labels such as Bode, Gabriela Hearst, and Marine Serre to adopt the ethos that emerging brands like Tapes and Fyoocher have built their businesses upon.
In March, Gabriela Hearst, the Uruguayan designer who has spent the last five years communicating her rigorous vision of luxury sustainability with her eponymous brand, presented her design debut at Chloé, a collection made in part from upcycled deadstock, recycled cashmere, and eco-friendly materials such as linen. And last June, Gucci launched Off The Grid, a sustainable collection of accessories made from recycled, organic materials.
"The way I see it," Quinn says, "there are enough textiles that already exist in the world that we don't really need to be making anything new."
---
Short film Adapt (above) written by Braden Quinn, cinematography by Kyle Murdoch, clothing by Jamie Dawes, performed by Nadia Crump, music by Matthew Okuda, engineering by Noah Montemayor.
Read more local Style stories.