Passion—easily recognized, difficult to quantify—can be measured by a neglected cappuccino. The frothy beverage belongs to Vancouver stylist Kristin Morawski, who is championing a greener route to getting dressed while leaving her drink untasted on the table.
"At its core, the idea of styling is a more sustainable approach to creating a wardrobe," she says before finally taking a sip, the first since we sat down nearly 30 minutes ago. In a quiet corner of a trendy Gastown café, she looks pulled-together but unfussy in a black blouse, cargo-green trousers, and smart pair of kitten heels.
What she means is that stylists help clients pick out clothes mindfully and intentionally. This less-is-more approach is especially true of those like Morawski who adopt the philosophy of sustainable style—keeping one highly trained eye on trends and the other on the environment.
Morawski explains that mindful shopping means identifying the gaps—"we're missing this key piece that could make 20 more outfits out of the things you already have," she says—or thinking carefully about which clothes fit your life. "What styling really boils down to is having someone help you curate a wardrobe that is really tailored and specific to you and your needs. That's how you get the longevity."
Sometimes, it's also about eliminating glut. Her suggestion: "Marie Kondo it, where you analyze each piece." You might be surprised at what you discover. "Perhaps you find that 60 per cent of your closet is made out of polyester, but you never wear it because it's too hot," she says. "So part of the reason to go through your wardrobe is also to find these things you haven't been wearing."
Morawski took a circuitous route into styling, through graphic design. But a career in fashion was always in the back of her mind. "Ultimately, I decided, I gotta give it a shot," she says. She took the plunge with an image-consulting course, eventually landing a position as a stylist's assistant. After getting plenty of practice editing the closets of her family and friends, she took on paying clients.
These days she works as a leader as well as in the field, teaching a course on ethical and sustainable fashion at Blanche Macdonald and championing the same ethos as an ambassador for Holt Renfrew's H Project, a collection of garments and housewares that impact the environment less and artisans and charities more.
But back in 2015, her career in fashion was just taking off, several years after moving to Vancouver from Edmonton (where a little more effort was required to stay plugged in to the fashion scene). "I was working at a big retailer with a lot of high-end products, which were really cool and exciting to be around. But it was also a time when I started to see behind the curtain of the fashion industry a little bit, and see the volume of products that were coming into the store every day."
Even more troubling to Morawski was the churn of unsold products that exited the store. Clothing that was left over, even after deep discounts, just … disappeared. "I started to recognize that it's not just happening where I work. That's happening at every store that I walk past on my way home. And not just here in Vancouver, but everywhere. Every city, everywhere, all over the world," she says. "It was overwhelming. How can we have so much left over? How do we have the resources for this?"
When it comes to textiles, the dirty laundry has been aired: the garment industry is one of the world's top polluters. Synthetic fibres are created from fossil fuels, and microplastics leach into waterways with each laundry load. There's also the waste, around 92 million tons globally each year, much of which is shipped to places like Ghana, where the unwanted textiles clog gutters and landfills.
It's a weighty problem, and it raises the question: What are the style- and environment-conscious to do?
For Morawski, that first well-shod stride into sustainability was a hiatus from fast-fashion. It was a simple but impactful first step.
"When I stopped shopping at those stores, I had the same budget, but I couldn't buy the volume of products that I used to buy," she says. "That led me to be more considerate about each piece, because I didn't want to make a mistake. So I started to just be more selective, and that also became a big part of how I was starting to approach fashion—a more sustainable approach. I translated that into how I was working with my clients as a stylist, to help them shift their thinking about what's a good deal."
According to Morawski, the clothes in a truly curated closet need to suit a person in three ways: personal style, physical features ("their colouring, body type"), and lifestyle. "Those are the perfect garments, and they will live in your wardrobe and work for you for a really long time." Satisfying these core requirements creates a solid base to build on, so "ultimately you're not buying en masse" to keep up with trends or replace poorly constructed items.
She also recommends focusing attention—and budget—on eco-friendly and ethical brands. "When I first started thinking about this, it felt like there were very few," she says. "Now I feel like there's tons, so you can find ones that really suit your personal style." For denim she recommends Triarchy, while Patagonia is her pick for outdoor wear, and Kotn is her go-to for basics. Maggie Marilyn, Mara Hoffman, Totême, LouLou Studio, Stella MacCartney, and Ganni are a few others she identifies as "trying to operate in a more sustainable way."
Over our coffees, Morawski mentions her own blouse, from U.K.-based Tove. In this case, not only is the brand sustainable, but the top was purchased secondhand at Turnabout. For those concerned about their carbon footprint, buying used is another way to extend a garment's longevity. "The number of secondhand shops in Vancouver has just exploded," she says, with an edge of excitement. "Not every location is offering the same type of product or the same style of product, so it allows you to find the right secondhand shop for you."
Turnabout is one she frequents. "They have a luxe store on South Granville, and that's a very curated selection of secondhand designer garments." That location distinguishes itself from the company's other five storefronts within Vancouver and two others outside the city. Mine & Yours is a close second place for Morawski, thanks to its collection of love-to-see-them labels across two locations. "Again, it's more focused on designer-type pieces," she says. "When I'm shopping for secondhand items, I'm trying to find things that are really high quality and super special." And although it's not her inclination to shop online—"my preference is always to go and touch and try and look in real life"—for those who prefer adding to their carts virtually, she recommends The RealReal and shoppable Instagram account @TheSequelSale.
Shopping secondhand may feel intimidating, but even the most chaotic thrift store can be conquered—if you have a plan. "Go in with an idea of what you're looking for," she says. "Because then you have a focus when you're sifting through everything." The other side of the same coin is to exercise prudence: "You want to make sure you don't get caught up in the moment." Most secondhand shops don't have return policies. Finally, give yourself plenty of time to peruse the racks, try things on, and look over the clothes. "Inspect the seams," she says. "Look for damage. Really feel the material, see the colour, feel how it moves."
That careful inspection should extend to the label as well, to information such as where the garment was made. "A brand can be a signifier of quality. Not always, but it can be." The label may also indicate the fabric—another indicator of quality and of the garment's life expectancy. "A natural fabric is always my preference. Cotton, linen, wool," she says. "A lot of fast fashion is made from polyester, and polyester is not the best fabric for breathability. And for care and washing it's not the best, because there's a lot of microplastics that get released."
Once you're ready to take the plunge and purchase something, remember that the item's journey is just beginning. "How we care for and repair our garments is equally as important as thinking about the steps that have gone into creating the garment," she points out. And for her, it all comes out in the wash. "Laundering has a huge environmental toll, and I think we overwash our garments," she says. "You can do spot cleaning, you can air out your garments, you could give it a steam, you could give it an iron. Do these other things to refresh your garment."
Garment upkeep isn't just limited to laundering. Repairing wear and tear is an important way to keep clothing out of the landfill, but it's also a way to shop your own closet. "You'll find there's a lot of garments tucked in the back that you don't really wear, and why is that? It can be because they need minor repairs," she says. "Maybe a button fell off or the hem fell down, and we need to do those things to bring them back into our regular rotation."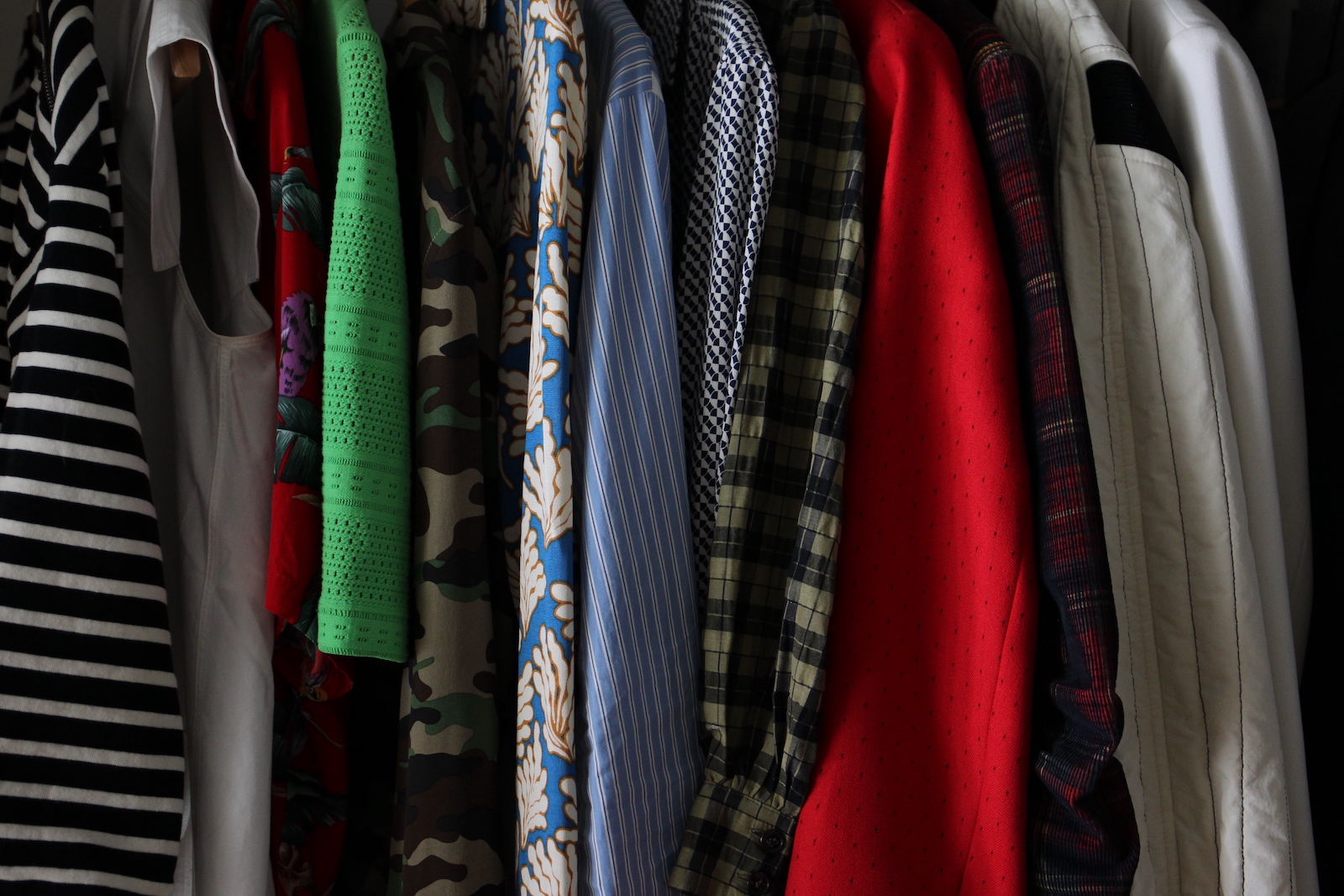 If your sewing skills aren't up to snuff, find a good tailor—and dry cleaner, while you're at it. Word of mouth can generate some leads, but Morawski also recommends asking the experts. "Some small boutiques don't do their own tailoring in house, so it might be helpful to ask at a boutique and say, 'Where do you get your tailoring done? Who do you work with?' Because once you find someone that you trust, that's really key."
Conscious consumption isn't a new trend, and Morawski believes in its future. "What's most exciting about sustainable fashion, and its biggest challenge, is that there's a lot of information. There's a lot of entry points." In other words, there are many ways for consumers to approach clothing in a more ethical, eco-friendly way, even when the subject seems confusing or overwhelming. And, as Morawski can attest, getting dressed is more than just the clothes we wear—it's tied to our identity, a means of self-expression and creativity.
"This is our chosen skin. We've lived moments in these clothes," she says, her cappuccino still almost untouched. "And those moments are attached to what we were wearing sometimes."
---
Read more stories about style.