What is the Vancouver woman's style, in terms of fashion? Are we known around the world for a particular look? That this city is the birthplace of Lululemon and Taiga Works certainly indicates how we deal with our weather and location, perched on the edge of the country with sea, trees, and mountains to explore and rain to contend with.
Perhaps we're stuck somewhere in the middle of fleece hoodies and luxury department stores. But we also have an independent clothier current running right alongside us—a group of passionate owners who hand-pick beautifully crafted pieces for Vancouver's tastes and climate. These are entrepreneurs who want us to question and be conscious of why we wear what we do, and what we might wear tomorrow.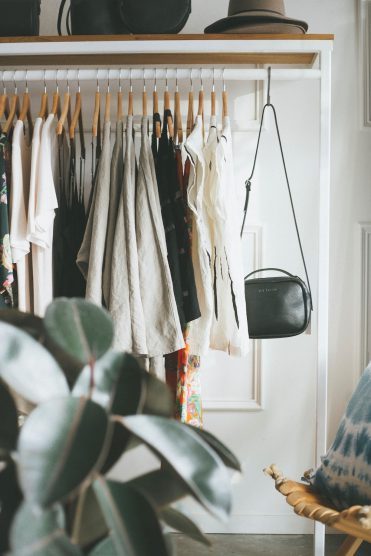 Photo by  Rebecca McColgan.
Store:
Curated home. Owner Kleah Michnik wanted a shop that was based around "creating a feeling of entering your well-travelled friend's home full of incredible things. I am always trying to get to that, focusing on the things people will cherish and stand the test of time or be useful regardless of trend," says Michnik. "We select clothes, accessories, and home goods that are ethically produced, mostly working direct with the artisan, and we want to continue to do as much of that as we can."
Aesthetic: Hard to describe in a word, but she's inspired by a look that is "part beach bum, part vintage, part Japanese with a sensible West Coast spin. Until I was 12 or so I wore mostly vintage, and a lot of men's vintage including my dad's old tees and jeans. I was a tiny girl dressing like a '70s man. By the time I was in high school, my mom was begging to spend money on me, but I feel like I still lean towards that aesthetic in the details."
On dressing Vancouverites: "I guess in a sense we have to dress for the weather and tend to lean towards darker neutrals. It is impossible to live here and not be influenced by the fact that you are in a sea of black, greys, and forest green in every sense. When I travel to warmer, sunnier climates, I find myself only wanting to wear light, faded clothes. The weather determines our mood in so many ways."
Must-haves: "I am loving the simple linen dresses and tees from Sunja Link and Lloyd. Both brands are locally-made and get better with wear. The other piece I am crazy about right now is the origami jumpsuit in rust by Black Crane."
The future of fashion: Thoughtfulness. "I hope we are continuing on a path towards thoughtful consumption and appreciation of each thing we purchase," Michnik says. "Asking questions like, 'Why am I choosing this? Do I need it? Will it last? What is the story behind it? Does it feel good to me?' I don't think specific trends matter, because it is so personal."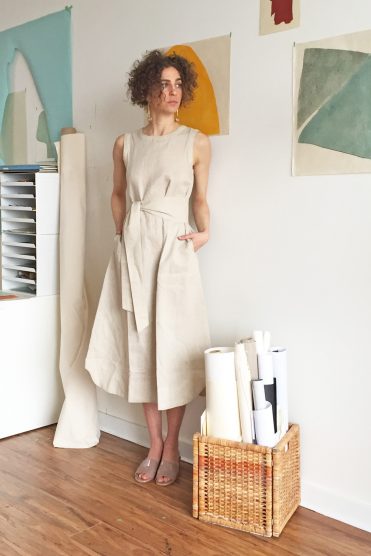 Store: Thoughtful beauty, ethical production, and timeless design, with an emphasis on showcasing the artists of the industry, and helping customers find special pieces that last.
Aesthetic: Be bold. "I'm drawn to colour, print, and pieces that have a sense of humour," says owner Genevieve Allen. "Clean, modern shapes and playful details that balance feminine and masculine to create something both modern and whimsical."
On dressing Vancouverites: Juxtapose. "It can be grey! And I think that makes colour very alluring. I think I crave the contrast. Also, practically speaking, Vancouver encourages a laid-back approach to fashion, and that emphasizes a certain utilitarian look that we're known for."
Must-haves: "I'm really excited for Black Crane; this season they introduced some prints in collaboration with artist and jewellery designer Annie Costello Brown. Shoes from Maryam Nassir Zadeh are on my list, too. She uses the most unexpected colours combined with simple, architectural shapes."
The future of fashion: Powerful and pragmatic. "Fashion has always reflected the culture and society of its time, and right now we are experiencing a powerful movement among women. To me the future of fashion is female; it is environmentally-conscious, diverse, and inclusive. It's not a coincidence that the majority of the brands that Violet carries are by women," explains Allen. "I think that fashion can be a great tool to amplify women's voices—one can make a deeply personal statement with their clothing. The fashion industry has been known for being wasteful in the past, but I think it's an absolute necessity to consider the environment, and that will be the way forward."
Store: A Main Street staple, owned by Kildare Curtis. "The store's philosophy has always been one of community, and with that in mind, we strive to provide something for all shoppers, no matter their budget; it's what's allowed us to sell the best in locally-made goods beside some of the best international brands. Main Street has always been a community between the residents and the businesses, it's always been about growing a community. And I feel proud to have helped it grow over the last 20 years."
Aesthetic: Form and purpose. "We strive to keep things classic but with contemporary notes," says Curtis. "Our aesthetic is informed by a harmonious blend of fashion and function."
On dressing Vancouverites: Searching for an identity (Eugene Choo also carries menswear). "I've lived here for over 27 years, and one thing I've noticed is that Vancouver always seems to be trying to shed rather than embrace its identity. For so long we had this outdoorsy image, and nobody wanted that to be our identity, yet we live in a temperate rainforest and our culture is undeniably outdoor-based—our clothing has to be functional, we have just slowly been finding a way to make it more fashionable. I am no different; my personal style has been fully informed by residing in such a diverse city."
Must-haves: "This season my must-have is the Salla Bomber jacket by Henrik Vibskov; it runs completely unisex, so all can enjoy,," says Curtis. "Henrik Vibskov is definitely myself and the staff's favourite designer right now, he's a creative genius."
The future of fashion: "Current uncertainties geopolitically might be a strong indicator of where things are heading. People want something to distract them from the instability they might be feeling."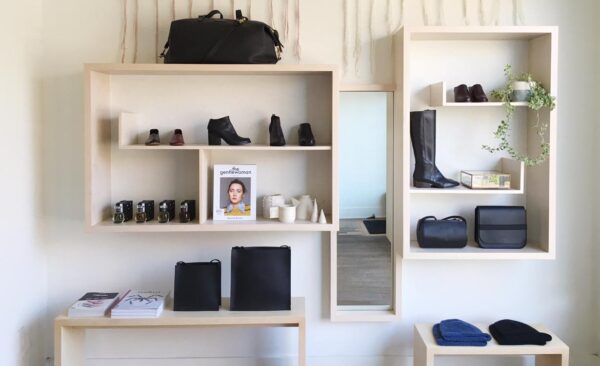 Store: Attention to detail. "Umeboshi has come to be known for quality goods, thoughtful customer service, and a discerning selection of footwear and accessories," owner Stephanie Gorrell says. "Focusing on handcrafted wares from independent and emerging designers, Umeboshi's ideals stem from the appreciation of beautiful and functional design, as well as a great respect for craftsmanship. Here, each piece has a history to share, and it is our joy to muse on it with you."
Aesthetic: "Modern, subtle, and understated."
On dressing Vancouverites: Styling through personal knowledge. "Living in a city with such a beautiful coastal landscape often draws me towards organic shapes and forms. I love pieces that are simple, versatile, and timeless."
Must-haves: Grey Matters, Coclico, and Loq's for shoes. The Stowe, Quarry, and Muraco Wolfe for new accessories. Both men's and women's items are carried here.
So, what exactly defines Vancouver fashion? Maybe it's an attitude just as much as an aesthetic. And maybe it's an evolution that we've only just begun.
---