It should come as a surprise to no one that today, November 4, is officially International Stress Day (frankly, 2020 is shaping up to be International Stress Year). While we wait for the U.S. election results to roll in and ride this bumpy second wave of COVID, it's fair to say many of us are feeling stratospheric levels of stress.
But tempting as it may be to reach for that second glass of wine and/or that bag of chips and/or that third glass of wine, a more effective way to combat stress is to exercise. Working out releases endorphins, those happy hormones, which in turn help us feel more relaxed and sleep more soundly.
Lucky for us, in a city that already swears by its athleisure wear, we're about to be blessed with several new apparel drops in the next week. Add a few more new favourites to the mix, and we've got ourselves some stress-busting gear ready to do double duty both in and out of the (home) gym.  Whether boxing or toggling between news channels, you'll feel like a champ in these picks.
New Balance x Levi's
Two heritage brands will join forces on December 3 to introduce the Levi's x New Balance 327, a reinterpretation of the New Balance 320—the original old-school running trainer—for a new generation.
The collaboration (which was originally scheduled to launch in November) is a mix of retro 1970s styling and modern asymmetrical design that goes from couch to corner store without missing a beat.
Available in a real indigo denim and grey colourway for men, and an indigo colourway for women, the 327 features a '70s-style waffle sole with a contemporary oversized New Balance "N" on the side (a tongue tag with classic NB logo in blue and white is stitched with a Levi's red tab). A walk around the block in these kicks not only gets your heart rate (moderately) going but will clear your mind at the same time. And let's face it, anything with the word "balance" in it right now is worth a try.
The Levi's x New Balance 327 is available at Levi.ca
Peloton Vancouver Apparel 
Though COVID has been a slog for almost everybody, there have been a few winners who have emerged: think wine-store delivery, anything delivery, and Peloton⁠—because, home gyms.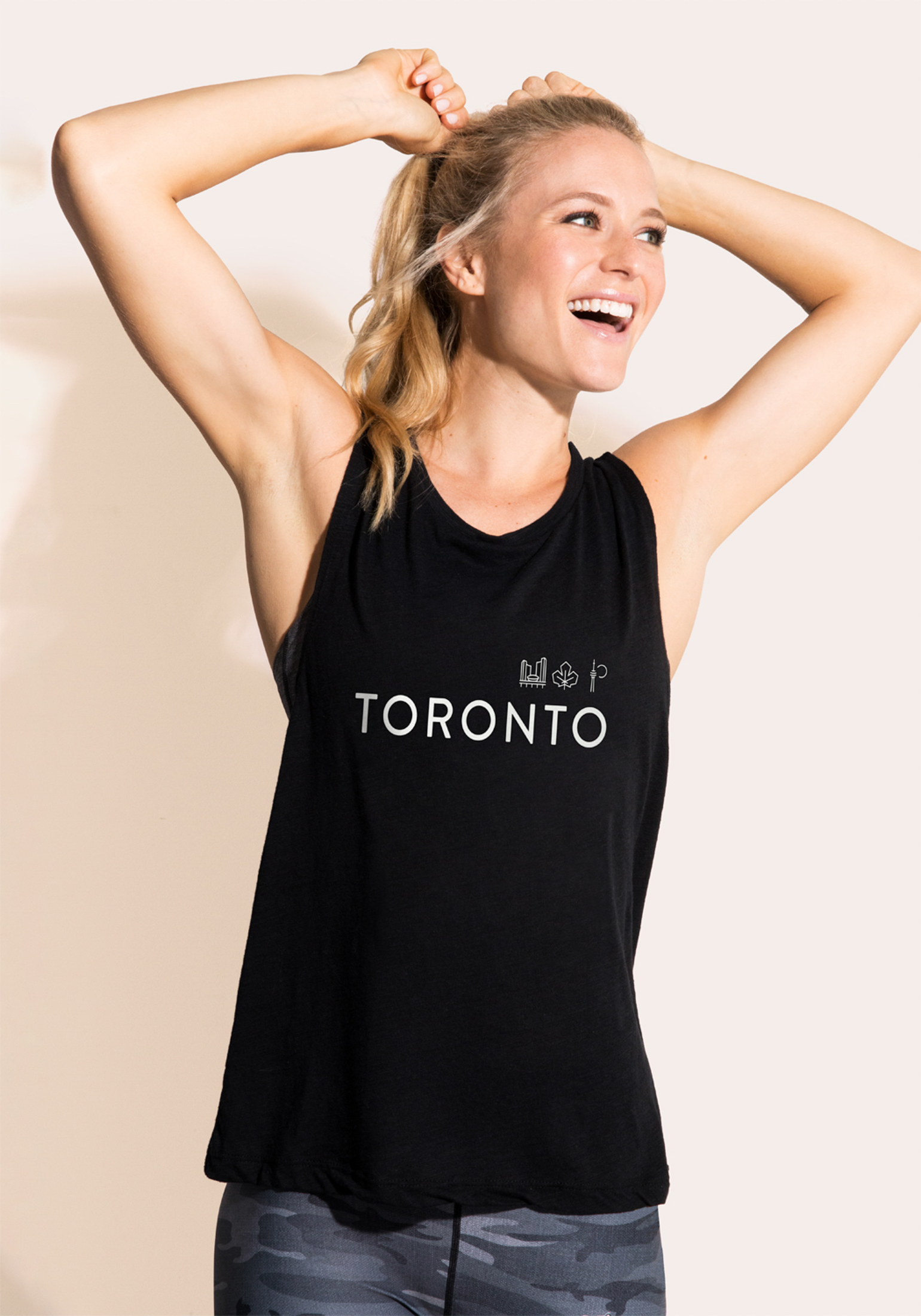 In celebration of its two-year anniversary in Canada, Peloton is adding Vancouver to its stable of city-specific workout wear, joining Toronto and Calgary. The Vancouver-branded wear launches this week (and there's a Canada design too). A pullover, a tank, and a tee all emblazoned with our city's name signals you're ready to ride—or just ride the second wave—in style.
Available in-store this week and online next week at Onepeloton.ca
Reigning Champ
When Muhammad Ali first recited "Truth" in 1974, he couldn't have guessed his moving poem would resonate as deeply today as it did then. Inspired by his powerful message, Vancouver-based Reigning Champ gets in on the fight for truth and equality with its new capsule collection of training gear.
Reigning Champ x Muhammad Ali features tees, shorts, and robes, including this limited-edition boxing homage replete with adaptation of Ali's poem embroidered on the front. Handcrafted in Canada in terry fabric, the robe comes in a universal fit—suitable for hardcore workouts or hardcore hangouts (or even hangovers, depending on the election outcome).
By transforming its LA-based La Brea store into a sanctioned LA County voting station for this week's U.S. election, Reigning Champ says it hoped to reach thousands of people to encourage them to vote—because we're all in this together.
Available at Reigningchamp.ca
Sweaty Betty Superhero Leggings
High-end workout wear has generally been limited to solid colours and the occasional pattern, as most brands tend to prioritize function over fashion. So it's no surprise that UK-based juggernaut Sweaty Betty—workout wear for the upscale mod squad—has grown to fill this gap, from its first Notting Hill location in 1998 to more than 50 boutiques around the world, as well as shop-in-shops at trend setters such as Selfridges and Harrods.
This fall, Sweaty Betty makes its way to this side of the Pond with a range of workout wear, such as their cult-fave bum-sculpting Superhero leggings in wild patterns or high-shine Italian fabric in Turkish Coffee Brown.
You'll also find ski base layer leggings, sweatshirts, jackets, tanks and bras in high-stretch, technical materials that are sweat-wicking, quick-drying and good looking.
Sweaty Betty is available in Vancouver at Nordstrom.ca
Lululemon Super Fine Face Mist
Just because Lycra works double-duty as workout gear and Zoom workwear, doesn't mean it should. And our post-workout sweaty faces definitely have no place in on-screen meetings. But with just one spritz of Lululemon's new Super Fine Face Mist, that complication, at least, can be resolved.
While workouts can deplete the skin of essential moisture and lead to breakouts, this new mist is designed to hydrate, mattify, soothe, and protect it after a workout. Infused with activated charcoal (so skin glows instead of shines) and plant-based ingredients such as Irish moss, the formula forms a protective barrier against such environmental stressors as pollution—and, these days, that all too familiar blue light.
Face mist available at Lululemon.com
---
Read more Vancouver Fitness stories.