A rain-soaked racetrack is never an ideal place to put a performance-oriented vehicle through its paces. Or is it?
If that vehicle is the new Maserati Levante GTS, the argument could certainly be made.
But that's not what I'm thinking about as I lean my helmet-clad head into the cabin, wrap my fingers around the carbon-fibre-adorned steering wheel, and examine the rivulets of water drifting across Michigan's M1 Raceway. The only thing on my mind is wringing as much as I can out of the four brief laps I'm being afforded in the Levante GTS—and still returning it in one piece.
After all, Maserati's 3.8-litre twin-turbocharged V8, previously reserved for the Quattroporte GTS, is under the hood. The process of upgrading and fitting this engine to the Levante took the company two full years; it's built in cooperation with Ferrari at the Prancing Horse's factory in Maranello and is one of the most powerful engines that has ever graced a Maserati.
In the Trofeo model, which like the GTS will join the Levante lineup in fall 2018, the engine is tuned to produce 590 horsepower. The GTS slots in just below that at 550 horsepower and 538 pound-feet of torque available between 2,500 and 5,000 revolutions per minute. It reaches 100 kilometres per hour from zero in 4.2 seconds—an impressive figure for a larger mid-size SUV—and has a top speed of 292 kilometres per hour.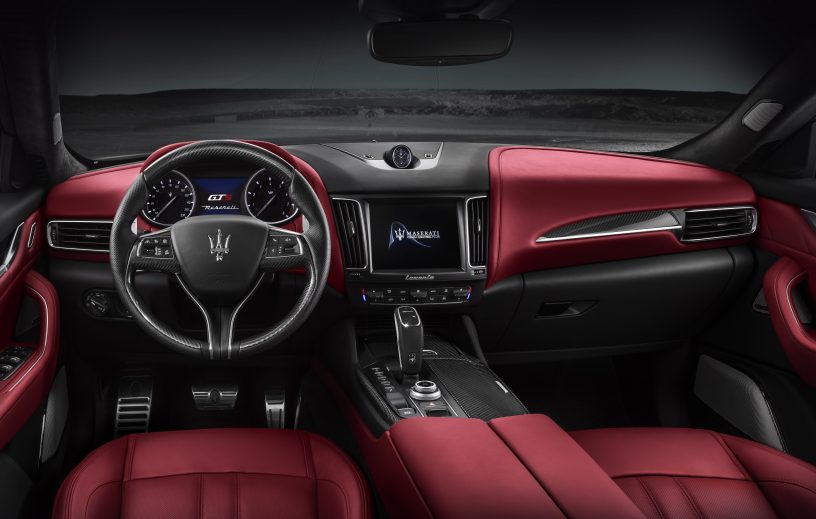 The eight-speed ZF transmission shifts automatically or via the paddle shifters, which are mounted on the steering column as opposed to on the wheel: a trait that Maserati engineers say makes them easier to locate at speed.
More importantly for this wet track run, in the Levante Trofeo and GTS, the twin-turbo V8 has been matched to Maserati's Q4 all-wheel-drive system for the first time. In ideal conditions, this network defaults to rear-wheel drive; once it detects a loss of traction, up to 50 per cent of torque is distributed to the front axle, the limited-slip differential standard on all Levante models manages the rear axle, and torque vectoring sends more power to the outside wheels in turns. The adaptive damping system has six different modes that vary ground clearance up to 75 millimetres from its lowest to highest points, with a button for easy locking at the firmest setting when performance driving.
As the Levante GTS carves and splashes its way across the very slick track, every aspect is smooth and controlled, from throttle response to shifting and handling—which is remarkably precise for an SUV of such heft. Translating that experience into real-world applications, what could have been a highly stressful drive instead became a secure and entertaining one.
In truth, very few Levante GTS owners are ever going to strap on a helmet and take to the track. But it's nice to know that, should the urge ever strike, it's not only possible, but entirely enjoyable.
---
Read more about luxury cars.