More than 35 years ago, Moses Martin, chief councillor of the Tla-o-qui-aht First Nation, welcomed loggers into the rain forest on Meares Island, part of the Indigenous nation's traditional territory. But he told them to leave their chainsaws in their boats.
Martin was a key figure in the anti logging protests on Canada's west coast during the 1980s and '90s, culminating in the 1993 Clayoquot Sound demonstrations, known as the War in the Woods, which helped protect the First Nation's land from destructive logging. This Indigenous elder, who is serving his 13th term as his nation's elected chief⁠—a term he says will be his last⁠—now co-owns Clayoquot Wild, an environmentally focused tour company in Tofino on Vancouver Island, where he shares stories from his life and community.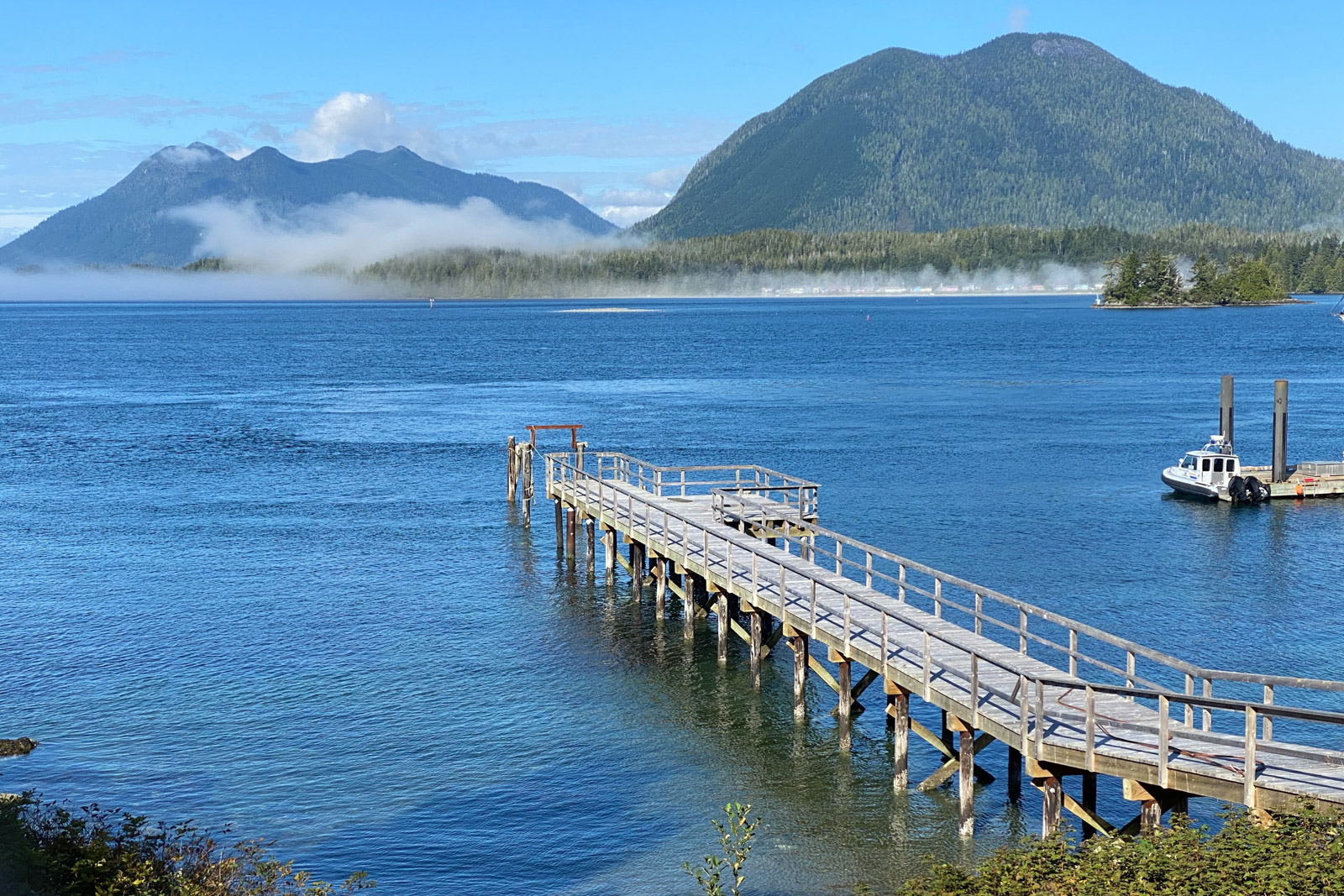 The morning fog lingers around the islands offshore as my husband Alan and I climb aboard Martin's powerboat, docked in Tofino Harbour. His company guides whale-watching tours, fishing charters, and excursions to Hot Springs Cove (currently on hold till 2022), but we've chosen the Journey Into History to learn more about the region's Indigenous roots.
Stories of Survival
Piloting out of the harbour, Martin tells us he was born in 1941 across the water on Meares Island. The Tla-o-qui-aht, his people, were once 10,000 strong, until the smallpox and tuberculosis epidemics of the late 1800s and early 1900s decimated their population. Before he was born, his mother took refuge in a Vancouver Island cave to shield herself and two of her children from smallpox. They sheltered there for four years.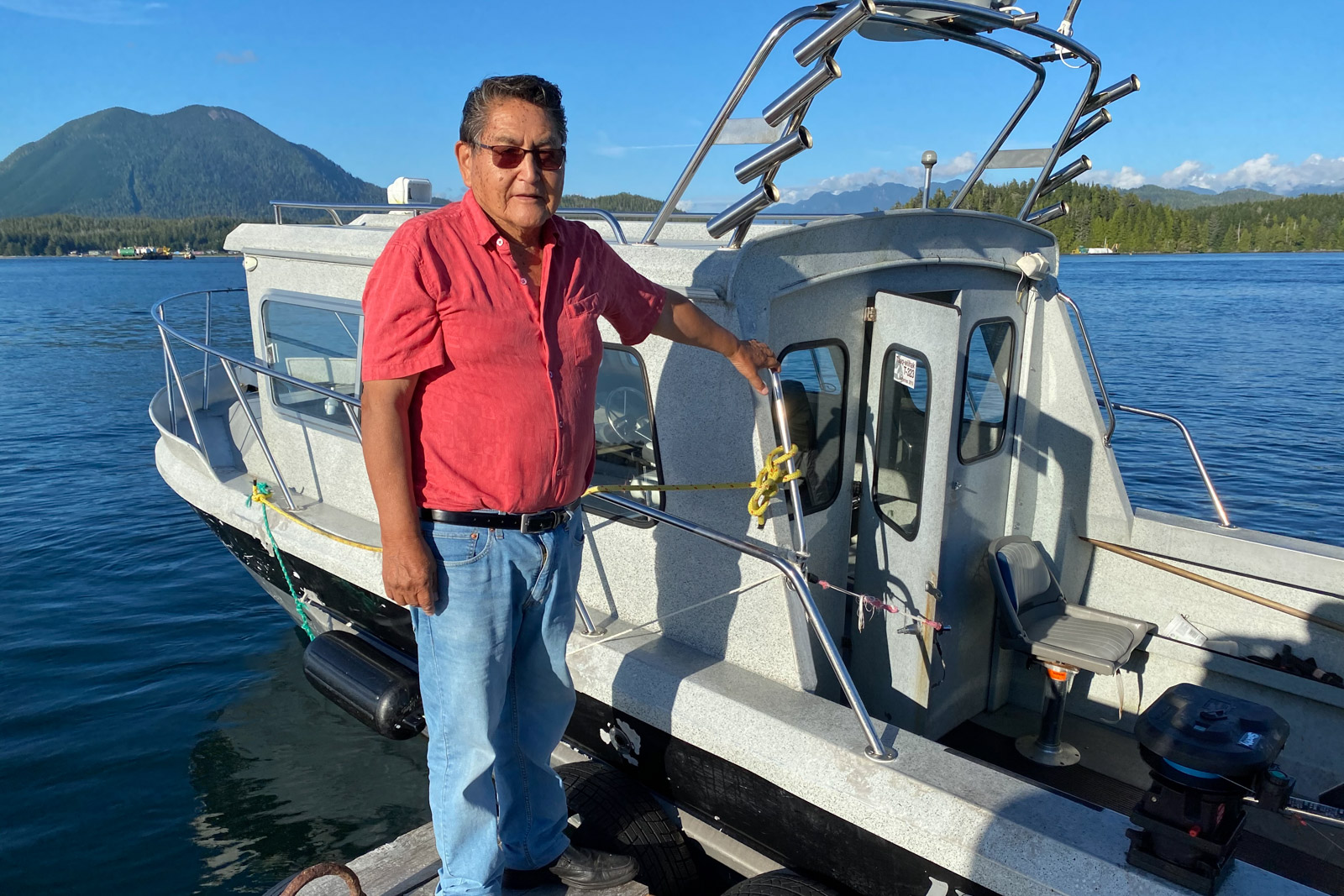 "We dwindled down to 230 people at one point," Martin says. "People were dying out so fast that they weren't given proper burials, just out the back door in shallow graves."
Martin himself is a residential school survivor. "I was seven years old when we were taken from our community," he recounts, sent to a residential school on Meares Island. "It was only a mile from where I was born and raised, as the crow flies. But we were allowed to go home only one day a year."
"Lots of brainwashing went down there," he says, his soft voice becoming quieter. We strain to hear him over the purr of the boat motor. "I still have scars on my leg from welts that turned into sores. And we were always hungry there. If we learned anything at the school, it was how to steal. Because we were always hungry. We stole bread, we stole raw potatoes."
Martin stops talking as he navigates alongside the island. Then he tells us that the school closed around 1970 and burned down 10 years later. The fire, he speculates, was not accidental.
A Father's Advice
One day⁠—he starts another story⁠—he was paddling with his father in their canoe, heading toward the school. As they drifted in with the tide, they looked up toward Lone Cone Mountain where a logging company was felling trees along the slopes. Watching the loggers, his dad began to get upset. "'If we don't do something about what we're allowing to happen, we're going to self-destruct.' Those were his words. And from that day in 1950, I've remembered that, always remembered that."
When Martin left school, he began work as a commercial fisher and eventually got involved in tribal leadership. In the early 1980s, the Indigenous community learned of MacMillan Bloedel's plans to log Meares Island. "They were proposing to take 90 per cent of the timber off Meares," Martin says.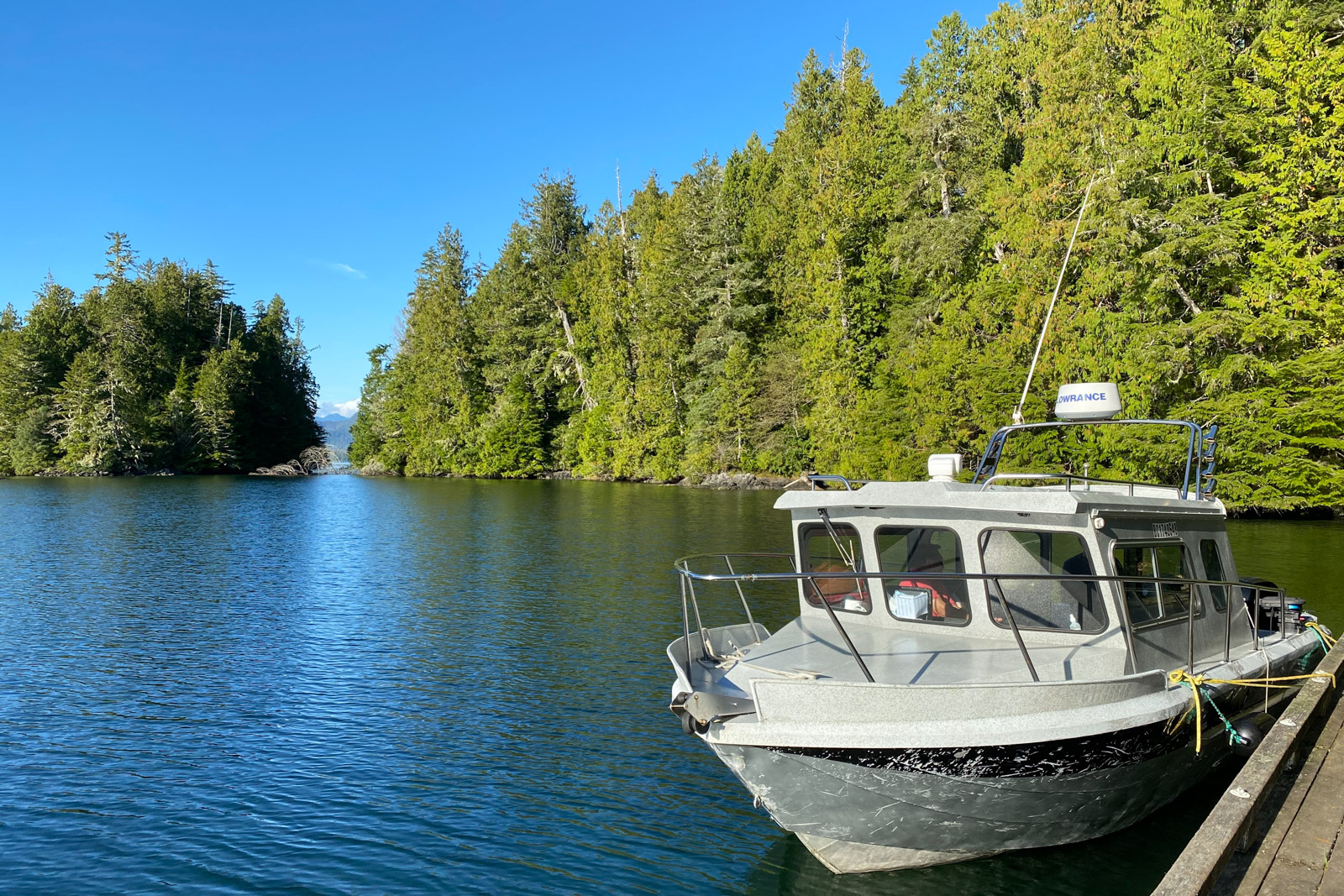 As elected chief, Martin tells us, "My priority has been to build relationships between us and the municipalities of Tofino and Ucluelet and with the neighbouring tribes." This strategy became important when he heeded his father's words and began working to protect the Meares Island forests.
He and his community didn't stand alone. Many non-Indigenous people from Tofino and elsewhere joined the opposition to the logging. Friends of Clayoquot Sound, an environmental group founded in 1979 and still active, became allies. Eventually, a court injunction blocked MacMillan Bloedel from logging the island.
Martin gently docks the boat near the head of Meares Island's Big Tree Trail. He sends us ashore to walk the uneven, undulating boardwalk that leads through the old-growth rain forest. In 1984, the Tla-o-qui-aht designated Wah'nah'juss Hilth'hooiss the first tribal park in Canada, part of their strategy to protect Meares' forests. A few of the towering cedars and firs have signs⁠—"Cedar of Life," "Hanging Garden"⁠—but most simply stand as they always have.
Living the Language
When we climb back onto the boat, Martin starts the engine and tells us he's been on these waters since he was about six years old. Steering between the islands, he tells us many other stories, too⁠—of island heiresses, wild cows, Sasquatch sightings, and more⁠—but you'll need to join one of his tours to hear the rest. Although he's retiring from his position as chief councillor, he says he'll keep leading excursions, taking visitors fishing, and talking about his community.
And while logging continues to be a divisive issue along the coast⁠—notably, this year at the Fairy Creek site near Port Renfrew⁠—Martin is focusing on a new project: language revitalization.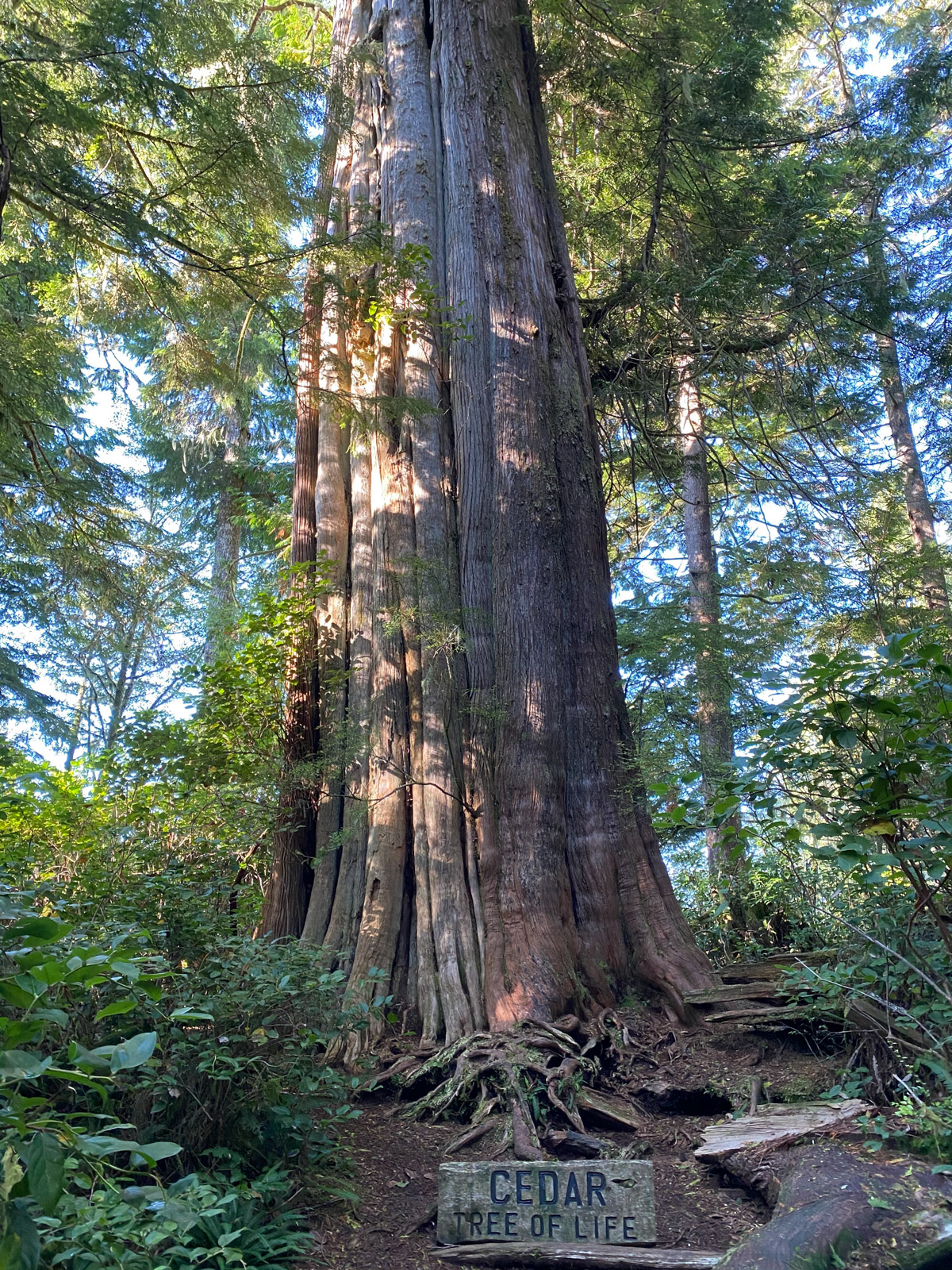 Of the 1,200 people in his community today, he says only 10 to 15 are fluent in their traditional language. Martin is one of them. This year, they offered language instruction by Zoom, and both young people from his community and residential school survivors who lost or never learned the language have joined the classes. "We tell them that it's not enough to learn and understand the language," Martin says. "You have to figure out how you're going to live it."
There have been non-native students, too, and everyone is welcome. Martin, who has long valued collaboration between communities, says part of their vision is that their language will one day be spoken widely again, not only among the Tla-o-qui-aht but also among the region's non-Indigenous people. "We're hoping that it will become a common language on the coast."
Martin brings us back to the docks in Tofino, then waves good-bye as he motors back to sea. This elder, great-grandfather, and storyteller may have recently celebrated his 80th birthday, but he still has a lot to do.
---
Read more Travel stories.