Picture-perfect vistas, laid-back charm, and stunning natural beauty make Nevis one of the most alluring destinations in the tropics. Located in the West Indies, a quick boat ride away from St. Kitts, this enchanting island is one of the oldest British colonies in the Caribbean.
The Nevis Heritage Trail, denoted by telltale blue signage, indicates points of historical or cultural interest throughout the island, including former sugar estates and natural garden sites. At a split in the road near the southern end are must-see examples of both of these highlights, with the Botanical Gardens of Nevis to the right, and Montpelier Plantation & Beach (the "Beach" element being a short distance away) to the left. Both treasures are perched 750 feet up in the hills, boasting spectacular mountain views with the clear blue water just beyond.
Teeming with lush flora and fauna, the Botanical Gardens of Nevis are a celebration of tropical plants and trees from around the world. There are cactus gardens, rare tropical fruits, over 100 species of palms, and a dazzling orchid collection that is one of the largest in the Caribbean. There are also water features and sculptures, a butterfly-filled rainforest conservatory, and plenty of rest stops for reflection throughout the spectacular grounds.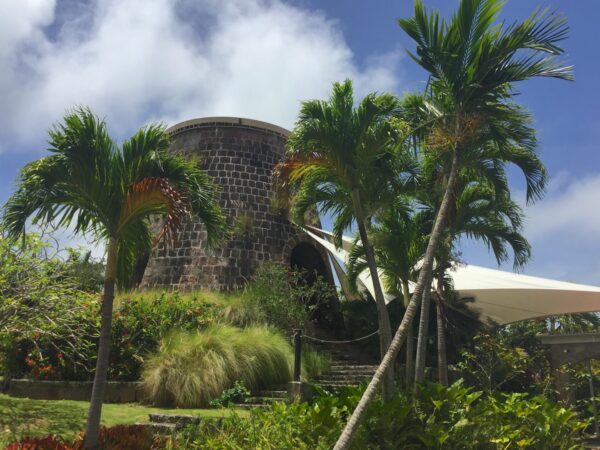 First opened in 1998, the gardens serve as an educational resource, working to preserve and enhance the beauty of Nevis while enchanting visitors with its diversity of tropical plants in a natural environment. On the second floor of the onsite Nevisian Great House, an exceptional selection of authentic Asian fare is available for lunch at Oasis in the Gardens Restaurant. From the bar, unique specialty mocktails and cocktails can be ordered, including Purple Rain: an antioxidant-rich refresher made from butterfly pea flowers and lime juice. Charmingly, the restaurant's cooks and mixologists can be spotted perusing the herb garden for fresh-as-can-be ingredients or collecting honey from strategically-placed hives.
The gardens' five-acre grounds were once part of Montpelier Estates where, just a five-minute tranquil stroll back towards that fork in the road, visitors can step back in time and discover a bit about the island's British colonial history. In 1787, Horatio Nelson, then a young British naval officer, wed Fanny Nisbet here under a silk cotton tree adjacent to a once-thriving sugar plantation. These lands are now Montpelier Plantation & Beach: a boutique hideaway resort set on 60 blissful and breezy acres. (History buffs take note: Nevis is also the birthplace of Alexander Hamilton.)
Remnants of this 300-year-old former sugar plantation remain, as is the case with a small handful of other ruins and archaeological sites that can be explored on Nevis. A highlight at Montpelier Plantation & Beach is its original mill with hand-cut round stonewall, still standing and transformed into Mill Privée: a beautifully atmospheric candlelit restaurant. Settle in and savour dinner with the five-course tasting menu created by executive chef Cristian Bassi, combining local ingredients with European-meets-Caribbean culinary styles. Stay at one of 19 spacious plantation rooms; most offer sweeping vistas of the island's nature. A testament to the resort's commitment to privacy, in 1993, Princess Diana and her two toddler princes retreated here for a relatively peaceful sojourn shortly after her separation from Prince Charles was announced—one final tidbit of British history.
---