The metaphorical road to something of greatness is often long and winding. But to get to Bürgenstock Resort, that journey is literal.
Towering 500 metres over Switzerland's vast Lake Lucerne, Bürgenstock is reached via a thoroughfare that zigzags for nearly 30 minutes via car up the side of Bürgenberg mountain ridge near the city of Lucerne. Perched on the edge of a rolling meadow called Trittalp, the hotel first opened in 1873, and recently underwent a pricey nine-year renovation that saw it reopen in late 2017.
The kind of luxury found here is grand and yet somehow understated; everything is expertly designed just so, but it all feels very Swiss in its lack of pretense and overindulgence. Nothing drips with ornate European extravagance, and yet, the feeling of being pampered is undeniable.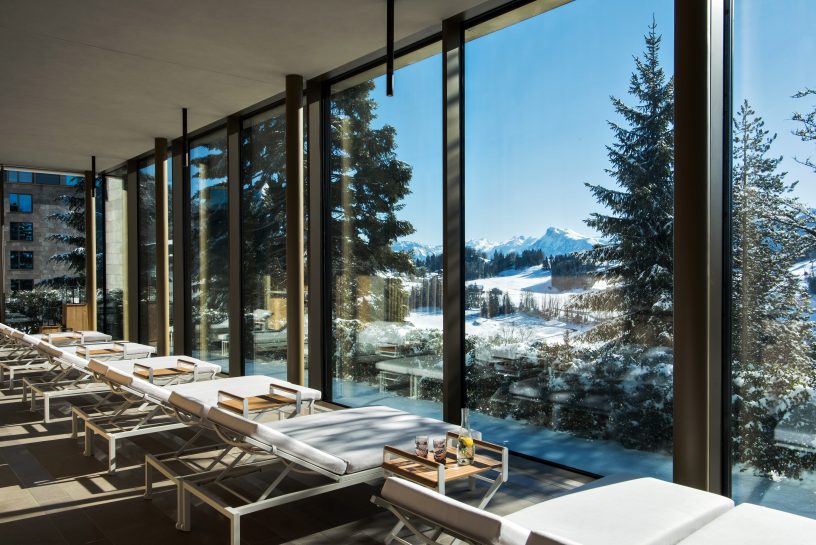 For starters, it is essentially impossible to have a bad view from anywhere on the property. One side looks out onto the grassy hills where cows and sheep graze (cowbells can be heard clanking throughout the day); the other looks out over the lake, which sparkles in sunlight and looks just as beautiful on moody, cloudy afternoons.
There are four hotel buildings within the resort, along with a truly magnificent Alpine Spa complete with sleek indoor pool and showstopping outdoor infinity pool, plus a steam and sauna area boasting nap pods, velvety daybeds, cold plunge pools, and a nudist area for those so inclined. Treatments are fantastic here, too, especially facials using Switzerland's own La Prairie products (Susanne Kaufmann facials are also available). There is even a movie theatre showing current films—a recent visit saw Deadpool 2 on the schedule—and a tennis court that is so architecturally stunning you don't need to play to enjoy stopping by.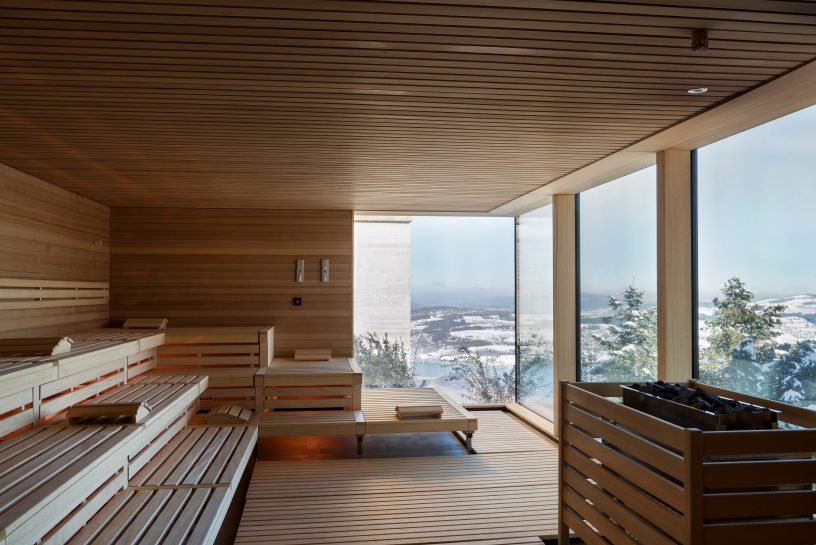 But for all the ways Bürgenstock charms with what is shiny and new, it is the property's history that proves even more compelling, and plaques adorn many walls and buildings to help share those interesting facts.
Built onsite in 1887 is a small white chapel, and it is here where Audrey Hepburn married Mel Ferrer in 1954. Fellow Hollywood icon Sophia Loren and husband Carlo Ponti lived in the resort's Villa Daniel from 1957 until the end of the 1960s. While shooting the James Bond movie Goldfinger starring Sean Connery in 1964, the whole crew stayed at Bürgenstock's Palace Hotel.
The property is home to the highest outdoor elevator in Europe, Hammetschwand Lift, which was originally built in 1905 and eventually restored to the extent that it remains in working order today; it was actually featured in Goldfinger. In addition, the hotel has Switzerland's first-ever electric railway, which was also repaired and can be taken down the mountain in order to catch a boat across the lake to the heart of Lucerne. And a short walk from Taverne (an adorable Swiss chalet-style restaurant where one would be remiss not to order the cheese fondue) sits Spycher, a wooden building that looks more like a Goldilocks cottage than the high-society nightclub that it was in the late 1960s. Queen Ingrid of Denmark, who held her royal position from 1947 until 1972, has been to the resort; as has Jawaharlal Nehru, the first prime minister of India. Even former United States President Jimmy Carter has visited.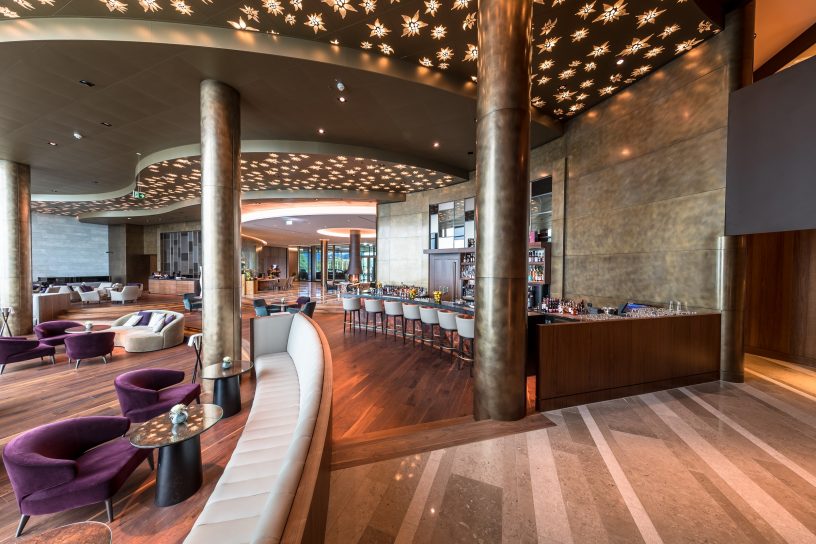 So yes, the road to get here is legitimately long and winding (good luck checking emails during those crisscrossing curves). But once the car comes to a stop and the nausea subsides, take a look at the view and breathe in that crisp mountain air. There's no better cure for travel fatigue.
---