The haunting guttural growls of howler monkeys echo through the rainforest of Southwestern Costa Rica. It's a sound to send chills down my spine—until I see the animals peer down at me, their solemn brown eyes filled with innocent curiosity.
This is the Osa Peninsula, a remote outpost situated near the border of Panama. While Costa Rica has become an increasingly popular vacation destination, the Osa Peninsula remains relatively undiscovered; it is a place for intrepid travellers who desire off-the-beaten-track adventures. By size, Costa Rica is one of the most biologically diverse countries on the planet, and Osa is known for its superlative variety of wildlife.
In San José, I board a small plane to Drake Bay, located on the northern tip of the peninsula. From the landing strip, I'm transported to the small town of Agujitas, where in the light rain, I wade into the Pacific Ocean for the next leg of my journey: a boat ride to La Paloma Lodge.
After reaching the dock, I am transported up a steep pathway via jungle cart to La Paloma's main lodge—a sprawling, open-air structure formed from lacquer-polished wood. The view from its wraparound veranda looks out through the rainforest toward the Pacific and is nothing short of breathtaking.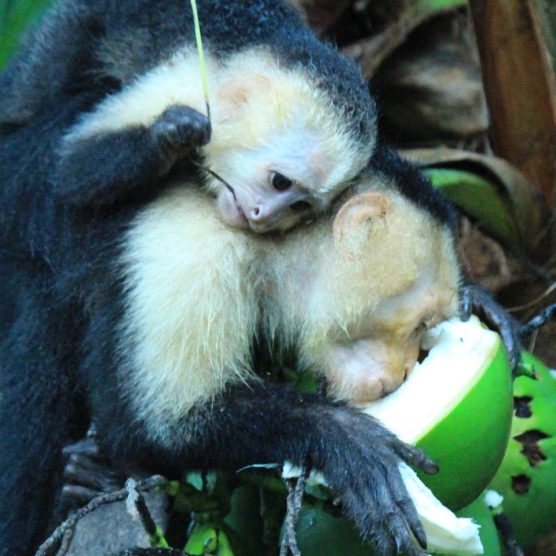 My cabin's design mimics that of the main lodge: windows on three sides, wide terrace, and welcoming hammock, all ocean-facing. Like most eco-lodges on Osa, La Paloma is small, and can accommodate only a few dozen guests. But this being the rainy season, there are significantly less people here, which almost makes me feel like I have the place to myself. Except for the animals.
Most days, a local troupe of white-faced capuchin monkeys lope across my cabin roof and cheekily peek over its awnings. A resident boa constrictor makes an appearance, and a local three-toed sloth is kind enough to pose for photos. Toucans, scarlet macaws, and a ceaseless array of hummingbirds call La Paloma home.
Narrow stone pathways undulate around the estate between ranchos and the pool, and also run steeply down to the beach. It is densely packed with plush jungle foliage, fruit trees, and exotic flowers.
I snorkel around Caño Island, and hike in Corcovado National Park, where I see a tapir (a large pig-like mammal), spider monkeys, and coatis (cousins of raccoons). On a trip north to the Sierpe River, I am mesmerized by mangroves, sloths, alligators, herons, and squirrel monkeys. In between the activities, I lounge quietly at La Paloma, simply listening to the rain or absorbing the beauty of the colourful life surrounding me. There's a reason the locals call it pura vida (pure life)—this place frees you from the stress of that which matters not.
Prepared for humidity, I come with lightweight clothing and shoes, dry bags for electronics, and a plastic poncho. What I find myself unprepared for are the awesome thunderstorms. Their crashes rumble through my chest before sheets of lightning flash across the ocean. Each evening, I sit on the lodge veranda, margarita in hand, watching day turn to night. The tree frogs and cicadas begin their nightly songs and the storms roll in—and despite the raging force of the weather, I feel a distinct sense of peace.
---