There is something undeniably majestic about the Fairmont Chateau Whistler. Maybe it's the mountain cabin-style peaks of the roof; or the grand lobby with warm colours and high ceilings; or the simple knowledge that when one visits a Fairmont, she is in good hands.
Of course, the Upper Village's Chateau Whistler is no exception—in fact, it is more of a leading example in terms of Fairmont hospitality. Check-in is a breeze here (as is check-out, thanks to an email that leads to a simple one-click link), with friendly staff happy to show the lay of the land, available at all times via text message. Up in the brand new Alpine Suites, which dot the hotel's top floor, windows offer fabulous views of the nearby mountaintops. Spanning 600 square-feet, these suites enter into a cozy living room complete with plush sofa and chic fireplace, leading to the adjoining bedroom with soft king bed. The elegant washroom, of course fitted out with Le Labo amenities in the intoxicating Rose 31 scent, has a "spa shower"—essentially, two waterfall heads, one on either end. Indeed, the Alpine Suites are a flawless choice for couples to retreat to at the end of the night.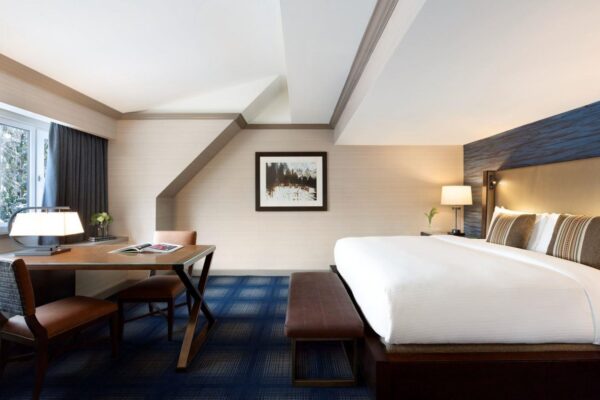 But before then, a visit to The Mallard Lounge should ease guests into the evening. Here, a Signature G&T could be the perfect thing, with lemon-, cardamom-, and grapefruit-infused Beefeater gin, Grand Marnier, lemon, grapefruit, and, of course, tonic. It is refreshing, not too strong, but just strong enough—the ideal happy hour.
Following craft cocktails, the Grill Room across the hall is full of culinary action thanks to executive chef Isabel Chung and executive sous chef Derek Bendig. As its name suggests, this restaurant's shining star is steak from the grill, and pretty much any cut is at diners' fingertips. Tenderloin, New York, rib eye—all here, or splurge on the night's specialty cuts, which are sliced and weighed tableside before hitting the flames. Classic garlic mashed potatoes make for a comforting side dish, creamy and light; or there is grilled broccolini with balsamic reduction, another easy favourite. Paired expertly with an old fashioned cocktail or a bottle of red wine, dinner at the Grill Room sings like a wild canary. For larger groups and special occasions, the gorgeous private dining room, which seats up to 18 and boasts floor-to-ceiling windows, is a wise and graceful option.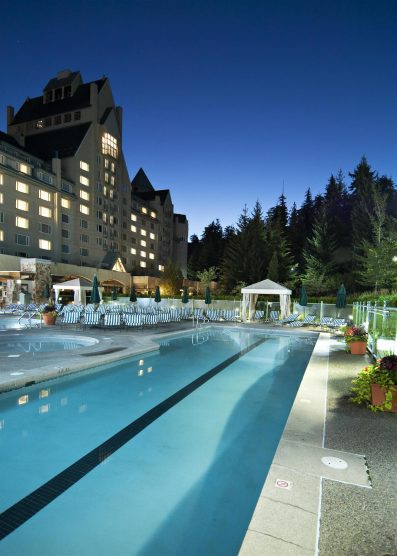 Post-dinner, when bellies are full, recluse (and recovery) can be found at the onsite Health Club, conveniently open until 11 p.m. Three outdoor whirlpools are coupled with an outdoor 60-foot heated lap pool (complete with classic Fairmont underwater music), and an indoor whirlpool as well. Dip between them all, letting the night's jovialities settle, and give thanks for such a moment, too soon nothing but a memory.
---
There's more to do in Whistler.