The 16-storey atrium in the Fairmont Rey Juan Carlos I is nothing less than spectacular. Eyes transfixed, your steps will halt when entering this newly refurbished hotel, located in an upscale district along one of Barcelona's main boulevards.
Sparkling like an enormous jewellery box, it drips with treasures in mesmerizing displays; the atrium is comprised of glass, mixed metals, and dove-grey accents. Soaring high above the lobby, angled balconies are stacked in a V formation along each side of the grandiose room; and everything is serenely accentuated by natural light pouring in through a glass façade.
The modern bijou theme is carried through into its 432 guest rooms, which provide the attention to detail that is standard at Fairmont properties. The even-numbered rooms provide stunning views of the hotel's pool, its outdoor ivy-clad restaurant The Terrace, its gardens, and its neighboring Real Club de Polo (Royal Polo Club). If you're lucky, you'll glimpse equestrian trainers with their thoroughbreds in the dressage arena, just outside the club's stables. Alternatively, the odd-numbered rooms offer dramatic views sweeping out over Barcelona.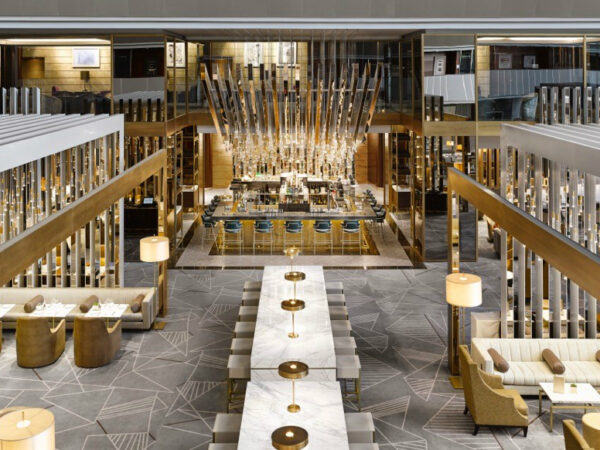 Originally built for the 1992 Olympics, the five-star hotel was inaugurated by the King and Queen of Spain. Its recent upgrades (and its inclusion as the first Spanish addition to Fairmont's international properties) have restored the glory of this urban resort, shaping it into a contemporary first-class destination.
The property covers six acres, which includes a spa and health club—named by Condé Nast Traveler as one of the top 10 fitness centres in the world—an adults-only pool, and a world-class conference centre. A 19th-century lake and garden oasis, known as Torre Melina, is perfect for weddings and celebratory gatherings.
The resort is home to five restaurants and bars, but undoubtedly the seasonal options, The Terrace and Pool Lounge, will lure you for tapas-inspired lunches or casual dinners prepared on a wood-fired grill. The 24-hour B24 bar, located in the atrium, is great for lounging over Spanish-influenced dishes served with cava or a mouthwatering assortment of spirits, cocktails, and international wines. Tea service is also available in the afternoon and evening—pastries, or a selection of the most popular tapas in Spain, are to your preference.
While situated outside of the heavily touristic core of Las Ramblas and the old city's Gothic quarter, Rey Juan Carlos I still bears close proximity to all that Barcelona has to offer. It's mere kilometres away from the city's renowned shopping district Passeig de Gràcia, and from Gaudi's wondrous work-in-progress, La Sagrada Família cathedral. But of course, one almost couldn't blame you for simply staying on hotel property.
---
Get stories delivered right to your inbox every Thursday.