"We get sneaky locals pretending that they stay here," says the concierge at the Kimpton Rowan Palm Springs with a grin. "So we give guests these wristbands to use for the pool." She hands over the bright orange bracelets—tickets to the first-ever hotel rooftop pool (and adjoining bar) in Palm Springs. No wonder the locals want in.
There is public access to the roof, though, if looking to dine—4 Saints, the Rowan's moody and polished dinner hot spot, serves up delicious American-Mediterranean fare in a gorgeous room that overlooks the city. Curl up in a brown leather booth with The Italian Secretary, a refreshing cocktail made with gin, Amaro Meletti, lemon, and orange bitters; or the savoury Highway 111, boasting bourbon, roasted dates (an abundant local product), bitters, and Demerara sugar.
For food from chef Stephen Wambach, start with the show-stopping artichoke salad made with sunchokes, miso, and black truffle, or the sea urchin with grapefruit, almonds, and parsnips. Moving into mains, the John Dory is perfectly flaky and moist, served with hazelnuts, Brussels sprouts, and cauliflower; also worth attention is the Rye Cavatelli, which comes with smoked lamb belly, chestnuts, and maitake. If room has been saved for dessert, which it should be, there is a delightfully playful Jasmine Cheesecake that is served as a popsicle with mango, elderflower, and matcha. Better yet, split the cheesecake and also the Crepe Passion Claude Troisgros, a sort of puffed fried crepe stuffed with vanilla bean cream and swimming in a pool of passionfruit juice.
Of course, the delicious 4 Saints experience is available to everyone, but only hotel guests get the leisure of simply taking the elevator down to their rooms. The 437 square-foot King Spa suite is a mighty fine option for resting one's head, as it boasts a modest private balcony and expansive floor-to-ceiling windows. Take in the intimate views of the rocky San Jacinto Mountains while wearing a soft bathrobe, and then hop in the striking standalone deep-soaking tub inside the beautifully tiled washroom. Atelier Bloem bath amenities are at the ready, and if you forgot toothpaste or a razor, never fear—simply text the concierge and the items will be promptly brought to your door. Each room is also equipped with a yoga mat, allowing for a personal set of sun salutations to thank the heavens that Palm Springs gets an amazing 350 days of sunshine per year.
All Rowan guests are given access to the hotel's fitness centre, and receive complimentary valet parking—and, for those heading to the green, there is free golf bag storage. Public cruiser bikes are also available for the taking, providing an environmentally-friendly mode of transportation that complements in-room artwork with an important message: "Leave No Trace."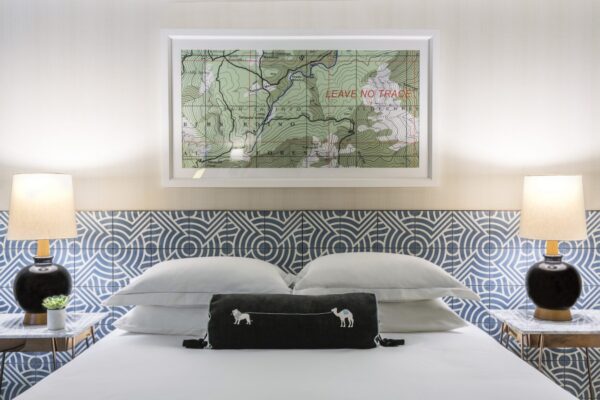 Down in the tall lobby, a friendly social hour happens once a day, bringing guests together at the sleek Window Bar. The Rowan is distinctly different for Palm Springs, bringing a touch of urbanity to this sleepy desert town. It feels contemporary and new (indeed, it opened at the end of 2017), but at the same time incorporates touches of mid-century modern design that are so ubiquitous around here. And despite the fact that the hotel was caught in the cross-hairs of a corruption scandal involving the former head of its development company, it shows no cracks in its facade. Nor should it.
In the mornings, grab a cup of coffee from the lobby, or head to the ground floor cafe Juniper Table for brunch. Here, play beanbag toss or jumbo Connect Four on the enclosed patio, taking turns in between sips of cold-brew. For sustenance, order the Brick Oven Egg White Frittata with kale, turkey sausage, tomato confit, pine nuts, and butternut squash, and indulge in a side of hashbrowns—shredded and then deep-fried into a square, the creamy potato dish is served with paprika and romesco. For potato enthusiasts such as this author, it is something close to revolutionary.
The Rowan's downtown location is prime real estate, allowing for a leisurely walk (or cycle) to nearby bars and restaurants. Consider Rooster and the Pig for upscale Vietnamese, or Shanghai Red's for a fun margarita. The hotel is also right next to the Palm Springs Art Museum, long-loved for its collection of modern works.
This hotel is decidedly special, equal parts funky and sophisticated. There is a joviality inherent to the service, and a class embedded in the design. Indeed, it is a welcome addition to the low Palm Springs skyline. Just ask the locals.
---
Discover more of the world.