What The Marlton rooms lack in space, they make up in charm.
This Manhattan hotel, located at the edge of Washington Square Park, is perhaps the truest meaning of small (rooms are only 100 to 150 square-feet) but mighty. The charisma and history of this place far outshine the fact that there is barely space to walk between the bed and the washroom.
Built in 1900, the Marlton House, as it was originally called, has over the years hosted both the famous (St. Vincent, John Lithgow, Lillian Gish) and the infamous (when Valerie Solanas shot Andy Warhol, she was living here). The Marlton is where Jack Kerouac called home when he wrote Tristessa and The Subterraneans, and where Mickey Rourke and Neal Cassady have both at one time hung their hats.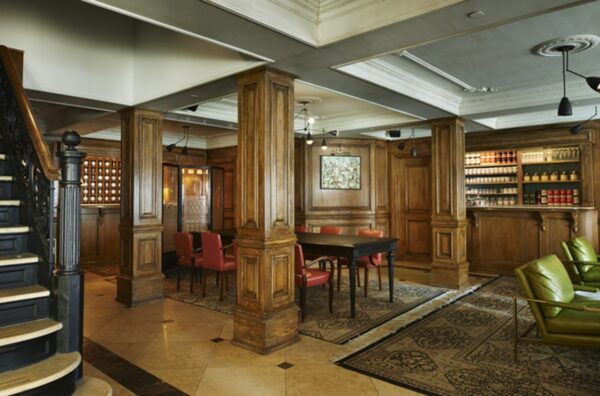 Despite all this popularity, or perhaps because of it, there came a time when the building needed an upgrade. Millions of dollars later, The Marlton was reborn in 2013 at the hands of hotelier Sean MacPherson (The Bowery, The Lafayette House). It is now beautifully updated but true to its history, with original herringbone wood floors, plus gorgeous crown moldings, marble and tiled washrooms, and brass fixtures. Stunning runner rugs line the hallways, and the lobby is covered in rich woods. MacPherson, who personally spearheaded the redesign, referenced F. Scott Fitzgerald's version of Paris in Tender is the Night, pairing postwar touches with Greenwich Village's own narrative through the years.
For sustenance, the main floor of The Marlton features a beautiful restaurant called Margaux (ask to sit in the solarium), where mornings are made better with a generous portion of avocado toast. If a further pick-me-up is needed, an outpost of Portland's Stumptown Coffee is just across the street.
The Marlton is friendly, comforting, a touch whimsical. It feels special, even before its history is learned.
---