It's 6:20 a.m. on a Sunday and I can feel Pippin stirring at my feet. He places his paws where his head rested a moment ago and pushes his back up into a big morning stretch. I groan. This is the seventh day in a row my cat has woken me up before I was ready.
Insufficient sleep, either of short duration or poor quality, is linked to a range of health issues, such as type 2 diabetes, cardiovascular disease, depression, irritability, likelihood of injury, and overall reduced well-being. Unfortunately, insufficient sleep and poor sleep hygiene are extremely common due to lifestyle factors such as blue light, caffeine, work demands, and social commitments⁠—and cats.
Health Canada recommends several strategies to promote optimal sleep hygiene (the consistent habits and practices that are conducive to good sleep), including maintaining a regular bedtime and wake up time, exercising regularly, avoiding alcohol, caffeine, and nicotine before bed, and practicing relaxation and mindfulness-based stress reduction techniques. As anyone who has tried to improve their sleep knows, though, fitting a thorough sleep regime into the day isn't easy. When life gets busy, sleep hygiene can be the first thing to go.
This is why, several hours after my rude awakening, I find myself tired but hopeful at the Rosewood Hotel Georgia in downtown Vancouver. The hotel has incorporated all of Health Canada's recommendations into a luxurious three-night sleep transformation or a one night dreamscape retreat to reset sleep schedules. The Rosewood is taking a holistic approach to sleep, addressing nutrition, movement, and mindfulness through spa treatments, yoga classes, and expert consultations. Plus a fair amount of pampering, I discover.
After settling into my room—taking note of the generously-sized free-standing stone bathtub that I will be taking advantage of later—I make my way down to the Sense spa to read by the pool before my night cocoon healing ritual, one of two 90-minute treatments on offer. I'm presented with a shot glass of tea and a hot towel while I wait and ponder what on earth a night cocoon could be.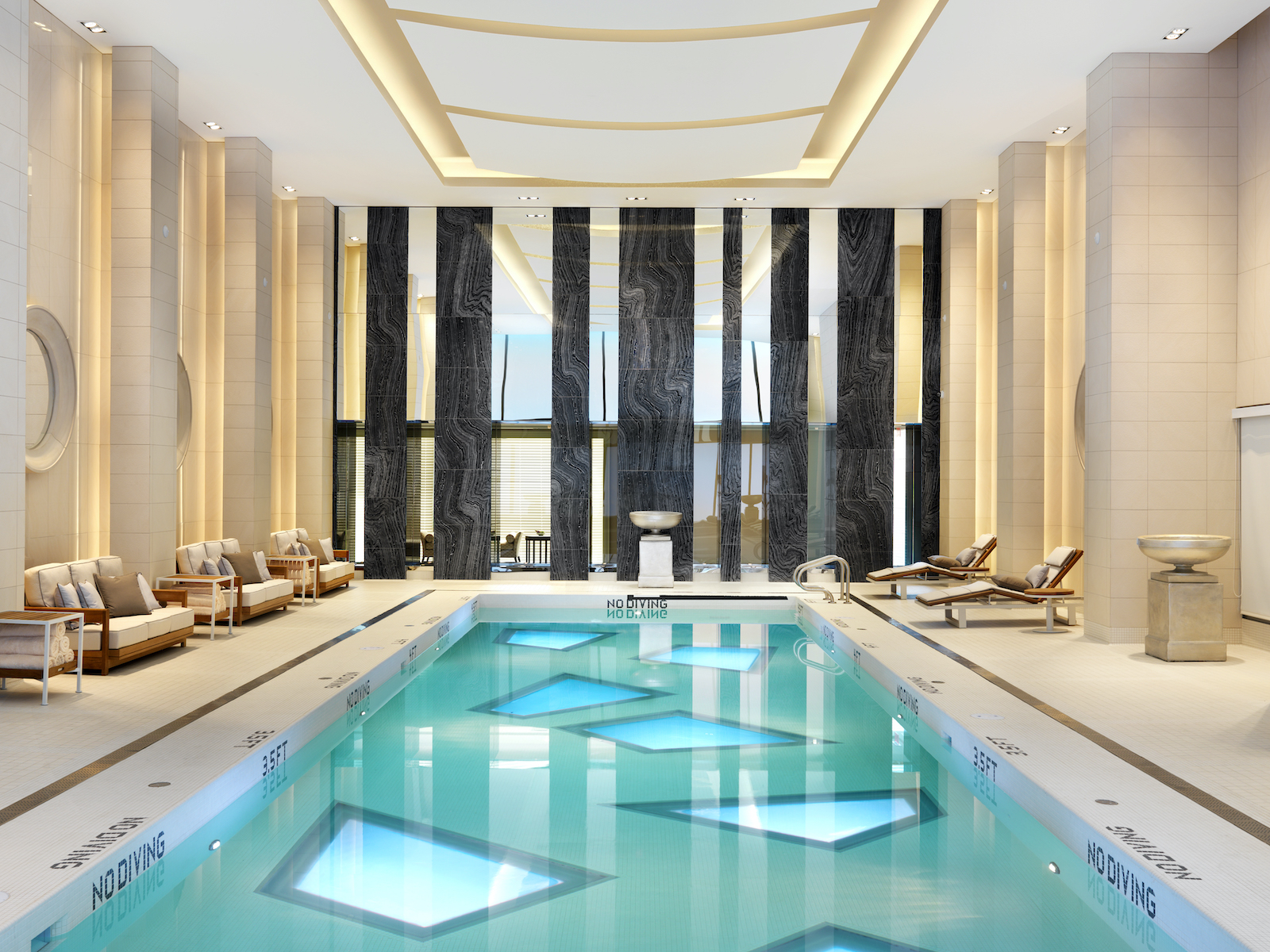 It turns out the night cocoon is a full-body lavender exfoliation followed by a moor mud wrap and a massage. The scrub revives, smoothes, and tightens the skin and the mud nourishes, reduces inflammation, and relieves aches and pains. The masseuse works it over into my skin and once I'm thoroughly covered in mud and very comfortable (if slightly sceptical) she tucks me in and moves to my head for a massage. The mud acts as a natural insulator keeping me toasty and the weight of the cocoon and calming music lull me into a waking sleep. When I come to, I feel like a toddler waking up from a nap.
Like Bambi taking his first steps, I follow my masseuse to the shower so I can rinse off the mud to reveal soft, smooth, exfoliated skin beneath. Once the mud is gone, I return to the room for the more traditional massage portion of the treatment. My masseuse gently admonishes me for carrying so much tension in my body as she attempts to release my hold on my limbs until they fully relax.
The treatment is designed to help me recover from seasonal lifestyle and hormonal changes. The recent return of sunshine after a long period of grey has created a refreshed energy within me but I still need a final push to feel 100 per cent again. Taking the time to invest in my own well-being is mentally resuscitating while the reset to both my skin and muscles is physically sedating.
When we're through, I feel a heavy sleepiness descend upon me as, once again, I'm led into an antechamber and an impossibly pillowy chair that I sink into, unsure how I'm going to stand again, especially when a blanket is placed over me.
Waiting beside the chair is a healthy snack of sparkling water and lime wedges, veggies, hummus, and an avocado lime tartar with beetroot, pine nuts, capers, sesame, cilantro, and rice crackers.
The refreshing snack is a welcome pick-me-up from the weight of relaxation threatening to pull me under. It's only 5 p.m. and I have to make it to the end of the day at least before passing out.
Back in my room after a quick dinner in Gastown, I find a tea and turndown service has already been delivered, which I'm delighted to discover includes bath salts for the tub. A basket of Beauty Through Balance lavender products—olive cleanser, soy lotion and essential oils—also awaits with a silk eye pillow to bring to yoga in the morning.
I only make it to 9:30 after a long soak with a cup of tea. Crawling between the crisp sheets I set my alarm for 7:30 a.m. yoga, slightly chagrined.
The alarm cuts through my deep sleep and I imitate Pippin's stretch from the morning before. I'm still deeply tired, sadly, but my muscles and brain are clearer than the day before—it takes more than one night to recover from an entire week of poor sleep. And where I would usually reach for coffee or spend my day sedentary, today I wake up and move. Flowing our way through sun salutations, I can feel myself start to perk up. My voice gets clearer, and my brain more alert, and by the time we lay down for savasana with the weighted pillow over my eyes, I am ready to start my day.
---
Read more Travel stories.