Tofino, with its big waves and surfer vibes, has long been stealing the show on Vancouver Island. But Vancourites hoping to axe that extra three-hour drive from Nanaimo can look just 38 kilometres north to Parksville and neighbouring Qualicum Beach. The summer holiday spots have long been a family affair—what British Columbian of a certain age could forget that magical mini-golf course, or the legendary sandcastle competition? While still hosting old favourites, the area is also beginning to bring in some newer, younger attractions. Though, with Qualicum Beach's median age set at 63.9 (the oldest in Canada) and Parksville's not far off from there, change is coming at a rather subdued pace. The gradual stride is welcome, though—we are on island time, after all.
That slow, relaxed pace is central to the enjoyment found at Parksville's Tigh-Na-Mara Seaside Spa Resort & Conference Centre. Right off the highway but embedded in 22 acres of forest, the resort manages to feel like its own little world. On the shores of some of the warmest waters in B.C., the resort has been fine-tuning its offerings since 1981, and has certainly got the hang of things. Accommodations range from rustic cabins and lodges to spa bungalows and oceanfront suites—each option full of warmth and character. The newly renovated Oceanview Deluxe Studio, for instance, features a state-of-the-art kitchen, spa bath, and plush king bed—all equipped with stunning ocean scenery.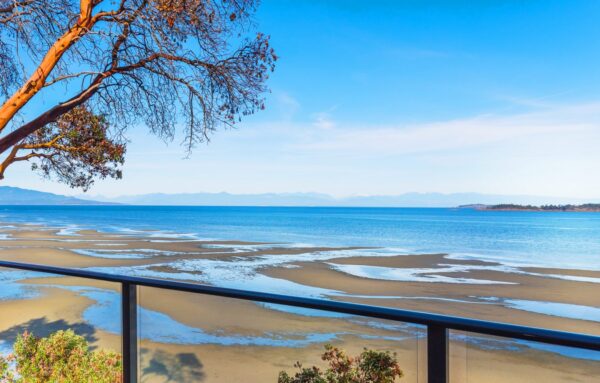 Tigh-Na-Mara Seaside Spa Resort & Conference Centre. 
A visit to the resort's Grotto Spa is the ideal way to kick-start a weekend of unplugged relaxation. It offers a tantalizing menu of treatments like the micro-polishing facial, stone massage, and spearmint vanilla pedicure, all centred around the spa's star, the Grotto Mineral Pool. Featuring trace minerals and elements such as potassium, iodine, magnesium, and calcium, the bath is a detoxifying cocktail. Dips in the pool can be interspersed with hot/cold treatments in the whirlpool and cascade shower, fully submerging oneself in aquatic bliss.
On this particular visit, that bliss continued to the Winemaker's Dinner held at the resort as part of the annual Parksville Uncorked—a weekend celebrating local and B.C. wine with events split between Tigh-Na-Mara and The Beach Club Resort. Guided by Tinhorn Creek's former winemaker and current CEO Sandra Oldfield, the dinner featured eloquently paired plates prepared by Tigh-Na-Mara executive chef Eric Edwards. To start, a stunning 2015 Chardonnay (worth hunting down, especially if you think you dislike chardonnay) was left to shine, with just a bite of sweet potato pancake, quail egg, and caviar to heighten its supple flavours. A dish of local scallops, prawns, and salsa verde played off the mineral notes of the 2015 Gewürztraminer, just touching the sweetness of the grape. The whites represented a shift to newly installed winemaker Andrew Windsor, who seemingly shares the same unflinching dedication to quality that Oldfield demonstrates in her famous merlot.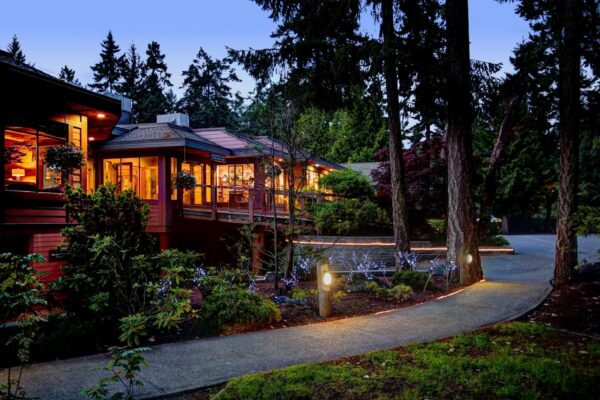 Tigh-Na-Mara Seaside Spa Resort & Conference Centre. 
Substitute soda for wine and you could say Oldfield and Mandolyn Jonasson are something of kindred spirits. At Jonasson's Island Sodaworks shop and cafe set in Qualicum Beach's old fire hall, you'll find no sugary pop—instead, her fizzy beverages are naturally fermented and probiotic. Flavours change every three days or so, and range from Balsamic Violet Blueberry to botanical cola. In the very best sense of the word, Jonasson is a fanatic; nearly everything served at her restaurant is grown on her own organic farm, where she has pigs, ducks, chickens, sheep, and a variety of vegetables—all on one acre. The duck on her warm duck salad with cauliflower, for instance, was butchered just two days before serving.
Getting deeper into the region means literally getting into the ground. Surprisingly, Vancouver Island is home to the highest concentration of caves in North America, most of them still unexplored. Since the 1970s, the caves have been the playground of the very brave voyagers of the dark. Thanks to their findings, some of the caves have been preserved and opened to the public for mini-spelunking adventures. Vancouver Island Caving in Horne Lake Caves Provincial Park is about a 45-minute drive from Qualicum Beach and offers a wide range of options for the curious. Be warned, however, that even the mildest one-hour guided tour includes a fair amount of squeezing, crouching, and crawling, not to mention climbing up a waterfall. The island's most elderly feature is perhaps its most exciting.
---