A short drive from the town of Revelstoke, perched at the end of a sweeping road punctuated with executive properties, the Flying Moose Chalet sits high above the Columbia River, with panoramic views of the surrounding peaks. With 8,500 square feet of luxurious mountain accommodation, it operates at the level of an exclusive boutique hotel but with the comfort and privacy of a private home.
The sheer scale of the chalet left our jaws momentarily slack. Stepping inside, we laughed at the contrast: four women, the tallest of us maybe 5 foot 2', standing in the hallway of this stunning, voluminous space with vaulted ceilings, heated stone floors, and a roaring log fire. We were here for a couple of days to reconnect, decompress, and have some fun—and clearly, this was not going to be difficult. The most pressing issue was deciding in which order to cycle through the pool, hot tub, and sauna.
We pushed ourselves hard—heck, we even tried to kick against the current in the Michael Phelps–designed resistance pool (swimming on the spot is a tough and quite strange workout). We refreshed under rain showers, rejuvenated with in-house massages, and roused ourselves for drinks and nibbles at the fully stocked bar, before playing some serious shuffleboard and table tennis (on the most exquisite wooden Ping-pong table I have ever seen) in the second-floor games room.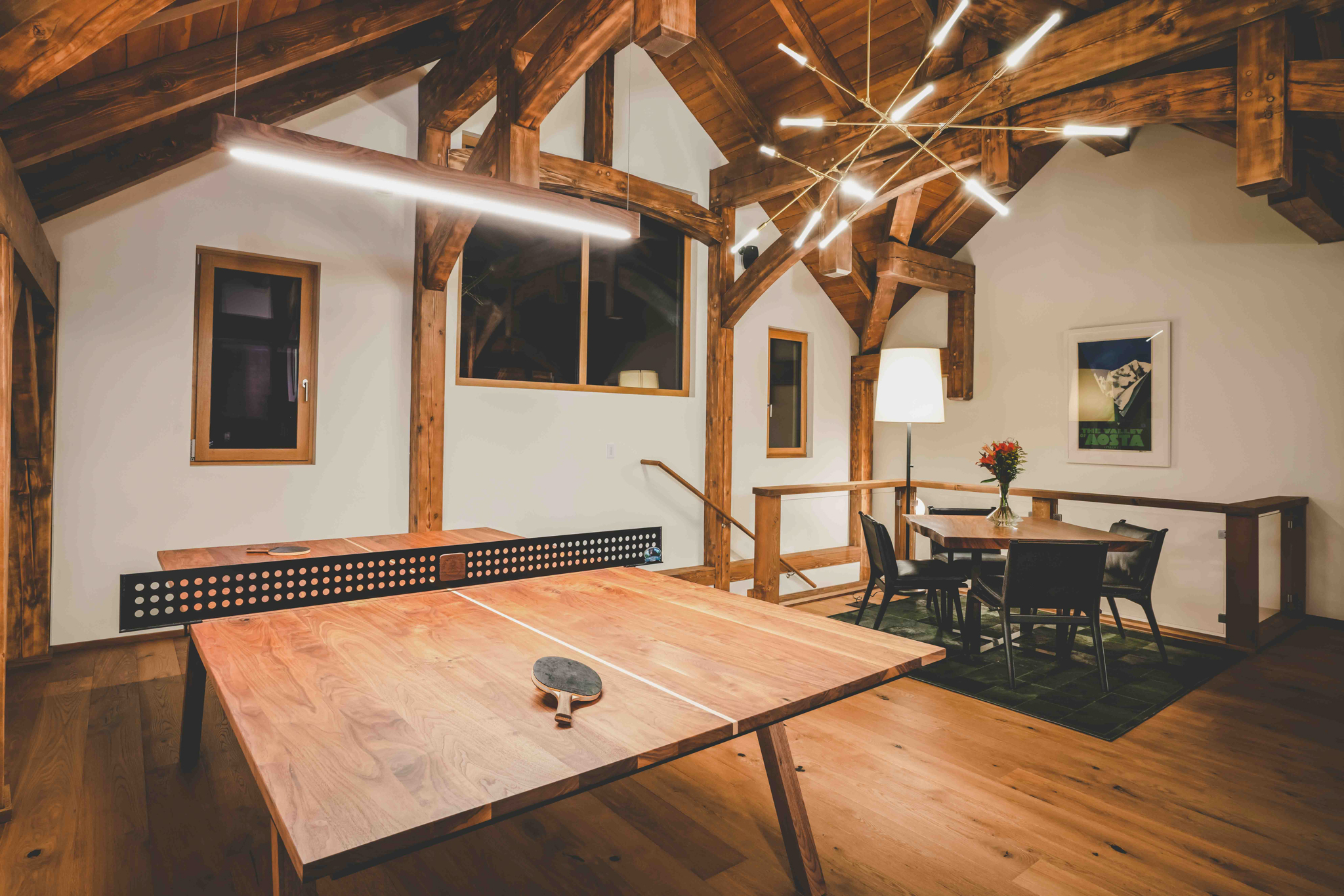 As we worked up an appetite, Jimmy Young, a private chef from Yorkshire, England, was busy prepping our dinner in the chalet's beautifully appointed kitchen. Seared scallops with pork belly, poached chicken with polenta, chocolate torte—the food was elegant and delicious, paired with a selection of B.C. wines from the chalet's cellar. All there was left for us to do was head downstairs to the media room for a spot of postprandial karaoke. In Revelstoke, we figured, no one can hear you sing.
Though it would have been easy to simply stay put and revel in the house, we ventured out to work off dinner with a morning of cross-country skiing, which, considering our skills matched our tunefulness, was both a proper workout and more opportunity to laugh ourselves silly. We needed a good lunch and struck gold at Terra Firma's Kitchen. A farm-to-table café and restaurant, Terra Firma's is one of those unassuming gems you never forget. We ate heartily, took back breads and treats for snacking, and left early on our departure day purely so we could stop in again for breakfast. If you are visiting Revelstoke, put this place high on your agenda—almost a year later, I still think about it.
Given its location, it's no surprise that Flying Moose is fully loaded with everything the serious skier could need, including its own helipad and après ski lounge. The latter—an 800 square foot state-of-the-art facility—is new for the 2022/23 season, boasting boot dryers, stocked bar, espresso machine, big-screen TV, soft flooring, and an area for ski-tuning, boot-fitting and even yoga.
It may pitch itself to the powder junkies, but Flying Moose doesn't skimp on the amenities for nonskiers who, like us, just want to regroup, recharge, and relax. It's perfect for a bespoke, private trip—a trend in travel following the past two years of isolation and restrictions. Weddings, family reunions, major celebrations—the house has the capacity, easily sleeping 17 in luxuriously appointed suites, all with ensuite baths and most with private patios. Stays are tailored with varying levels of service, from basic housekeeping to a private chef, butler, onsite massage therapy—whatever your imagination and budget allow.
---
Read more travel stories.