Jess Freese was working as an actuary in London when it suddenly dawned on her that she was not living the life she wanted. So she and her now-husband, Jake, began a nomadic adventure: they spent winters in Whistler and summers in the Caribbean. That is, until a little resort called Sunwolf came across their path. Located in Brackendale just outside Squamish, the property of rustic cabins was for sale, and it needed some serious love. Deciding to settle down, the Freese couple bought it up in July 2010 and have spent the last seven years rejuvenating it, and turning it into a micro community for locals and visitors alike.
With a history dating back to the early 1900s, this modest property sits right at the convergence of the Cheekeye and Cheakamus rivers, meaning the tranquil sound of rushing water is always within earshot. Sunwolf is an off-the-beaten-path sort of place, but that just makes it all the more special.
With 12 bucolic cabins, Sunwolf is family-friendly, but equally great for couples. The Logger's Shack is fantastic for those looking for something a little bigger than the standard riverside cabins—the 550-square-foot lofted space is complete with hardwood flooring, a wood furnace, and a bed beneath a picturesque A-frame roof. The Freeses worked hard to give life back to Sunwolf, and it shows. Even the communal washrooms (used pre- and post-hot tub), while nothing to look at on the outside, are beautifully redone inside: light wood, French-inspired tiles, and even a chandelier make the women's lavatory feel welcoming and comforting.
All Sunwolf guests can take advantage of the communal outdoor barbecues, hot tub beneath string lights, and fire pit surrounded by wooden bleachers (note, though, you must get your own firewood). The serene surroundings make for a beautiful sleep, and one should hope to wake hungry for breakfast at Fergie's, the onsite cafe.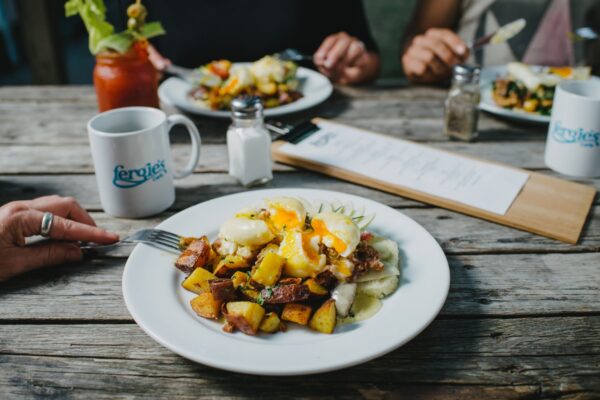 Fergie's (an homage to Sunwolf's heritage: in the early 1950s the Ferguson family ran the property as Fergie's Fishing Lodge; it changed ownership and became Sunwolf in 1995) serves what is easily the best brunch in Squamish, if not all of the Sea to Sky Corridor. Memorable dishes include a pulled pork hash with potatoes, vegetables, cheddar, a sunny-side-up egg, and hollandaise sauce; and a veggie bowl with poached egg, avocado, kale, feta, braised beans, mushrooms, and caramelized onions (made even more delicious with an added sausage). Everything is sourced locally when possible, and much of it is made in house (such as the hollandaise). Fergie's operates on a closed-loop system, meaning that its prep food scraps are composted, and that soil is then used for growing herbs. The little herb garden outside, Freese hopes, will help locals, especially children, understand where their food comes from. "We're trying to talk about it, to educate people," she says. "It doesn't have to feel lesser and can still be more sustainable."
New this year is Fergie's indoor dining space: a refurbished trailer. Parked snugly next to the cafe's original (and painfully small) patio, the trailer means that patrons have a place to eat their breakfast inside during the winter. "Squamish people are some of the most intrepid," Freese says over breakfast at Fergie's. "They would be eating breakfast in puffies or while holding umbrellas." Now customers can sit at small tables, stools along one wall, or even big leather chairs. There is a wood fireplace, and basically the whole trailer is covered in reclaimed barn wood. If you visit, look closely at the windows on the left: they are actually doors set sideways, attached to fisherman's pulley systems that let them open and close with charm.
Fergie's is for the local community as much as it is for the visitors. Pulling into Sunwolf on a sunny day feels like stumbling upon a mini universe. Children run and laugh, dogs roll around on the grass, and parents calmly catch up over coffee without having to worry about their kids being unsafe. "Parents often say to me, 'That's the best meal I've had since having kids,'" Freese says; she and her husband have two of their own children and another on the way, so Sunwolf has quite literally become their family.
Squamish is their home now, and Freese seems mightily glad that she quit her corporate job in London all those years ago—even though she admits she still has the Armani suits that she wore to the office in those days. "I should really get rid of them," she says with a laugh. But there's nothing wrong with remembering where you came from.
UPDATE, September 2018: Fergie's was destroyed in a fire and is being rebuilt. It is scheduled to reopen in spring or summer 2019. (Update 2020: It is now open.)
---
Read more about beautiful British Columbia.