Glass of chilled bubbly in hand, I look out the floor-to-ceiling windows of my room at the Thompson Seattle. Pike Place Market sits directly below, quiet now in preparation for tomorrow's Saturday morning rush. The Great Wheel spins slowly, brightly lit up with different colours; beyond that, the still waters of Puget Sound glisten under the city lights. In the distance, I will notice come the next day's sun, are the Olympic Mountains.
In this moment it is hard not to feel a certain excitement, a distinguished anticipation of the oncoming weekend. The Thompson Seattle, opened in summer 2016, is perfectly situated and primed for urban adventure.
Taking a few moments to relax before dinner, I am overcome with the extreme comfort of our king bed, made especially soft thanks to 400 thread count custom Sferra sheets. The 42-inch Samsung television plays the Food Network as we explore the room, chuckling at the mini bar's cheeky inclusion of a lovers' kit (we decide to leave it unopened). This Water View Deluxe King room also comes with a beautiful and soothing rain shower, classic Thompson robes, and exclusive amenities from Brooklyn's D.S. & Durga.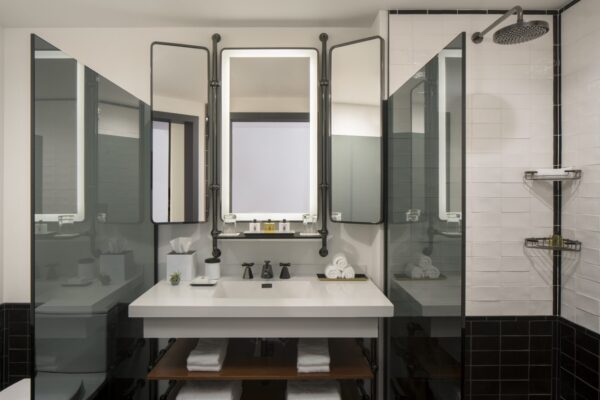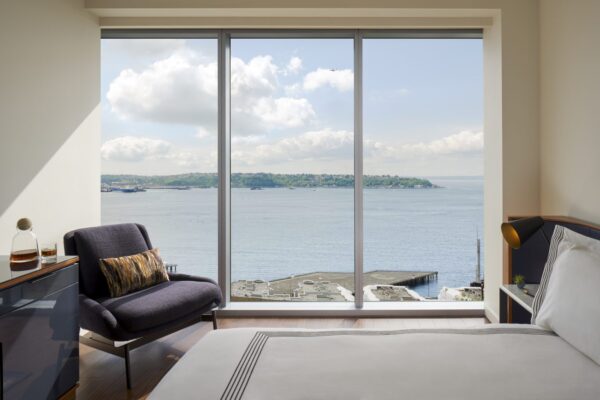 There are many detailed and thoughtful touches at this hotel, such as the in-room safe large enough for a laptop, and the elevator mats that change throughout the day to greet you with "Good Morning" or "Good Evening."
In said evening, some elevators may also house trails of black confetti—a festive surprise from the hotel's rooftop bar The Nest. Seemingly soaring above the city, The Nest is undoubtedly a hot spot for both guests and locals. Music bumps as beautiful people lounge on plush armchairs and sofas, or mingle around the enclosed patio (which is open-air in the warmer months). While waiting for a cocktail, I'm struck by a tall and broad-shouldered man to my left. Smartly dressed and oozing confidence, he is the epitome of the Thompson client.
People certainly do love the Thompson chain, which has locations in places including Playa del Carmen, Nashville, and Manhattan. "I stayed at the Thompson in Nashville!" a man exclaims to a waitress at Scout PNW, the Seattle location's bottom-floor restaurant. "I stayed at the Thompson in Toronto!" Clearly he is excited to be here, and to experience another one of the company's properties.
And Scout PNW is a good place for him to start. With a menu dreamed up by Thompson executive chef Derek Simcik and Huxley Wallace Collective's Josh Henderson, the eatery offers high-end but approachable Pacific Northwest fare, much of it sourced locally. We start with the day's special: fennel-crusted seared albacore tuna and fennel salad, along with a mainstay appetizer of burrata with green apple slices, pistachios, and roasted quince. Mains come hearty and comforting, such as the chicken cassoulet with parsnips, mushrooms, cannolini beans, and garlic confit, or the short rib with creamed kale, potato dauphine, and porcini mushrooms. For wine, the list includes some fantastic Washington bottles; for dessert, a chocolate tart is made interesting with kumquat, lemon curd, and espresso ice cream.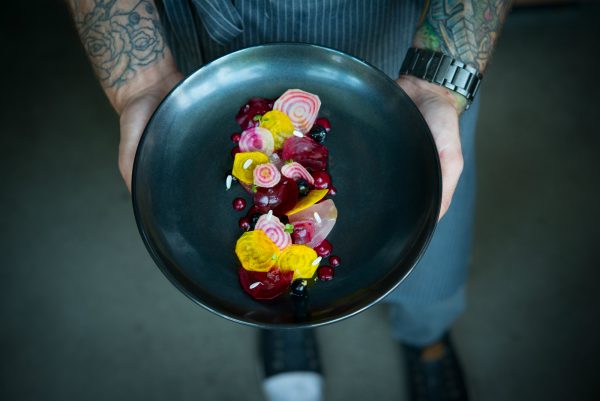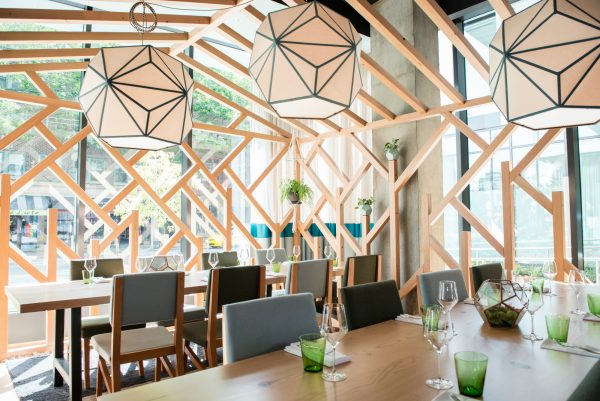 Scout's design is eclectic, with macramé plant hangers and a giant open-mouthed fish painting running along edges of the space, and a 20-person wooden "Cabin" housing private groups and tasting menus. It all works, though, a sort of mishmash of oddities and commodities that make the whole thing feel rather homely. Scout offers breakfast, too, and coveted brunch, though hotel guests can also help themselves to complimentary coffee and tea each morning from a cart parked in the lobby.
The Thompson's location is hard to beat, being basically right on the water and a short distance from cute cafes like The London Plane and craft breweries such as Cloudburst. It's not far to Capitol Hill, either, where Melrose Market and Totokaelo await.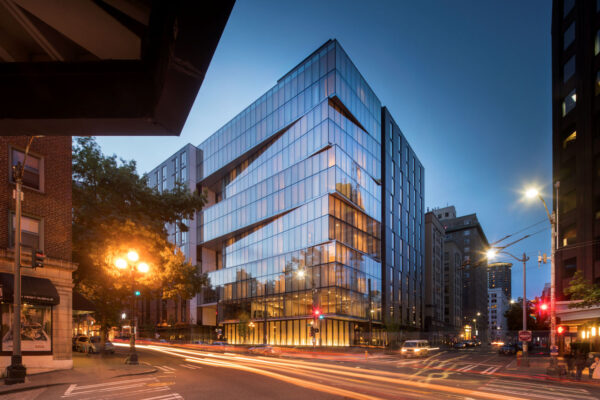 This hotel adds a new element to the Seattle skyline, and is a welcome participant in shaping the city's downtown core. Halfway between Portland and Vancouver, Seattle can often be overlooked—but it has its own identity, and has lot to offer. The market was evidently starving for a quality boutique hotel, and it's safe to say it found the right one.
---