Even as the English rain pours down outside, Dishoom is warm, lively, cozy.
Walking along the string light-covered alley that leads to the restaurant's Shoreditch location, it is hard not to feel transported. Inside, comfortable seating and dim lights make for an intimate experience; on the covered and heated terrace, a garden-like atmosphere complete with couches and colourful textiles ignites the senses. Despite the fact that it is the middle of the workday, table after table—from a gang of young women, to a mother-son duo, to a man dining solo—wanders in for a bite. This place, evidently, is a destination.
Dishoom is an homage to the once-ubiquitous Irani cafes that used to dot the streets of Bombay. Run by Iranian immigrants, these cafes numbered in the hundreds in the 1960s; now less than 30 of them still stand. Launched in 2010 by brothers Amar and Adarsh Radia along with cousins Shamil and Kavi Thakrar , the restaurant now has six locations: five in London and one in Edinburgh. The owners often visit the few remaining Irani Bombay cafes to spend time with their owners, and the payoff of those interactions is felt throughout Dishoom; dining here is like spending time in your aunt's perfectly eclectic living room.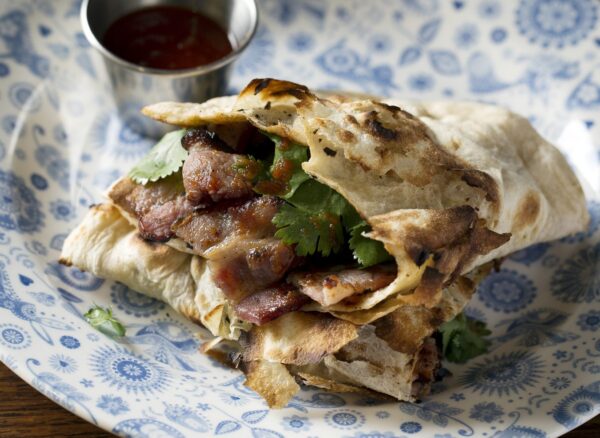 Start by ordering a cup of perfectly creamy spiced chai—which is bottomless, by the way. Then perhaps indulge in some lamb samosas: Gujarati filo pastry filled with minced lamb, spices, and onion. The best thing to do here is share a few dishes, family-style, because it is hard not to want everything on the menu. The House Black Daal is a must-have, cooked for over 24 hours to give it an incredibly bright flavour profile. Order some house-made roti, griddled to order, to sop up the sauce. There are aromatic curries, kababs, and tikkas; try not to look at the tables around you or you'll have an even harder time deciding what to get.
Ingredients are sourced with the highest standards; eggs are free-range, chicken and lamb are Halal and Red Tractor-certified, and animals are always humanely slaughtered. That care and attention is evident in every aspect of this place. There is something powerful here that a lot of restaurants don't have: heart.
---
Read more in food.