In a city increasingly defined by glass, wood becomes captivating. It soothes, it draws one in—it serves as a reminder of place. No surprise then, that Brent Comber who grew up in Vancouver with its temperate rainforest, thick with mossy trees, uses the material in his art.
"Wood has a very engaging and interesting way of connecting people to material," the internationally renowned artist explains at the opening of his latest exhibit, "Above The Trees" showing in Gryphon Development's Musée gallery. On display until mid-October, Comber's show looks at the historical progression of wood as a component of our built environments.
Comber forms his work—which serves both as furniture and as art—with fallen wood. Collected from across British Columbia's shorelines and fields, the wood is then milled, sculpted, and molded at the artist's oceanfront studio. He says he views every piece as unique as the characters that make up a city: each has its own distinct personality, characterized by knots, lines, grooves, and bark.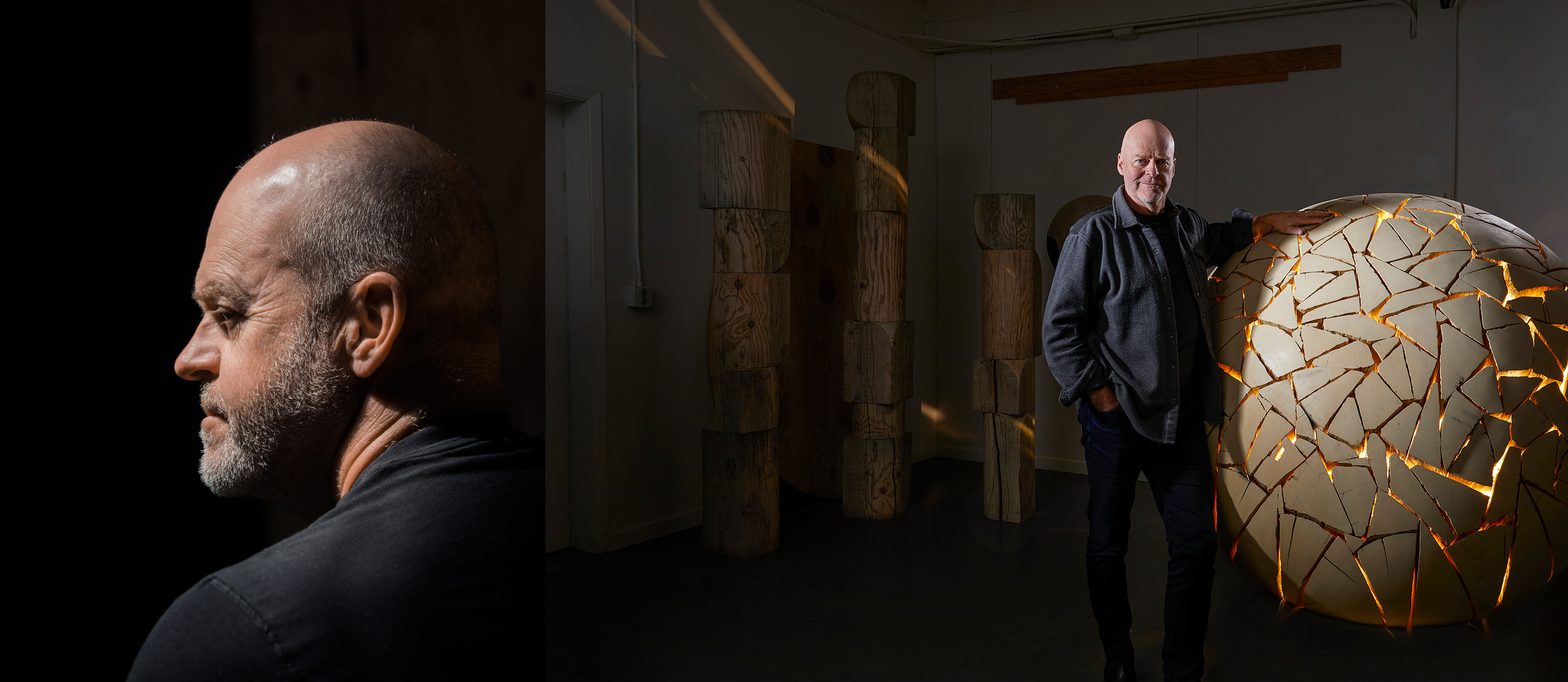 One of the artist's most recognizable local installations, Pale Shadows, sits in the VanDusen Botanical Garden. Comber describes these standing fir spires as a reminder of our past and explains why he included a piece from that installation at Musée. "It tells the story of how the West was built. Architects don't use this material in this way anymore," he says. "People love the history and romance of it, but structurally, there are better materials out there."
While Comber's work isn't new to the collectors' world—he's had showings from Paris to Japan and is displayed in luxury hotels around the globe—this is his first exhibit with the Kerrisdale gallery. "Above The Trees" takes the viewer from past, with the delicate fir in Pale Shadows, to future, with the sturdy Accoya in Radiance Sphere. "That's actually a brand name of a pine that's gone through a process of acetylation," Comber explains. The moisture is removed from the pine timber and replaced with brine, leaving it impervious to water—with no finish added, it can last outdoors for up to 50 years. "It means," Comber says, with a laugh, "essentially, it's pickled."
"Above The Trees" by Brent Comber runs until October 16, 2019 from 11:00am-4:00pm, Monday to Friday at Gryphon Development's Musée gallery, 6111 West Boulevard, Vancouver, B.C.
---
Read more about the Arts in Vancouver.