Almost 30 years after he took home the best actor statuette at the 1992 Academy Awards, Sir Anthony Hopkins is being tipped for another Oscar. Far removed from his winning performance as one of cinema's most infamous serial killers, Hannibal Lecter, Hopkins' latest role in Florian Zeller's The Father is Anthony, an aging Londoner struggling with dementia. As the failing Anthony, Hopkins channels his trademark mix of charm and anger but in the context of confusion from the onset of memory loss.
I meet Hopkins at the exclusive Nobu Ryokan Malibu where, unlike most actors, he arrives an hour early. No one wants to be surprised by Hannibal Lecter, but Tony, as he prefers to be addressed, is a bit more intense than your average 83-year-old ("I have a lot of strength," as he puts it). If he does claim the top prize at this year's ceremony in April, he will be the oldest actor to do so. Although it would be only his second Oscar, he has another four nominations to his name, including last year's nod for his performance in The Two Popes. In 2018, he played the embittered, aging Lear in Richard Eyre's BBC production of the Shakespearean tragedy, drawing plaudits. "Shouty, angry, cruel one moment; vulnerable, tender, loving the next—or at the same time," The Guardian wrote of Hopkins' "mesmerising performance."
Though he dislikes being called a theatre actor, Hopkins enjoyed taking on the Bard. "I had a good time doing it," he says. "I knew how to play it. I was at the right age to play Lear. Richard Eyre, the director, and I got on so well. When you're working with actors like Jim Broadbent and Emma Thompson, it's easy. I didn't want the weekends to come because I was having so much fun."
Born in 1937 in a small town in Wales, Hopkins—the son of a baker—has spent his life putting on characters for size, as comfortable starring in big-budget Hollywood dramas as he is in literary Brit flicks. If, on occasion, the weight of his persona can cloud the character on screen, there is no doubt that Hopkins is a member of the group of British actors (Laurence Olivier, Judi Dench, Ian McKellen) who can turn their talent to any role. Indeed, when Lear says, "Who is it that can tell me who I am?" Hopkins could be asking for himself.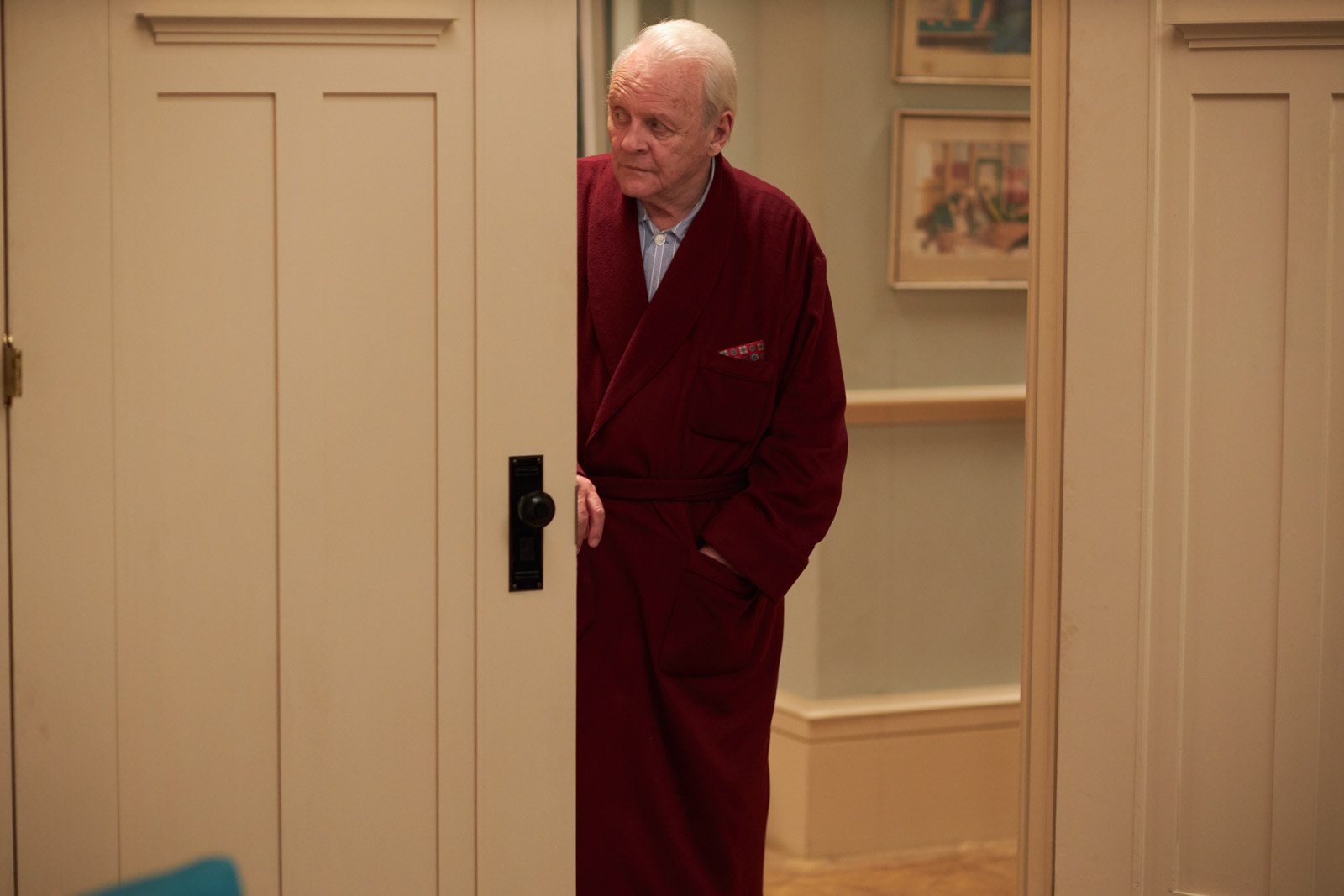 When he's not acting, you'll find him at home painting or composing music on his piano—as his more than two million Instagram followers can attest. Hopkins has a feed full of art, kindness, and humour, often featuring Niblo, his beloved cat. Social media may be a minefield for many, but he is surely of an age (and status) where he doesn't worry about what other people think of him.
It wasn't always the case: as a child he was convinced of his own inadequacy. "I wasn't very swift. I wasn't very sharp," he remembers. "By a series of connections and accidents, I became an actor. I didn't know what else to do." He didn't fit in at school. "I didn't understand, and I didn't shine academically," he says. Inspired by Richard Burton, from a neighbouring town and whom he once asked for an autograph, he enrolled in drama school. He graduated, did his military service, then joined a repertory company.
He still seems amazed by how it turned out. "I went to see Peter O'Toole at the Old Vic theatre—he was playing Jimmy Porter in Look Back in Anger in 1957," he notes. Eleven years later, "I was playing his son in a film called A Lion in Winter. Impossible! And yet, it happened. I didn't plan that. It just happens that you are there at the right time at the right place. It's called kismet. I believe everything is connected, but to me it's still a mystery. People ask me, but I have no idea what any of it is about. Acting—it's a trick. It's a tough business. I don't know how I've survived."
Despite his success, fame, and almost constant work since, Hopkins still feels like an outsider. "In 1965, I was working with Laurence Olivier as an understudy. And boom, I was onstage with him! It can't be. That feeling's been with me all my life," he admits. "And I don't have any friends in this business at all. But I feel fine about it. I don't understand acting. I don't hang out with actors. I don't join in show business. I enjoy the work."
"It's easy," he says of his craft, recalling his role in James Ivory's 1993 adaptation of Kazuo Ishiguro's The Remains of the Day. "If you play a butler, you don't go around shouting. You're in a big house—you are quiet, you are still. People ask me, 'How can you be so still?' Well, you don't move," he says, laughing. "It's just common sense. You take an actor like Clint Eastwood in a movie like Unforgiven or Dirty Harry. He knows how to do it. He knows that he doesn't need to overact. Or Bogart, James Cagney, Edward G. Robinson. Those are the real actors. Those are the ones I encourage young actors to watch."
His filmography includes as many period pieces—84 Charing Cross Road, Howards End, Amistad, The Bounty—as contemporary works—Meet Joe Black, The Human Stain, even Thor: Ragnarok. But it was his role as Hannibal Lecter in Jonathan Demme's Gothic horror The Silence of the Lambs that made him a proper movie star in his fifties.
"I don't like the word 'star,'" he reflects. "I'm just a jobbing actor." And Hopkins has maintained a healthy distance from his A-list status. "When you get on top of the hill, it's just the upside of the valley," he says. "You get to the top and you get an Oscar and you think, now what? It's not going to last. Nothing lasts. We all die—that's the end of it. All the glory, all the nonsense, it doesn't mean a thing. You look around and see young people who think they're hot. You see they go slowly mad, with the drugs and all that. Because they always want more. But you can't have more. If you're lucky, you get your lucky break, you get to the top, you get acclaim. But you mustn't take it seriously. If you take it seriously, if you think you're unique, you're dead. No one is unique. No one is special, actors especially. They're actors, so you're not allowed to look at them? Who the hell do they think they are? So I'm not like that."
In The Father, Hopkins tackles the uncomfortable subject of aging and dementia. "I am 83 now, so I'm at that dangerous age," he told Deadline in January. "It was such a wonderful part to play—it was so easy because I guess I'm closer to it now. … It's stayed with me. It's made me more aware of mortality and the fragility of life. This has given me more compassion, more feeling towards humanity."
When The Father's French director Zeller wrote the script, he called the character Anthony with Hopkins in mind. "This is where I wanted to go with Anthony, to explore this pure emotional territory," Zeller says.
Hopkins loves to work, and he's not retiring any time soon. In Three Men, an upcoming movie about Kennedy, Castro, and Khrushchev, he will play the Soviet leader. "I'm also playing Cus D'Amato, Mike Tyson's trainer, in a Tyson biopic. All these parts are coming to me—I think I'm going to retire and give it up, and then they ask, 'Would you like to try this?'"
Perhaps it's easy to keep showing up for work when you get to step out of yourself and play. Certainly, if he loves his job, he doesn't take himself too seriously. "I've been doing this for 60 years," he shrugs. "I don't know anything about acting, I don't know what it is. It's all like a con job. It's not important. People that are important are people in hospitals—nurses, doctors.
"I used to think it was important," he concludes. "Now I just learn my lines, show up, and do it."
---
Read more stories on the Arts.