"So this one here," says Nuria Madrenas, gesturing with her cursor over Zoom, "I really like in particular because I think that we have this terracotta colour in this line piece that's reflected in both the abstract with some shades here, and then also throughout the Venice piece as well."
She is walking me through her latest curation of my gallery wall.
The instructions I gave her were a series of contradictions. Fun but not too loud, appropriate for work but still colourful, dining appropriate but still inspiring, matching the open concept living room while incorporating contrast. Nevertheless, Madrenas, founder of e-commerce gallery and art consultancy Tacit Collective, is confident she can build me the gallery wall of my dreams.
Tacit (previously known as Mrkt Gallery) is comprised entirely of up-and-coming female artists from around the world. I wanted to talk to Madrenas because she offers art consultations for residential clients, a service not traditionally accessible to a millennial not considered a "serious" collector.
I bought my first original art investment when I was 16 from Canadian photographer Paul Shannon, and from there my art collection began to grow. I bought pieces that spoke to me in the moment, usually by female artists, until I had accumulated over a dozen works in sizes that didn't go together at all.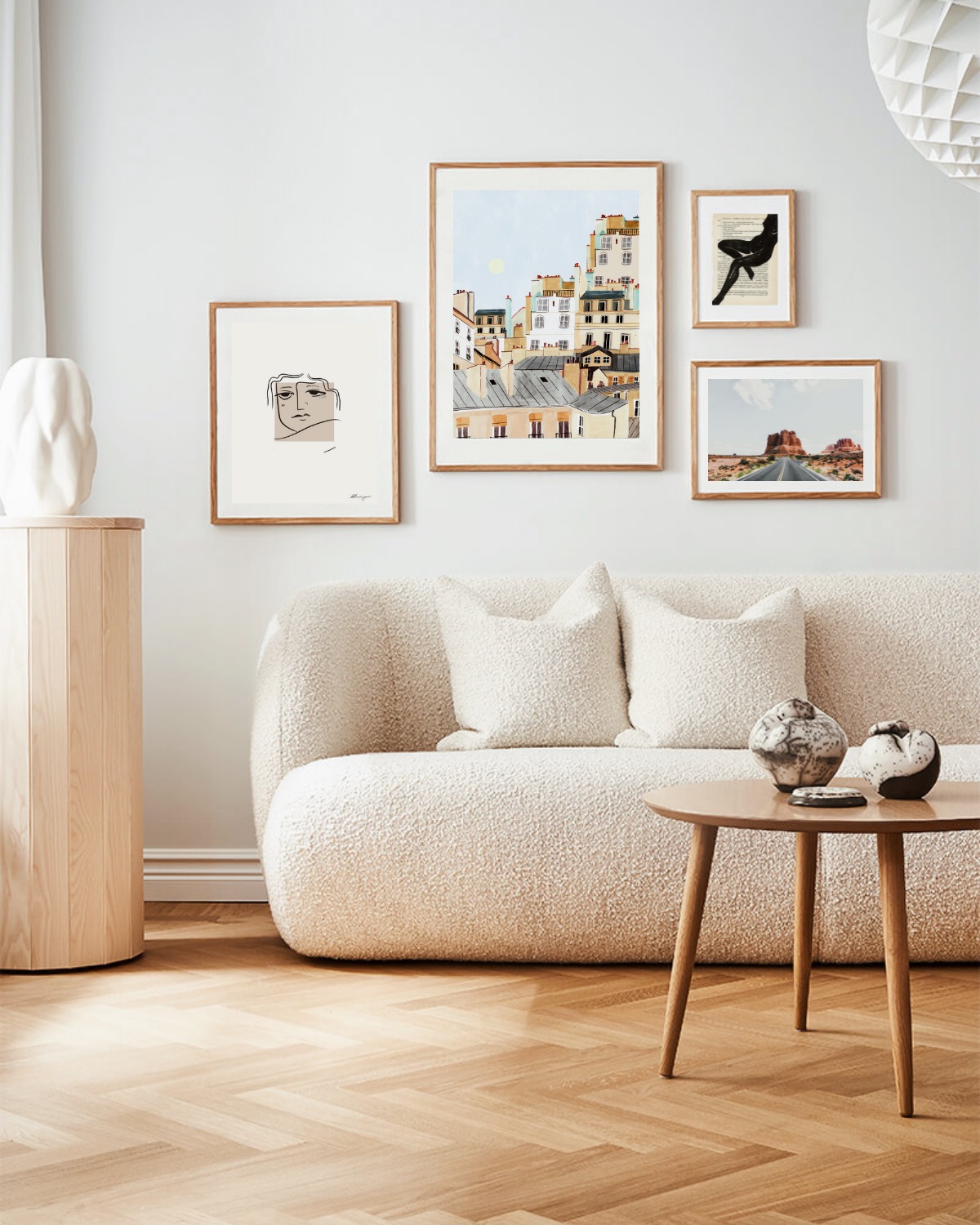 When we moved into our new apartment I was saddled with a space that served as a dining area, reading nook, and my office, with a big blank wall and no direction. After a year of living and working in a mix matched space, I craved order and a unified aesthetic. I reached out to Madrenas for help.
Madrenas was raised with a European sensibility rooted in art and culture. Her parents were both art collectors and world travellers who focused on emerging artists from whatever city they lived in at the time. Madrenas says that while her peers were at Disneyland on family vacations, her parents took her to museums and art galleries.
Tacit specializes in fine art prints by over 60 artists ranging from bold multicoloured paintings and photography to subdued minimal line drawings, the perfect one-stop shop for a gallery wall. For a time, the platform offered gallery wall bundles to curate a space with ease, though they have now shifted to a more personalized art consultancy approach.
Madrenas takes my slightly confused direction, the dimensions of my wall, and pictures of my art pieces and curates three gallery walls that incorporated Tacit artists with my existing works.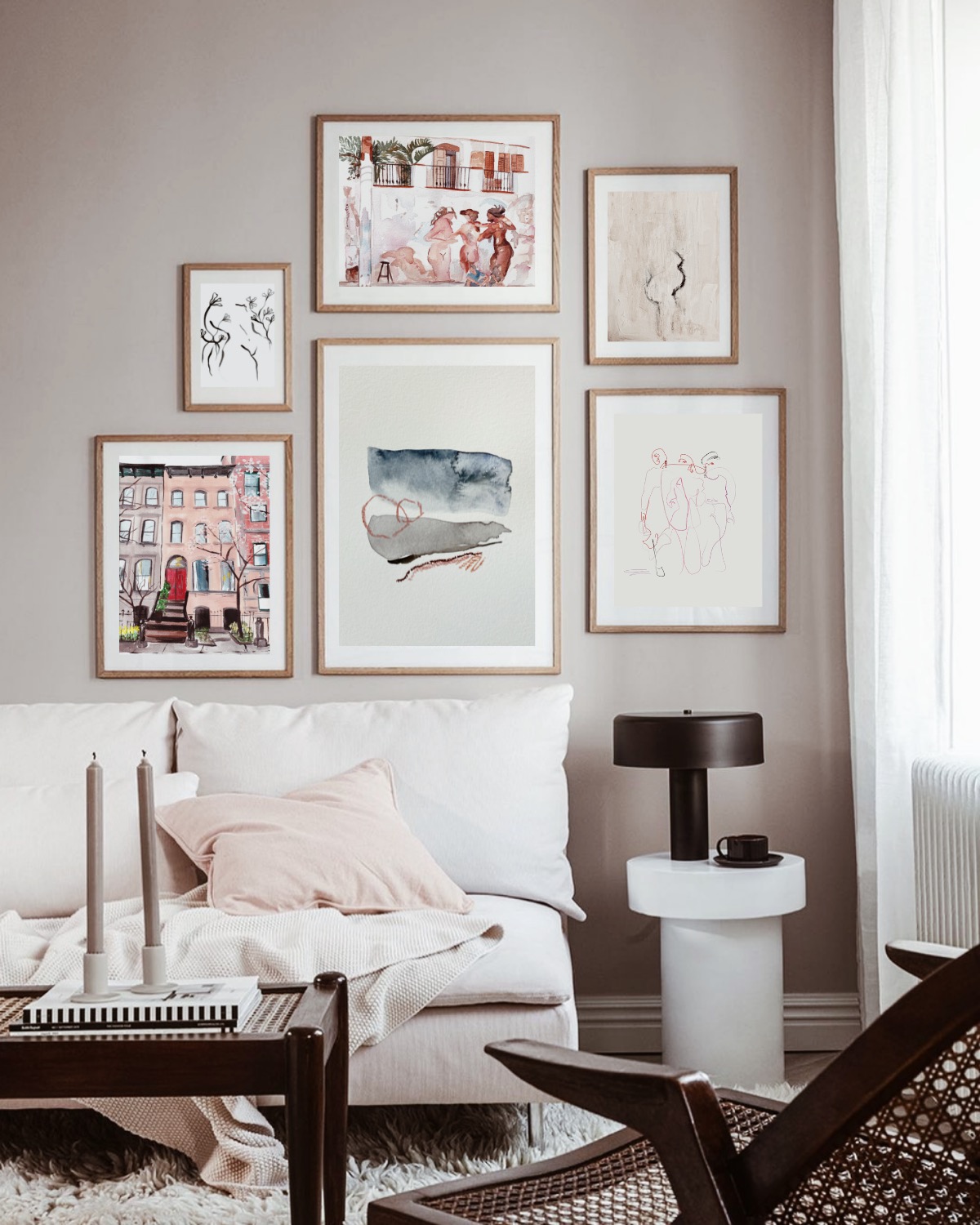 "So initially, I took a look at all of the pieces that you sent through and I put each of the pieces into their own categories based on what I think would work well together," she says. "So these watercolor pieces that you had, I put together knowing that those would work well together and then there was a bucket of more neutral pieces."
She starts by configuring a vignette of five works, integrating landscape and portrait art with various coloured wood frames while simultaneously ensuring the colours and shapes remain in balance. Version one has three options that pair two Tacit works with three of my art pieces. Madrenas helps me narrow down that I preferred art related to fashion and travel.
A lot of the art I own isn't framed, which actually proves a good thing since Madrenas is able to suggest frame colours to work with the rest of the gallery. Version one establishes a trifecta that I love: an abstract multimedia print by Langley artist Victoria Park that my mum said reminded her of a bird, paired with a watercolour of Venice I bought from a street-artist while traveling in university, and a typewriter printed over top a dictionary page with a heartfelt dedication from my best friend written on the back of the frame.
Madrenas says, incorporating pieces that clients identify as most important to them is top of mind "but overall, I wanted to make sure that I wasn't incorporating the existing pieces that you had just for the sake of it, but rather making sure that they really added their own individual value and consistent aesthetic with the with the curation."
Version two of Madrenas's curation is all about making sure the remaining two pieces that flank this trio balance them out. These should be more neutral, she says, as anything too detailed or eclectic would muddle the gallery wall and "take away from the overall cohesion of the curation."
As we sit down to review the final four options her cursor hovers over the curation I'm choosing. I knew the minute I saw it; it was perfect, but I let her finish speaking. "We see that dark blues are both there and consistent. We see a lot with the greens again, we see the terracotta colours and then later subdued yellow. So it's like these pieces kind of work together super seamlessly as if they were almost made to be beside one another."
I had told her after version one how much I loved Ottawa-based Shannon Hawn's photography, and two of the options Madrenas has put together include her work. The option I choose rounds out the trio with a landscape photograph of the Louvre glass pyramid from below and a terracotta line drawing of a female figure.
Madrenas smiles, "There is a method to my madness."
---
Photos courtesy of Tacit Collective. Read more Arts stories.