One day, when Jacques Cavallier Belletrud was a little boy, he wandered to school through the curving streets of his native Grasse, France with his father. Along the way, they came upon a set of locked iron gates and little Cavallier Belletrud stopped to look at them. "What is in there?" he asked his dad, inquiring about the building on the other side. "That used to be a perfume factory," his father replied. "It's closed now." Little did Cavallier Belletrud know that he would one day make his livelihood inside its walls.
Cavallier Belletrud's parents met working at a perfume laboratory, so the industry is pulsing in his veins. "In Grasse, being in perfume is natural—everyone has someone working in perfume," he says, standing behind the desk in his office, which is covered with notes, bottles, and samples. Cavallier Belletrud grew up hearing his parents talk about crops of jasmine and scents of rose, and he knew from the age of eight that he wanted to follow in their footsteps.
Indeed, he has. The third-generation perfumer and master perfumer of Louis Vuitton now runs the creative show at Les Fontaines Parfumées, Louis Vuitton's idyllic headquarters for all things fragrance (it also serves as the olfactory creative centre for parent company LVMH). "Here is my office, my desk, which appears slightly a mess, but it is an organized mess," Cavallier Belletrud says with a smile, standing before an intimate group. "This is where I start all my creations." Near his desk sits his personalized Louis Vuitton trunk, complete with compartments for ingredients and a black and white photograph of workers out in the jasmine fields. One of them is his mother.
Grasse's history in perfume dates back to the Middle Ages, when this South of France town was full of glove-makers. Tanning the leather was a rather pungent process, so craftspeople began using botanicals like rose and orange flower to make the gloves smell better. When finished with the plants, the workers would discard the remnants in the town's waterways—which, legend has it, caused the water to smell enchantingly of flowers. Grasse's location near the ocean also gave it a unique microclimate for growing perfume's raw materials, with a breeze that helped the plants bloom in the morning; at night, the cool air made them resilient, resulting in a more fragrant crop. By the 17th century, scent was a booming industry here, though modern perfumery did not develop until the 1800s; Grasse is now known as the perfume capital of the world, famous for its jasmine in particular, which grows in an area no larger than five square-kilometres.
As such, Grasse is a fitting place for Louis Vuitton to have opened Les Fontaines Parfumées, which translates to "scented fountains"—a nod to the tale of the fragrant water and an actual perfume fountain found in the rotunda here since the 1920s, when visitors could come to fill their bottles directly. (On this day, the airy solarium-style rotunda is turned into a pop-up restaurant helmed by Michelin-starred chef Bruno Oger, who serves a fillet of sea bass with carnarolli lemongrass rice.) This domain's connection to perfume dates back to the 1600s, though the property more recently sat empty for many years; LVMH took it over in 2013, embarking on a multi-year research and restoration project and reopening the doors in 2016. "We wanted to make it come alive again—it was sleeping," says Cavallier Belletrud, who first learned the art of perfume-making from his father in a facility some 200 metres from Les Fontaines Parfumées. "We wanted to respect this place." This place, beyond the gates that Cavallier Belletrud once inquisitively peeked through, is where he now conceptualizes and crafts his fragrances; here, memories and emotions become aromas.
It is a concept made tangible with the first-ever collection of men's fragrances for Les Parfums Louis Vuitton. Launched at the end of May 2018, the offering of five distinct scents tells stories of Cavallier Belletrud's personal history, of craftsmanship and luxury, and of devotion to the natural world.
Grasse is a fitting place for Louis Vuitton to have opened Les Fontaines Parfumées, which translates to"scented fountains."
Cavallier Belletrud begins this olfactory journey with L'Immensité, perhaps the most traditionally masculine scent of the collection. Inspired by the pickled ginger served with sushi at Japanese restaurants, Cavallier Belletrud had long dreamed of using fresh ginger root from Nigeria in a formula (it being fresh is notable, as most companies use a dried version). L'Immensité was the outcome, pairing the distilled ginger root, extracted using carbon dioxide, with the bitterness of grapefruit. "The idea was to create something with no limit to represent the world," Cavallier Belletrud explains. "The sky is the limit." Certainly, the strength of this scent is intoxicating, its power summoning confidence and thrill. Cavallier Belletrud went to the supermarket one day wearing a prototype of L'Immensité, and a woman he did not know came up to him. "I smelled you before I saw you," she said, and to him, that meant everything.
Second in this story is Nouveau Monde, an exceptionally unique and seductive scent utilizing oil from oud trees grown on a century-old Bangladeshi farm. The idea came to Cavallier Belletrud while he was on a trip to Guatemala and a woman brought him a Mayan chocolate drink of cocoa, honey, spices, and water. "I was immediately transferred back to my childhood, opening a box of chocolate to make hot chocolate in the winter," he says. And so, the journey began to harness the beauty and smokiness of Mayan chocolate into a fragrance. Cavallier Belletrud paired the oud with natural cocoa resinoid (a rare ingredient in perfumery) from the Ivory Coast, along with a touch of spicy saffron. Completely enveloping, Nouveau Monde embodies the ethos that fragrance is not just about smelling good—it is about expressing something.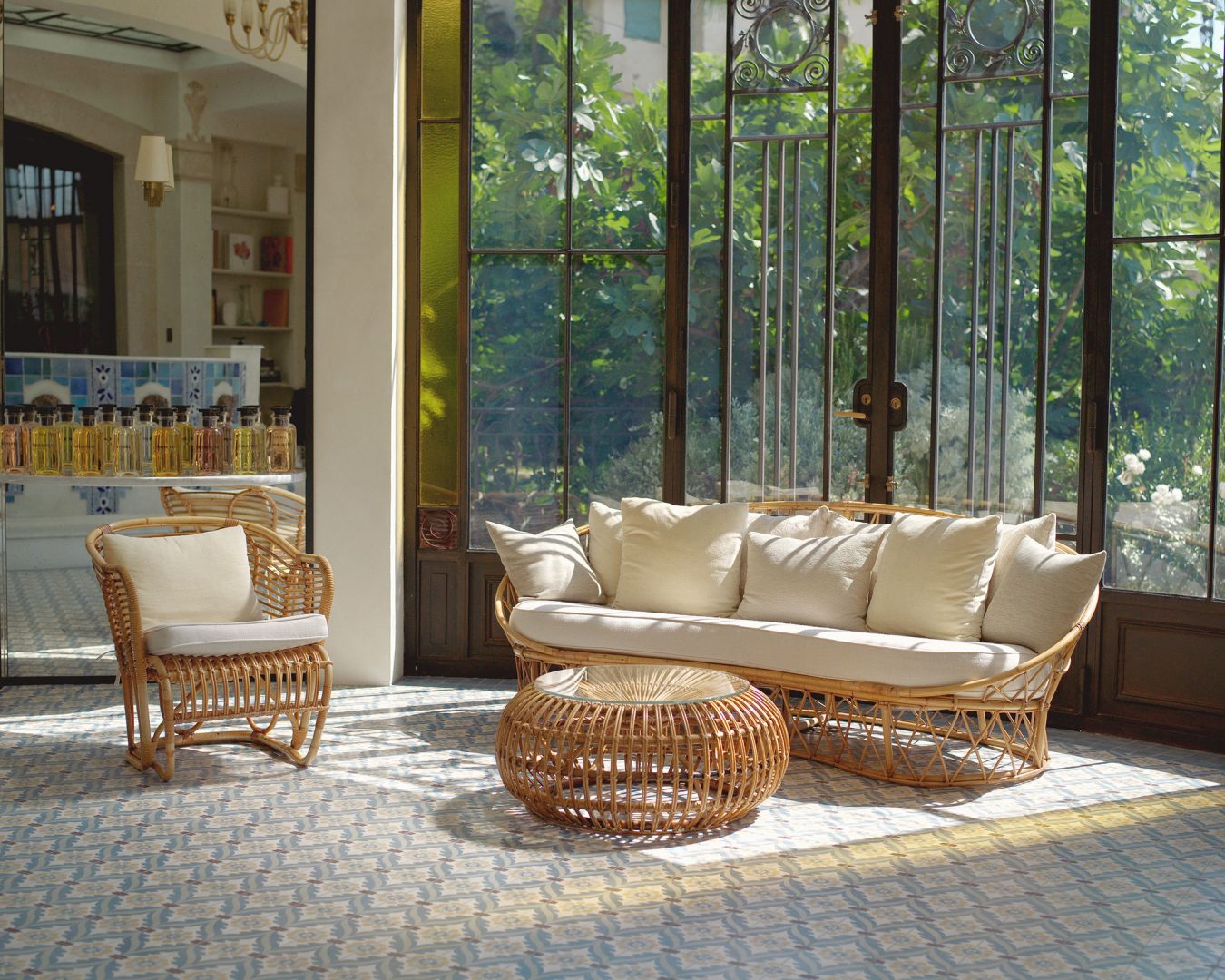 Orage comes next, its star ingredient being the heart of patchouli. "I cut the head off the patchouli—in France we love to cut the heads," Cavallier Belletrud says jokingly. But indeed, he has managed to remove the top notes of Indonesian patchouli to reveal the woodiness that lies underneath, which was done using sun drying and steam distillation. This has been blended with Italian iris that costs more than 100,000 euros per kilogram. "It's like a bag with an exotic material," Cavallier Belletrud explains, no doubt referencing Louis Vuitton's rare-leather purses. "You cannot compromise on quality." Orage is soft, but it builds into a chorus of musk and earth.
The path then veers to the aptly named Sur La Route, a scent that celebrates the journey. While visiting Calabria to source bergamot, Cavallier Belletrud was introduced to a lemon relative called cédrat, said to last 10 times longer than the common yellow citrus. It contrasts perfectly with Italian bergamot and Peruvian balsam from Salvador, which is amazingly harvested by climbing barefoot to ancient treetops and cutting the bark using strips of cotton. The resulting Sur La Route is evocative and thoughtful, optimistic and sophisticated.
And finally there is Au Hasard, which loosely translates to "chance." Cavallier Belletrud wanted to capture "pure spontaneity," and for that, there is sandalwood from Sri Lanka and the tiny seeds of a yellow flower called ambrette that is part of the poppy or hibiscus family. With cardamom from Guatemala rounding out the creation, its aroma is creamy, almost thick, with an underlying vibrancy. "It's like a quiet ocean, when the ocean is so flat that you see the horizon," Cavallier Belletrud explains in unpretentious poetry. "It looks like something without any end, and it feels so peaceful but massive at the same time."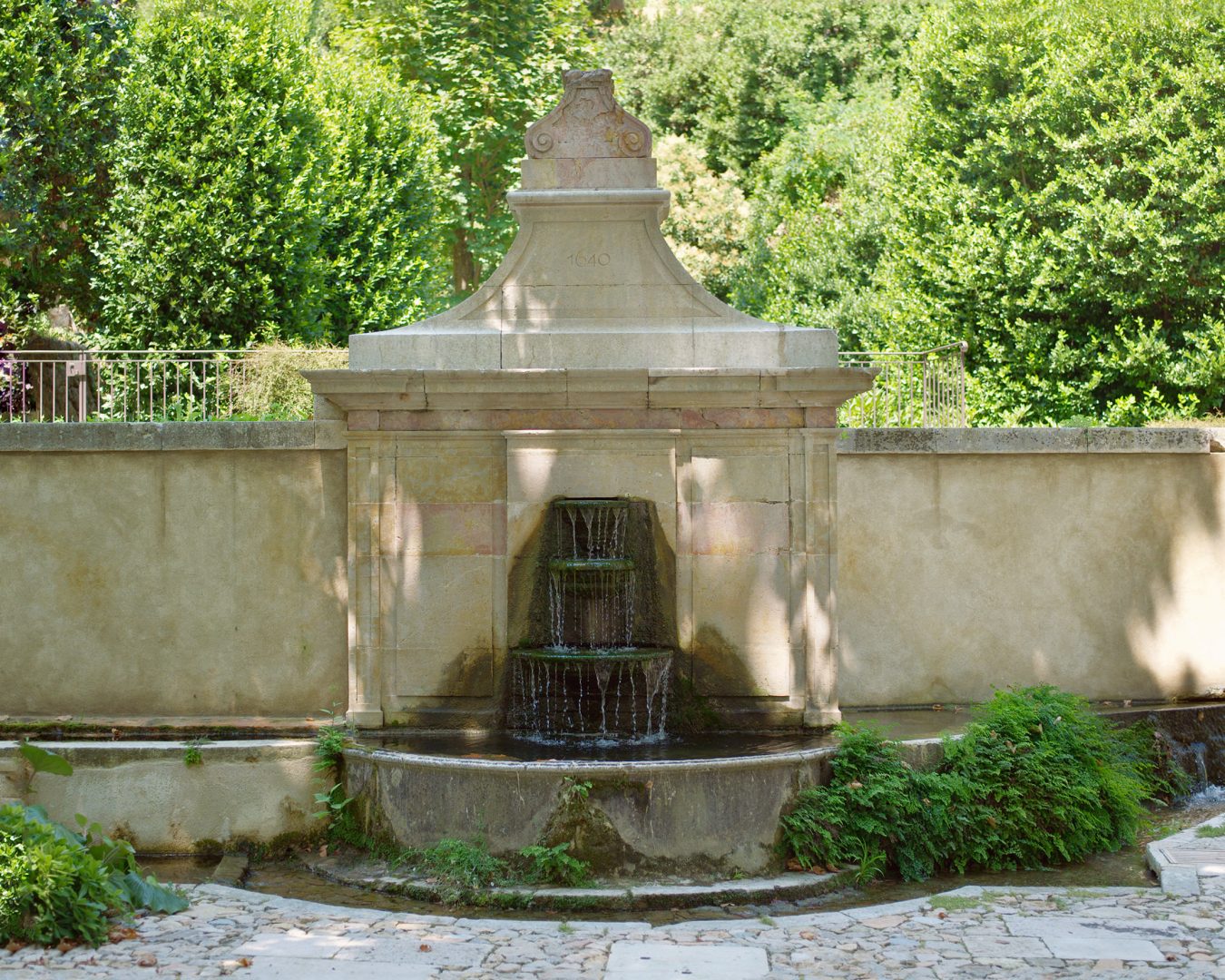 This monumental men's launch comes two years after Louis Vuitton's successful foray into women's perfume. "Ladies first," Cavallier Belletrud says with a smile when asked why he began with feminine scents. Both collections can be refilled in the brand's stores, where fountains disperse the fragrant liquids into keepsake bottles—a charming connection to Les Fontaines Parfumées.
Back in Grasse, in the pristine white workshop where Cavallier Belletrud's ideas start to take aromatic shape, two women sit on chairs in lab coats. One of them, Melissa, has been working by Belletrud's side for 10 years. "She knows all my secrets," he jokes. The other, Camille, is Belletrud's daughter. At just 18, she is an apprentice with the maison, carrying on the family legacy into a new generation. Here, beyond the gates, she learns from her father just as he once learned from his.
---
This story from our archives was first published in our Autumn 2018 issue. Read more from Beauty.