Dan Olson missed his high school graduation because of food.
He passed up the blue gown and tassel hat in favour of chef's whites; the Lord Tweedsmuir secondary student was participating in a cooking competition while his classmates got their diplomas. "It's all I've ever done," Olson says now, seated at the Howe Street location of his growing comfort food empire, Railtown Cafe. He grew up thinking he wanted to work in fine dining, and upon returning from training in France, worked for various Four Seasons restaurants. After that, work sent Olson to Los Angeles, where he worked as a chef at the likes of the Hotel Bel-Air.
It was when he took a consulting gig for what would become Railtown Cafe that Olson decided to move back to Vancouver. With two business partners, he bought the concept from the original owners, and turned it into what we know now as the beloved lunch spot, which launched in 2012. The original Railtown Cafe, located in, of course, the Railtown neighbourhood, is tucked away and modestly-sized. Known for delicious (and deliciously large) salads and sandwiches, it is an easy favourite for locals working and living in the area. And with its ever-growing clientele, Olson and co-owner Tyler Day (their third partner is silent) decided to see if they could create the same magic in other parts of the city. "We felt that we built a large enough brand and following over four and a half years at the original location," Olson says. "We built that thing on a shoestring budget. So we wanted to take some of the characters from that space, move them into our new locations, but also tie them into the neighbourhoods that they were in." That means that the new Howe Street and Main Street locations, along with the soon-to-open Granville Street, are all rooted in their own parts of Vancouver, though they still have elements of the original storefront. "They kind of have their own little tweaks," says Olson. "But hopefully when you walk in, they still feel like Railtown."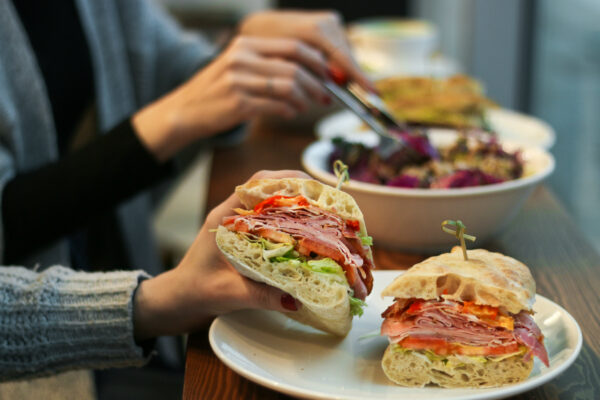 And what Railtown feels like is a big hug from your best friend. It's casual, welcoming, never boring. Known for quality of ingredients and for making everything in-house, the cafes offer a great menu of items, from design-it-yourself salads (get the crunchy squash chips and pesto chickpeas), to various muffins, to an array of drool-worthy meat sandwiches. "We bake all of our own breads," Olson says. "The brisket and the pork are cooked for 36 hours, kind of barbecue-style."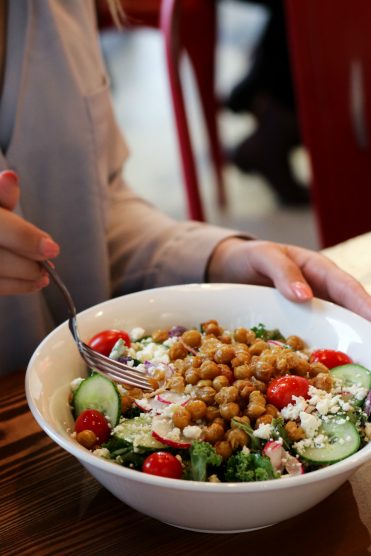 Regardless of the first location's popularity, though, opening up three additional stores in less than a year sure is a big—and risky—undertaking. "It has its challenges," admits Olson. "We weren't set out to be so aggressive and open up three stores in a matter of seven months—it's kind of a matter of the way the leases fell. The fortunate part for us is we have a really solid team." That team from cafe one has been partially dispersed into the new locations, allowing them to really hit the ground running with a group of employees who already know how things are done. Beyond that, Olson says they are "building up the hierarchy and the infrastructure so that it's foolproof, so that I can focus on the bigger picture." Because while he does still work in the kitchen when he can (including for special events with the company's catering arm), Olson is mostly focusing on the business side of things these days. It's a new challenge for him, especially as someone who basically grew up with an apron tied around his waist, but he is rising to the task—though he jokes that once Granville Street is up and running, he needs to "go to Mexico for a week."
After Granville Street, the plan is to put the pause on expansions and focus on perfecting these four locations. Still, Olson always has his sights quietly set on the future. "I plan to build an empire in this city, and what that consists of could be a bistro, it could be a barbecue restaurant, it could be a bar, it could be fine dining, it could be a cheese shop, it could be a farmers' market," he says. "We're going to play it as it comes and take it a step at a time—and something may happen, and then we pounce on it and move to the next thing." He also mentions dreams of opening up a Railtown back in Los Angeles so that he can spend his winters there. "We're going to be a big thing," he says. "We're going to do it right."
---
Stay up-to-date on Vancouver's dining scene here.