The home is both a space we occupy and one that occupies us. Its four walls become a setting where daily interactions are played out; a place where we hold gatherings and find solitude; where we belong with our belongings. The Vancouver-based Backcountry Hut Company, founded by Wilson Edgar and Michael Leckie, offers simple and adaptable prefabricated huts shipped in pieces—four posts, four beams, and a roof—that can be efficiently built on site. The hands-on assembly is an invitation for people to be intimately involved in the design, configuration, and building of a structure where they will spend significant time—the sentiment being that you buy a house, but you make a home.
The speed of which our cities are changing, with land at a premium and affordable housing scarce, paired with the pervasiveness of technology altering the ways we interact, spurred a collective shift towards minimalism—a colloquial reference to that which is stripped to only its essentials. The Backcountry Hut Company was built on this same idea that eliminating the superfluous creates space for the things that matter most.
"The American dream was about more space, which was the death of the multi-generational household unit. We're now seeing everything is boomeranging," says Leckie, who is also principal architect at Vancouver's Leckie Studio. "It's not just tiny houses that are coming back, but people placing more value on quality of life over quantity of space." Backcountry Hut Company currently offers two designs: the Frontcountry, for temporary or full-time urban living that appeals to the tiny house movement; and the Backcountry, for outdoor enthusiasts and clubs that wish to inhabit more remote locations. The modular design of these huts allows customization in both decor and size; the base model measures 191 square-feet and sleeps two to four people, while the largest can sleep up to 24 people in 937 square-feet. The easy-to-assemble huts-in-a-box don't cost a fortune, either—similar to a certain Swedish company's furniture.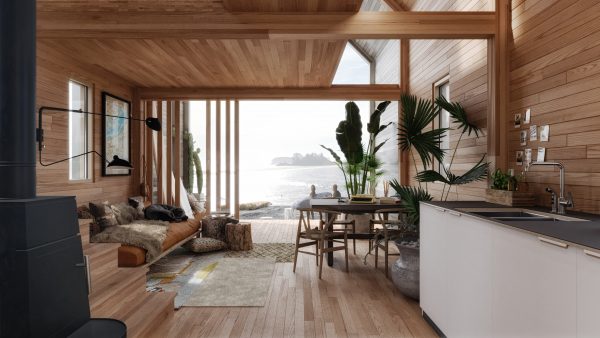 "The analogy of it being like an Ikea project is a double-edged sword. People understand the idea, but there is also a pervasive mentality that if something is less expensive then it's disposable by nature," says Leckie. "These things are not aligned with our enterprise. There are so many qualitative aspects of what we are doing that are resonating with people: sustainability, quality of construction; the huts are ergonomically designed, and have a small footprint with a high level of finish."
Edgar adds: "You could be swept up in the city one minute, and that same day, find yourself in a rustic cabin reading a book. People want to strike a balance between living in an energetic hub and having a place to escape on the weekends." With open layouts, the huts are purpose-built for functionality and interaction. The basic form and profile references traditional pitched-roof alpine structures, while the asymmetrical and crystalline aspects (i.e. absence of eaves) present a modern interpretation of these precedents. In terms of materials, the system is highly customizable, allowing for a wide variety of exterior and interior finishes including standing seam sheet metal and tongue-and-groove cedar. By using the same exterior cladding on both the roof and walls, the huts can be either tough and durable, or delicate and weathering.
There has always been speculation on the impact of technology and its relationship to physical space, specifically that our need for face-to-face interaction is shrinking. But that might not actually be the case. "We've found it's the opposite," says Leckie. "All of these devices and mechanisms for connectivity—social media, for instance—are bringing people closer together because they are seeking a greater sense of community. What we are really finding is that the core values of our company—function, quality, sustainability, and value—are resonating with a very broad audience of like-minded people, all of whom are interested in living with the mantra of less but better." This ideology, as it pertains to the huts, also means filling them with memories instead of things—the very ingredients that transform a house into a home. "What are we trying to accomplish with our product? It's all about being together in a space and enjoying it," says Edgar. Backcountry Hut Company offers an optimistic vision for a future inundated by technology—one where connection is found through the strength of your relationships, not the strength of your WiFi.
---