While there are many co-working spaces popping up in Vancouver, CMPNY took a different approach and opened its first location in Burnaby. And now, the company has opened up a second outpost, this time in Coquitlam, further serving Tri-Cities entrepreneurs and creatives by giving them a place not only to work, but to come together and learn from each other.
The 13,225-square-foot CMPNY Coquitlam, conveniently located right by the new Evergreen SkyTrain stop, boasts 63 desks and 32 offices laid out in a glossy, clean design. Designed by Andrea Greenway Interior Design, it has a mixture of open-plan desks and closed offices, along with multiple lounge areas (complete with hammocks and bean bag chairs, of course—it wouldn't be hip otherwise). There is also a meditation room, a photo and video studio, a broadcast lab, an event space, and even a kid-friendly room for parents with young ones.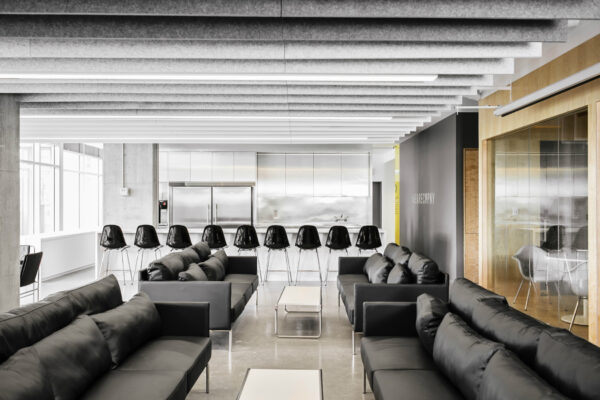 Members can make friends with each other in the fully stocked kitchen or while playing foosball and ping-pong; they can better themselves at networking and educational seminars organized by CMPNY; they can opt in to comprehensive wellness and health benefit plans; and they can take advantage of the support offered by on-site staff.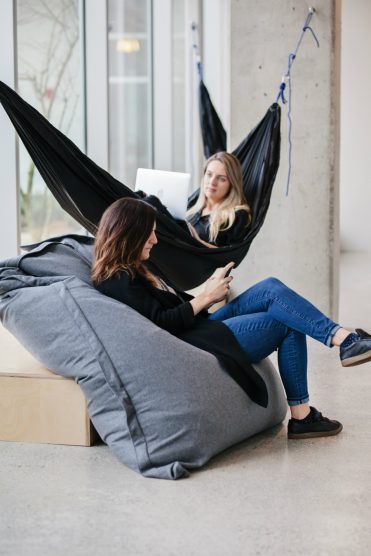 All this in a cool, industrial building with lots of crisp whites, moody greys, and exposed concrete? It sure makes going to the office seem like a lot of fun.
---
Read more from our Office Space series, and submit your own workplace for consideration by emailing [email protected].