Luis De Oliveira looks at the bustling room around him, wall posters still lying flat on the floor, the screen that will display images accompanying his presentation that evening still rolled in its canister. The sound of chairs being unpacked and placed for the audience that will begin arriving in two or so hours outbids the voices of various Inform Interiors staff that are making this chaos settle into the perfect venue for Oliveira's talk about the current state of furniture design, and how his company, De La Espada, pursues its unique vision.
The business began when Oliveira and his soon-to-be wife and partner Fatima De La Espada graduated from university and began, in 1996, a small retail operation in what he calls "the great crossroads" of London. They started by selling select furniture oftheir own designs, and eventually grew into manufacturing and collaborations; they purchased and renovated a defunct furniture factory in the Portuguese countryside not so far from Oliveira's hometown. "I am what our current prime minister calls a citizen of nowhere," he says. "But really, from London, we can see the world, and build our business, make it viable in a way we never could if it were based in a small town in Portugal."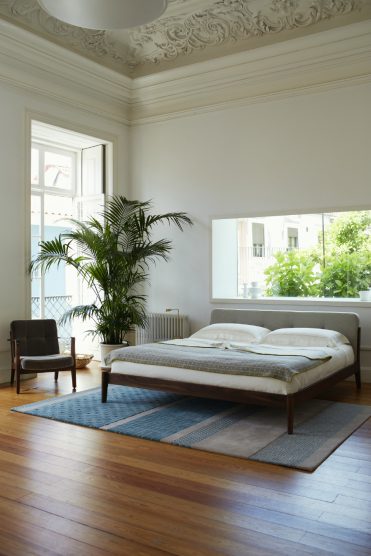 Capo Bed and Capo Lounge Armchair by Neri&Hu. Photo: Yuki Sugiura.
He is driven to create special new items that reflect a sense of place, items that people feel a connection to. "The most significant cultural figure of Portugal is an architect, not a singer or a poet. Álvaro Siza," Oliveira explains. "His work has a fourth dimension to it; I think of that fourth dimension as the human element. He was able to build things that encompassed how people actually inhabit buildings, how the buildings are used. So I am inspired to create objects that are thoughtful, quiet, timeless—things that somehow are new but remind you of something from the past."
To accomplish this, De La Espada works with various designers—who are already established and have their own companies—to create De La Espada collections. "We look for people who are, let's say, in the middle of their trajectory," Oliveira says. "We have been able to find some designers who know who they are, and stay true to themselves, and who have been able to learn what De La Espada requires. And I think these people will continue to stay true to themselves, even as they shoot towards the stars." Oliveira is particularly proud of the fact that his contributing design team is made up of people from disparate regions: Luca Nichetto, based in Venice and Stockholm; Autoban, in Istanbul and London; Neri&Hu, in Shanghai and London; Matthew Hilton, in London; and Studioilse, also in London. The result is furniture that is, as Oliveira puts it, "diverse and aligned."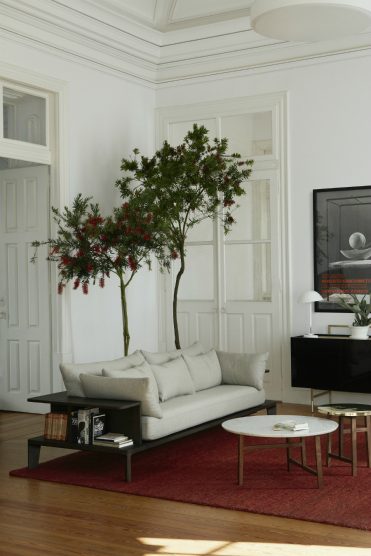 Platform Sofa and Trio Tables by Neri&Hu. Photo: Yuki Sugiura.
He is open about exactly why Vancouver is part of his world now, and why he is giving his special presentation at Inform. "The owners of this place have given me something so much more valuable than money," he asserts. "They gave me their honest opinions—so valuable, since they have acquired decades of knowledge.
Niels Bendtsen
was selling Danish furniture in North America in the 1960s! They somehow took a shine to me, and told me they liked what we were doing, but that it could be even better. This had a material effect on me, and therefore on our products."
Companions Bed and Bedside by Studioilse. Photo: Yuki Sugiura.
Looking at De La Espada goods, that material effect clearly sparked positive change. Each chair, bed, sofa, and so on reflects Oliveira's understanding of furniture as part of a functional, almost understated beauty, made from natural raw products and concluded in clean, graceful lines that somehow invite use.
The room is beginning to take shape, chairs now symmetrically arranged, pieces of furniture strategically placed, and Oliveira is ready. "I much prefer the chemistry of a small group, rather than a room of 50 or 100 strange faces," he says. "But usually there is a way to make a connection. This is what our furniture must do as well. In Portugal, 'Thank you' is not only a way of concluding an exchange. It is more like, 'We now have a bond.' That is what I want our furniture to do: to create a bond between the object and the user."
---
Be inspired—read more from our Design section.