"Let me tell you a story," says a spritely Jacques Dinel as he leans closer with a delighted smile.
Ah, a sentence denoting that what the narrator is going to say next is sure to be juicy. And for Dinel, the designer behind the new facelift of Toronto's Windsor Arms Hotel, it is. Dinel says that when he and hotel owner George Friedmann were discussing the redesign, Friedmann called his daughter in London, England to ask her about the renovations.
"His beautiful, charming daughter is very worldly," says Dinel. "When her dad asked her what direction they should take the hotel, she simply replied, 'Downton Abbey.' That was so radical, it made me so happy."
For the head honcho at the Toronto-based luxury design firm Dinel Design, it was the decor greenlight he had been hoping for. "Most hotels are going modern," Dinel says. "But the Windsor Arms being the Windsor Arms, it's a boutique hotel and I wanted to bring back its old-world charm."
The hotel, which first opened in the 1930s and is located just outside Toronto's posh Yorkville neighbourhood, has hosted all kinds of high-profile guests, from A-list celebrities to royal families. Its new lobby is the first port of entry into Dinel's finished vision. A massive chandelier illuminates dark wood columns inlaid with rich custom-embroidered fabric made in Italy. Hundreds of gold-leaf books glisten in ornamental mouldings and ceiling patterns. The plush art deco custom palm court sofa is the centrepiece of the space; it is shaded by a one-of-a-kind bespoke palm tree made of metal and polished nickel, plated by artist Bruno Billio. Custom wall sconces replete with art deco crystals add shimmer to the panels. "The lobby has come a long way from its beige and pale grey days," says Dinel. "The hotel has been around for a long time, so this new incarnation freshens up the place and gives people something new to enjoy."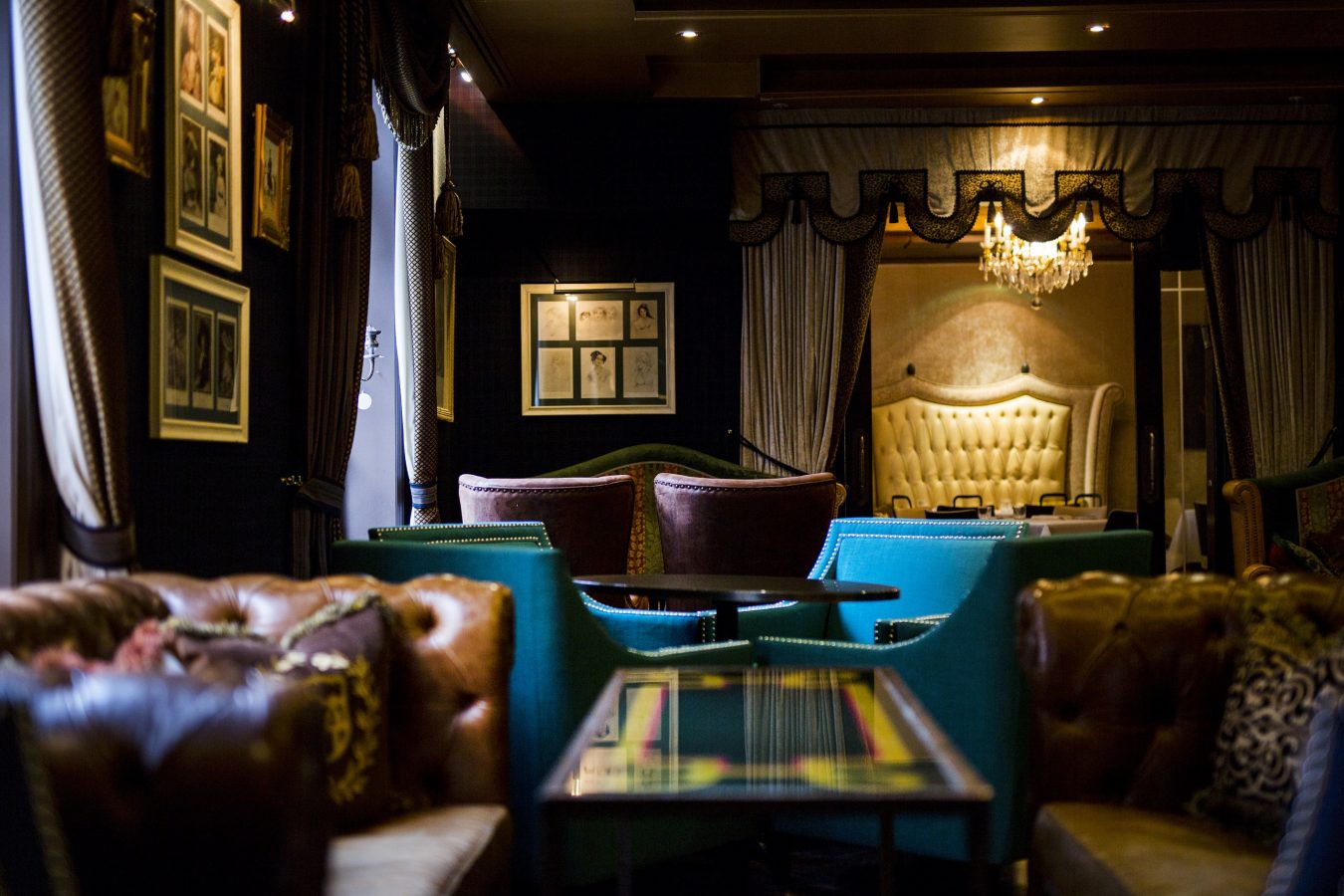 The property has gone through several incarnations. It began with hotelier William Arthur Price, who wanted to create a stylish new hotel in Toronto. He sought to design the four-storey building to reflect the neo-gothic architecture found at the nearby University of Toronto. After years of operating as a successful hotel, however, the Windsor Arms fell into disrepair and closed in 1991. It seemed it was the end of this grand place, until developer George Friedmann bought the property in 1995. He hired architect Sol Wassermuhl of Page + Steele to rebuild the hotel (saving the famed stained-glass window) and add private residences on top. Wassermuhl mixed history with modern, designing limestone-floor washrooms and mahogany furniture inspired by 1920s France. The 28-suite hotel reopened in 1999.
But Dinel wanted to step up the hotel's elegance and style with this latest redesign. He walks over to his next focal point: the restaurant. Formerly a steakhouse with booths and formal seating, its new incarnation embodies a more casual atmosphere and is aptly called The Living Room. The lighting is dim, with a massive art deco chandelier hanging above plush Chesterfields nestled around candle-lit black lacquer tables. The backs of custom-designed chairs display a contemporary take on the British flag, and the walls are adorned with original print art from the United Kingdom, a nod to the hotel's historical geographical influence. A private formal dining zone is complemented by original Charles Pachter paintings.
"We moved the grand piano into a more central area and we made it a bit jazzier," says Dinel. "We wanted to create a space where you could have meetings or dinner and feel at home. We basically wanted to create a cozy hotel with luxurious touches, and make you feel like you were entering into a place of grand old-world charm." Mission accomplished; surely even Violet Crawley would enjoy a night here.
---
Read more in Design.