For years, when people considered the "best veggie burger" in Vancouver, they would turn to familiar strongholds such as The Naam and Vera's. But with so many tasty new vegan options on the scene, it's time to reassess. Since my own taste buds have been bereft of meat for more than a decade, I put each veggie burger—the most classic version on the menu—to an additional test: my omnivorous partner, Colin, who I can assure you, loves meat.
Beetbox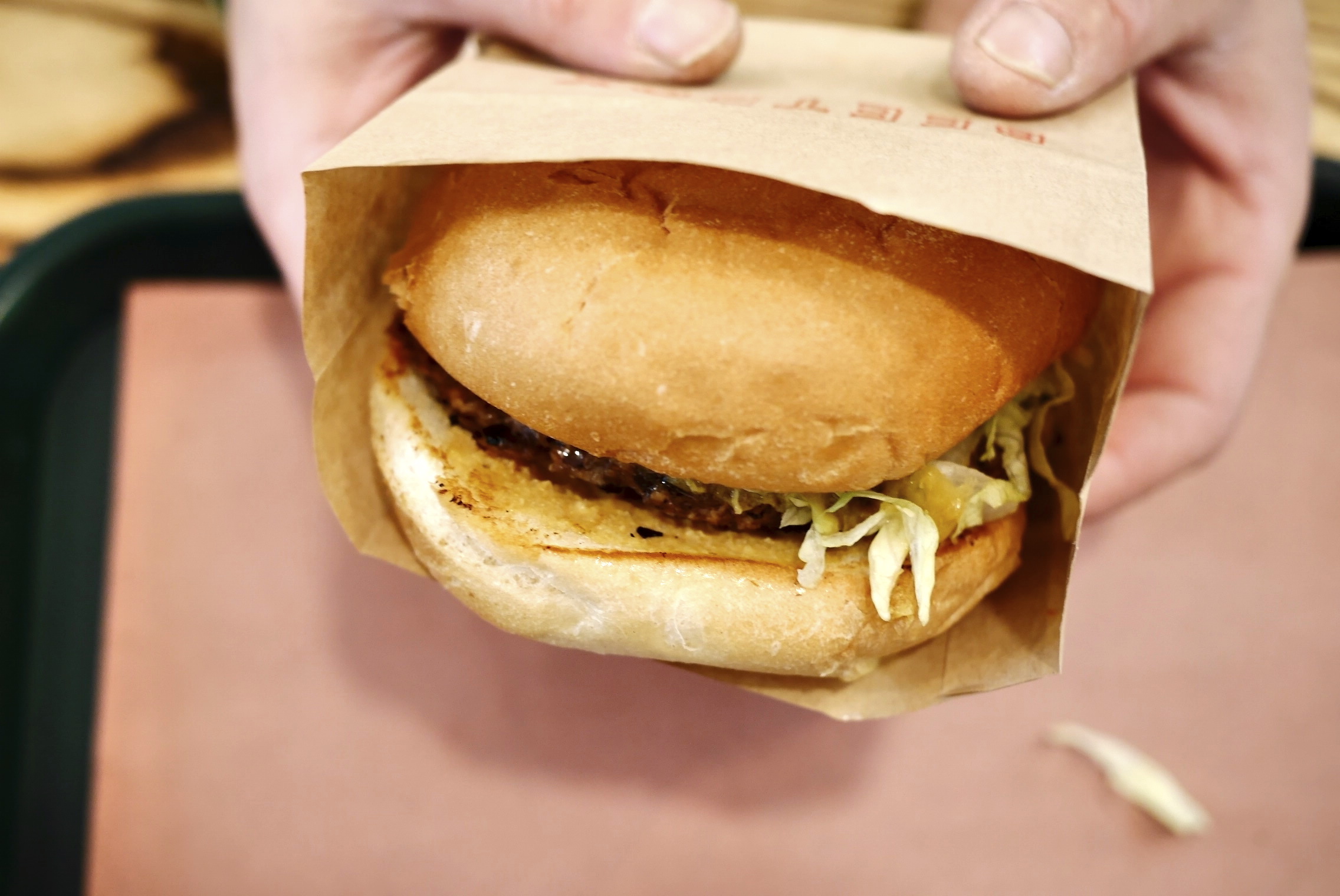 Nestled along Davie Street, fittingly across from Fatburger, sits Beetbox, the plant-based comfort food sister from the owners of Juke Fried Chicken (which, though gluten-free, is very much full of meat). Beetbox is the greasy spoon gone ethical, serving classics such as fried "chick-un" sandwiches and hot dogs in no-frills paper sleeves and plastic trays. The cheeseburger came fast and, to the eye, had us both fooled. With a thin, juicy patty, too-orange vegan cheese, pickle rounds and shredded lettuce, I couldn't help but think of golden arches. But the combination melted nicely, accented by the zest of their "special sauce" (think Thousand Island). Mushroom texture aside, the bean and wheat protein patty is the closest I've tasted to a real burger since I went veg. Which, to be clear, is not the experience all vegans are going for. But a great one for those trying.
On the speakers: Jorja Smith
Veg rating: High-end fast food
Carnivore rating: Two thumbs up. "It doesn't taste like meat but it's pretty damn tasty."
MeeT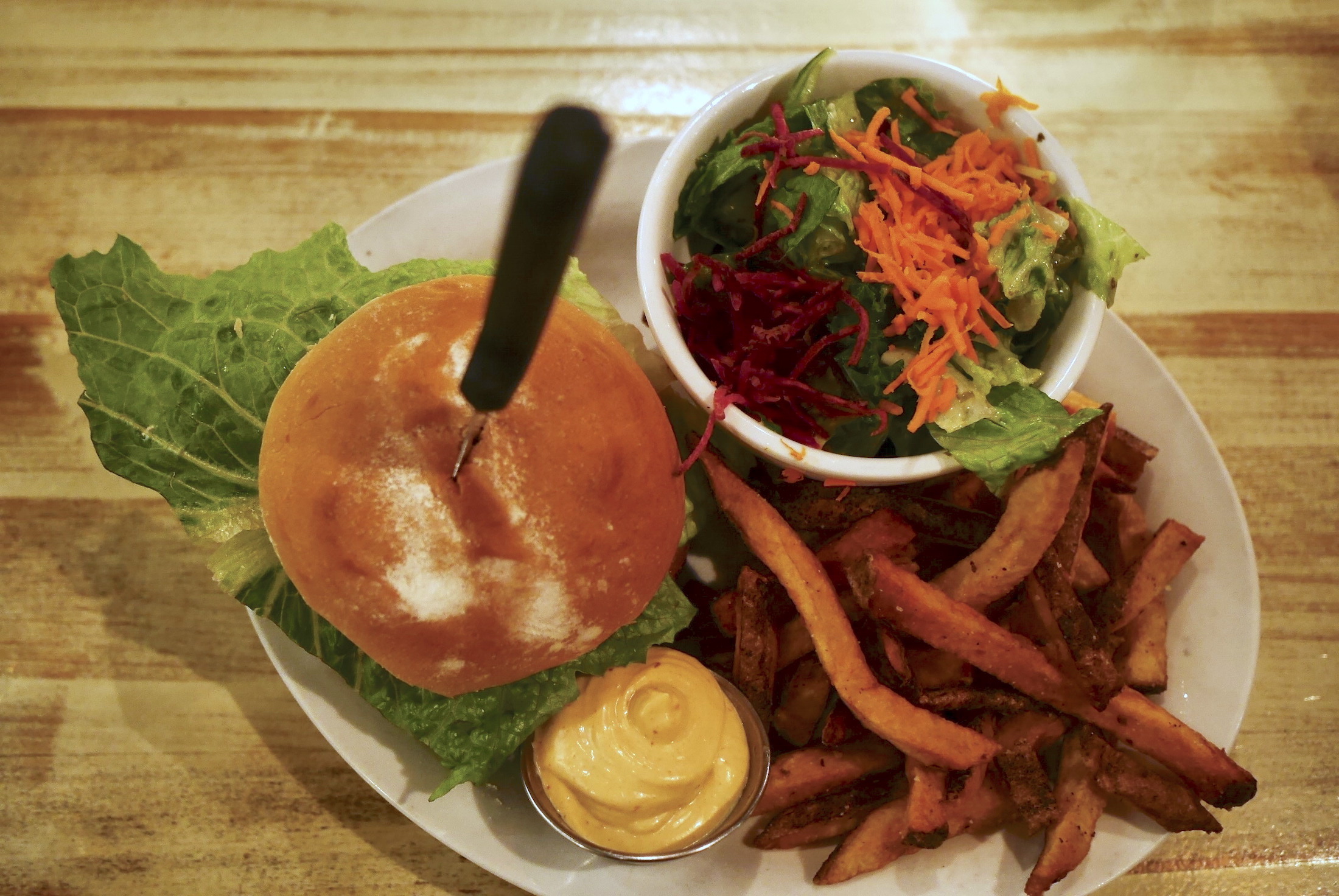 MeeT's local chain of all-vegan comfort food serves up fried-forward items such as chikkin poutine and eight different burgers alongside a small army of quinoa bowls, a nod to the more classical vegans in the house. The Main burger at its Yaletown location came on a bulbous kaiser bun, wedged with tomato, lettuce, pickle and mayo. The absence of cheese admittedly weakens the experience, but that's made up for in portion size. I was curious to try TMRW Foods' "plant-forward" patty, since it's part of the same restaurant group as Virtuous Pie, the ever-slammed family of vegan pizzerias that specializes in mock meats. Its patty is made from beans, legumes, and seeds and is intentionally soy-free, to stand out from mass-produced competitors criticized for championing the environment while doing the opposite. The verdict? A meaty, chewy texture and classic burger flavour profile. I probably ate more of the fries, owing to the seductive chipotle mayo.
On the speakers: Donna Summer
Veg rating: A solid standard
Carnivore rating: One thumb up on meatiness, one thumb down on original flavours. "Looks and feels more like meat."
Coastie Craft Burgers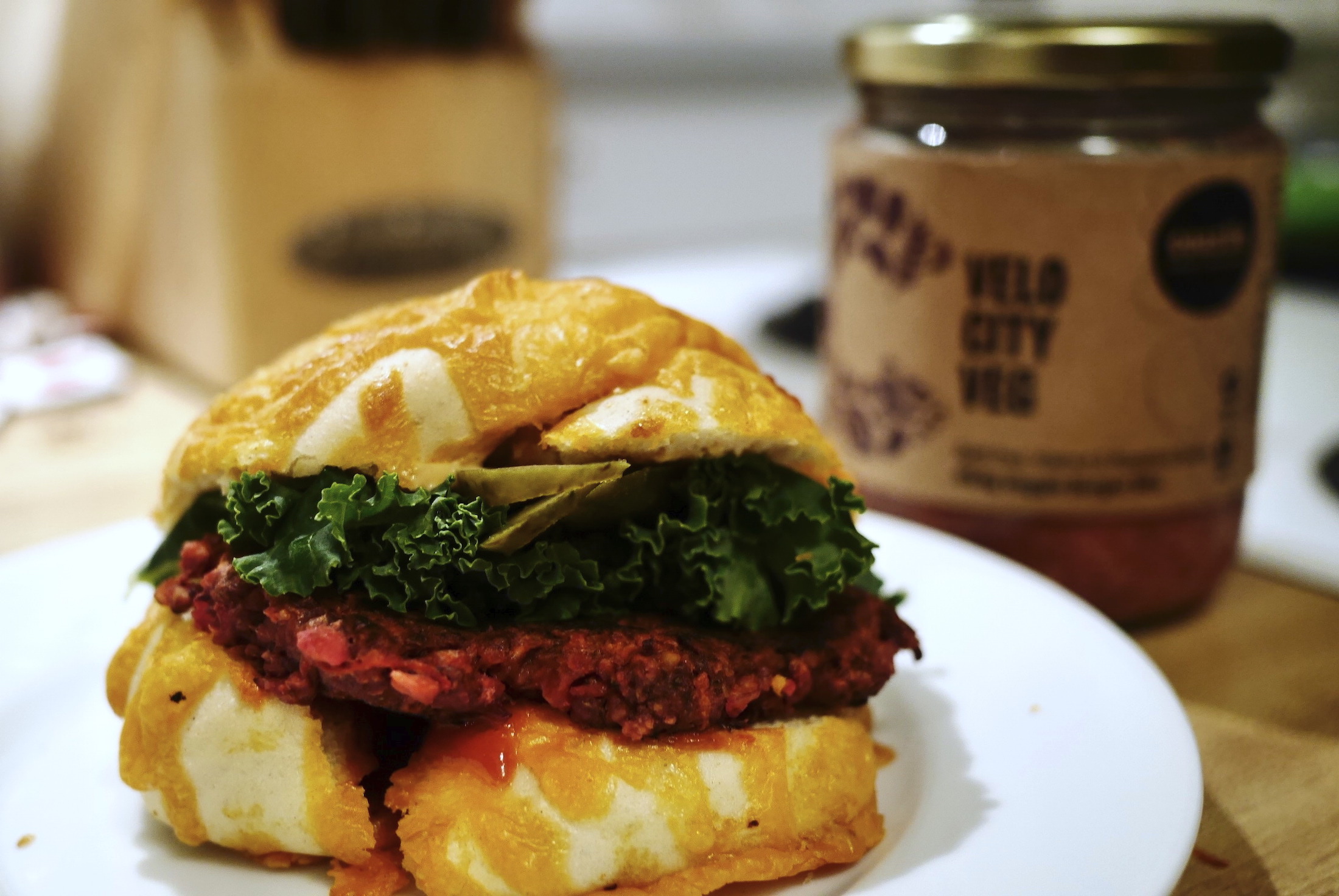 For the growing segment of vegans in Vancouver committed to zero waste: this one's for you. Coastie Craft Burgers founders Ali Cant and Matt Wiebe make their burger patties out of a commissary in East Vancouver, producing so little waste they purportedly don't even have a garbage can at their prep station. The four different flavours of patties are delivered frozen in (refillable) glass jars, for you to cook at home. Having failed to make a veggie burger that sticks together on many occasions, I'll admit I was skeptical. But after frying up the Velo City Veg patty, made of split peas, mushrooms, roasted beets and walnuts, it stuck. I sandwiched it between a lightly toasted Artisan Bake Shoppe bun, a bit of kale, dijon, ketchup and sliced pickles. My resident carnivore celebrated the meaty texture flavour. I less-than celebrated its meat-like appearance, especially when still frozen in the jar. And while I can't say I tasted the tarragon described on the website, I enjoyed the subtle mix of spices.
On the speakers: CBC radio
Veg rating: You had me at zero waste
Carnivore rating: Two thumbs up. "Best flavour and texture."
Heirloom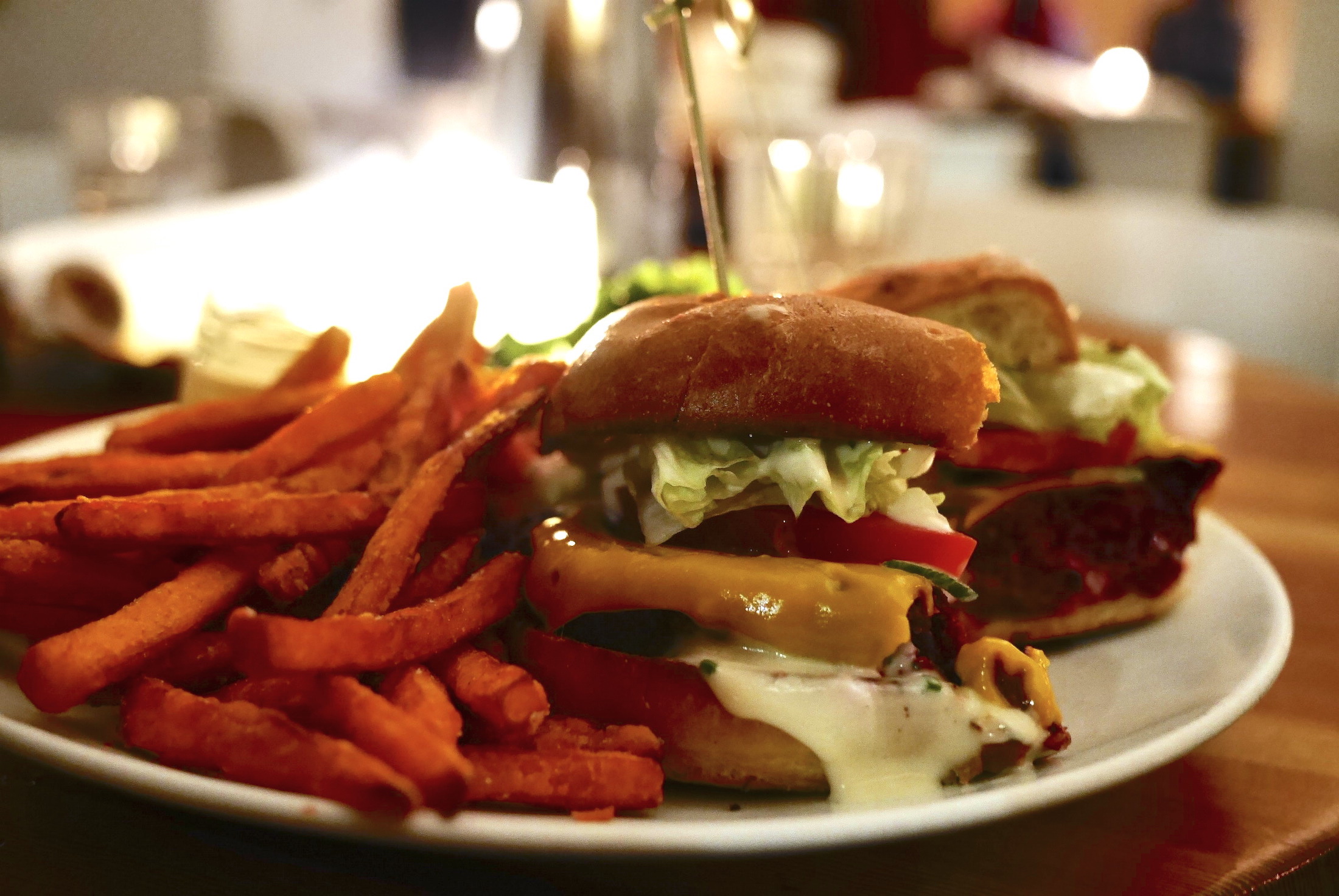 Heirloom is the oldest and most upscale of the bunch (cue real linens) serving up vegan and vegetarian eats since 2012 out of its South Granville location. The beautifully renovated heritage building sets the tone just as earnestly as the vintage pitchforks and shovels on the wall. The Heirloom Classic Burger's beet and quinoa patty was generous and moist, with an inescapable earthiness. The classic white bun, mild, mild vegan cheese (though you can order sharp cheddar), shaved cucumber, tomato and iceberg lettuce did their duty. The most lasting flavour, however, was the roasted garlic aioli which was delicious, though perhaps not ideal for a first-date, of which there seemed to be many going on around us. The double-hitter sweetness of the yam fries paired with a weirdly sweet kale Caesar was a tad overkill. But overall, a well-rounded veggie burger experience.
On the speakers: Gramatik
Veg rating: Satisfying
Carnivore rating: Two thumbs up. "Second best for taste."
---
Read more Food and Drink stories here.