Dressed in crisp chef whites, Cary Docherty is seated at a little red leather booth at London restaurant Little Social. He is relaxed and welcoming in that characteristically Canadian way, even at the bustling French bistro down the lane from Oxford Street. It's between lunch and dinner service, giving this Richmond native a few minutes to reflect on his humble beginnings.
Apart from a paper route that he had as a kid, Docherty has only ever worked in hospitality. At first he was part of front-of-house teams, and dreamed of one day opening his own restaurant. Then at 21 he made the move from Steveston, where he was born and raised, to New York to obtain a degree in restaurant arts and culinary management at the Art Institute. Part of the program called for cooking classes, and that was when he realized he preferred the kitchen. "When I went to school I just fell in love with cooking and I never went back," he says. Following four years in New York, with his then-girlfriend (now his wife), he returned to Vancouver to work at Rob Feenie's revered Lumière.
He spent two years as a chef de partie at the French restaurant, which also had culinary influences from Japan and China—food that had long been of interest to Docherty. "Richmond, being quite diverse at the time, even when I was little, there was always different styles of cuisine," he says. "It just opens up your eyes: 'Oh, what's that, what's that, what's that?' That is the thing about our industry, you can never stop learning. Never."
From Lumière, Docherty made an even bigger move, this time to London to work at Gordon Ramsay's flagship eponymous restaurant in the posh Chelsea neighbourhood of West London. As the establishment was one of only five in the U.K. to hold three Michelin stars, Docherty experienced a culture shock in the kitchen that training in New York and Vancouver hadn't prepared him for. "Everyone at Lumière was really nice and took your under their wing, whereas [at Restaurant Gordon Ramsay] it was like sink or swim. I just wasn't ready for it," he says. "Being from Richmond and having absolutely no idea what I was getting into, I only lasted three months the first time around."
After that, Docherty went on to work with another highly respected Michelin chef: Jason Atherton at Maze, followed by a move to Zuma—widely considered to be one of the best Japanese restaurants in the world, now with 13 international outposts. One day, Docherty visited chef Clare Smyth back at Restaurant Gordon Ramsay for dinner. The two had become quite good friends in the four years that Docherty had been cooking in London, and Smyth had risen to head chef. After the meal, Smyth asked Docherty if he was ready to come back to the restaurant. It was a resounding yes, and he ended up spending two years under her leadership.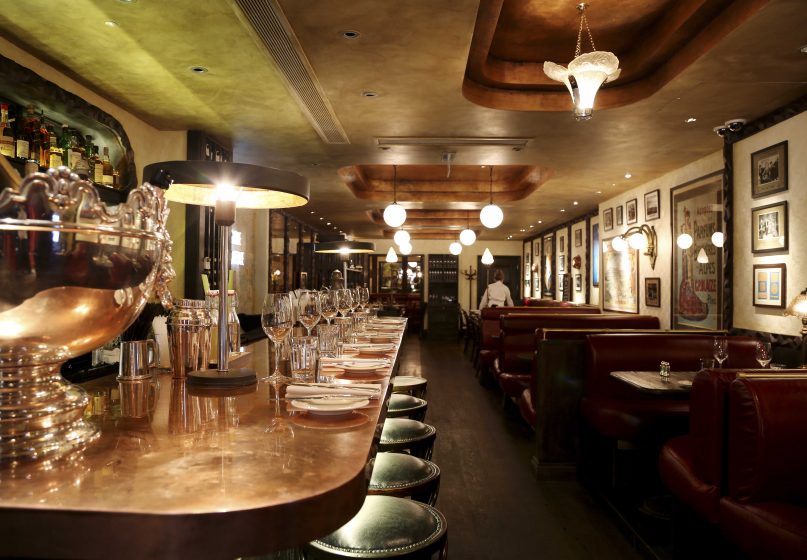 After Restaurant Gordon Ramsay came a stint at One Aldwych, a luxury boutique hotel in Covent Garden, then back to the Gordon Ramsay Group Restaurants to run Foxtrot Oscar, a little bistro next to Ramsay's Chelsea flagship. Then came the call from Maze's Atherton to open Little Social as head chef, and the eatery has been his London home for the last five years.
"I love this restaurant with all my heart," he says. Docherty describes his cooking style at Little Social as super simple, with influences from the continent—French meets English with twists from here or there. "I know it sounds like such a cliché, but we literally just try to get the best quality ingredients that we can and do as little to them as possible," he says. He gushes about a new burrata on the menu, which is sourced from cheese-makers from Puglia who are now based in London. Served with fresh peas and mint, it is like spring on a plate.
Of course, there is a little bit of Canada on the menu as well, with an ever-changing poutine dish that is one of Little Social's top sellers. Currently served with chorizo and jalapeno to complement the classic cheese curds and gravy, other variations have included foie gras and truffle. In celebration of Docherty's Canadian roots, Little Social has hosted a number of pop-ups for Canada Day, transforming the restaurant into a Quebecoise cabane a sucre complete with furs, antler chandeliers, and plaid tablecloths.
"Unbeknownst to me, there is a huge population of Canadians here and the first day we did the pop-up it was literally packed with our people. They were really grateful, like, from the bottom of their heart, 'Thank you for a taste of home,'" says Docherty, who laughs that poutine is something more likely to be consumed after a night out than at little high-end bistro in Mayfair. Apart from the fries, gravy, and curds, a nod to Canada on his menu may include tartines, Nanaimo bars, and butter tarts.
Docherty makes it home to Richmond at least once a year to visit his family and friends. He plans to return full-time eventually, with a dream of opening his own tasting menu restaurant in Pemberton—a location chosen above all for its produce. "One of the biggest parts of getting home is, I always knew working at Lumière and places like that, that produce in British Columbia is outstanding," he says. "I really think now having even the little experience that I have working abroad, that it would be such a treat to go back home and work with all of that. That's one of those things that I really look forward to—not just friends and family, but the produce." After all, he continues, "the heart is always in Vancouver."
---
Discover your new favourite chef with more food stories.