When you combine fine dining and catering, what you get is a gastronomic high-wire act, and Culinary Capers Catering executive chef Stewart Boyles is okay with that. "I like the idea of taking a classic dish, like a bouillabaisse, looking at the essential elements, and putting that on a catering menu," he says. "It's not what people expect, but they love the surprise of it." It is that kind of creative thinking that led the team at Culinary Capers to hire Boyles, early in 2016, with the expectation that he would take the entire food program to a whole new level.
His predecessor, Margaret Chisholm, "left us a fantastic base to work from," Boyles says. "The systems all run like clockwork, the kitchen itself is precise—it has been actually quite smooth transitioning in here." Boyles's resume includes two Michelin-star cooking experiences in Scotland with chef Martin Wishart: first at the Edinburgh classic, Restaurant Martin Wishart, and then as chef de cuisine at Wishart's Cameron House on Loch Lomond. "It was an incredible experience with chef Martin," Boyles says almost wistfully. "I don't foresee having such an opulent, luxurious décor, in such an idyllic setting, ever again. But it was time to come home." Three years in Scotland, then he came back to his native British Columbia, first settling in as chef de cuisine at Hawksworth. But with a young family underway, Boyles was attracted to the lifestyle change the Culinary Capers position would bring him. "It is kind of a dream job, really," he says with a smile. "To be working with an amazing team, great management, and all the while, mostly it is a day job!" Sounds great, certainly, but there are still those pressures to perform. "During the interview process, I was asked to cook something, pretty much off the cuff, and I realized, 'Wow, they want me to be creative, inventive.' It was a challenge I loved."
Boyles has also overseen the installation of some new kitchen equipment, including a fantastic grill top and some new ovens. "It all increases our capacity," he says. It means they can expand, cook more food, serve more people.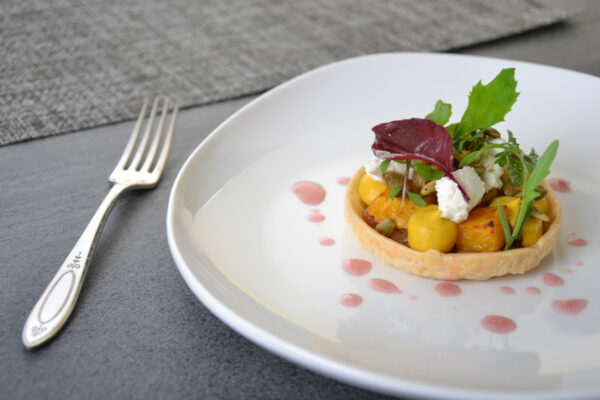 Catering is in some ways a curious thing. It is about organization, mathematical precision, and anticipating potential setbacks. It is also about handling large volumes of small bites of food, meticulously prepared as an ensemble, on a menu that is unique to each client. And, for Boyles, it is about "taking all my fine dining restaurant experience, and applying it to a catering context. I know it is small portions, and usually the food is not the main focus of the event. But I like the idea of offering new dishes, with my team, that will inspire clients to experience new flavours, even new ingredients. I think we can make any occasion, any event, even more special."
Boyles is full of confidence, and why not? His mandate was clear from the start: "Be creative every day, bring new ideas, all the while providing dishes which regular clients have come to expect. A bit of old and new." This is more demanding than it might appear to be at first glance. Culinary Capers offers a wide array of dining options, from breakfast, lunch, and dinner, through to specialty corporate event menus, baked goods, and seasonal platters. Name the situation and they can provide the right kind of service and food, from early morning breakfast meetings to late-night snacks at the CEO's birthday party.
Some examples of Boyles's sometimes playful, satisfying approach, always inspired by local ingredients in season: roast turkey Yorkshire with sage and cranberry jelly; a delightful beet root tartare with a celeriac crisp ("I love the texture and the intense flavour of the celeriac," he says); that bouillabaisse of seared scallop, crisp garlic, and fresh parsley; and a sensational passion fruit, pistachio, and chevre crostini. "That process of deconstructing a dish, and rebuilding it into one or two bites, is one of my favourite things," he says, and that excitement shows in each bite. To deliver consistently high-quality dishes in such a wide array of contexts is something Boyles relishes. "I want every one of our services to be the best, to somehow be memorable," he declares. "When I say we will make our clients happy one bite at a time, I mean it literally."
---