It's a beautiful January morning on Saltspring Island—mild, with a hint of sunlight that bodes well for the day. I'm standing near the edge of a cliff on the southeast point of the island, looking from left to right across a panoramic Salish Sea to silhouettes of the smaller Southern Gulf Islands, the San Juans, and then the Saanich Peninsula.
The moss-covered rocky ground beneath me has been painstakingly cleared of the resilient gorse and Scotch broom that held sway on this outcrop (one defiant splash of vibrant yellow peeping out behind a tree suggests the battle is not yet over). Closer to the precipice, a family of gnarled Garry oaks hold fast against the prevailing winds that have shaped them.
Oak is top of mind today. Well, that and barley, fresh sea air, and terroir. I'm here to celebrate three expressions of single malt from Fettercairn, a Scottish distillery almost 200 years old, yet undeniably less familiar to whisky drinkers than its Whyte & Mackay stablemates, The Dalmore and Jura. We wake up to breakfast made with eggs harvested "just up the road" from our base here at Lightwater Cove, a new resort committed to quality, craft, and sustainability. The light hand behind quite possibly the best slice of quiche I have ever eaten belongs to Haidee Hart, chef, caterer, and owner of the island's Woodshed Provisions.
Our walk to the point begins with a tour of the resort's small farm, reached through an archway, part of a beautiful dry stone wall built without the use of any form of mortar—a Scottish masonry technique brought to the island by Andrew Currie—that took, we are told, a year to construct. Through it, we meet Saltspring's remarkable seed expert, Dan Jason, whose mission in life is not to merely harvest and bank all manner of seeds for posterity, but to rotate them through growth cycles, allowing them to adapt to climate and habitat changes. Inspired by the occasion, he has planted rows of barley—seven or eight varietals—each with, he tells us, their own look, feel, and taste.
Later, over a lunch prepared by Hart to pair with Fettercairn's 12-, 16-, and 18-year-old expressions, master whisky-maker Gregg Glass returns to the importance of the base grain—and growing for flavour first, not yield. Fettercairn's 200 Club (created with founding partner Bairds Malt) guarantees the purchase of barley grown across 200 farms within a 50-mile radius of the distillery. A man who revels in the freedom to try new things that comes with a whisky still making a name for itself, Glass notes that Scotch created from single-estate barley is a future possibility.
For now, however, his focus is on oak—specifically the wood used to age the amber liquid (along with most of the world's wine and spirits)—and his passion is for barrels made from Scottish oak. Like so much of the country's best seafood, he explains, Scottish oak is, more often than not, sold for export. Glass has been working on the recently established Scottish Oak Programme for 15 years and, with Fettercairn 18, he presents its first fruit: whisky aged initially in American ex-bourbon white oak casks, then finished in (mostly virgin) Scottish oak.
The program's aim may be straightforward—to create a sustainable system for the use of Scottish-grown oak in whisky-making—but the reality is anything but, requiring commitments and skills in everything from forest management to sawmilling and coopering (barrel-making). Ensuring these skills are kept alive, along with the planting of some 13,000 oak saplings on land adjacent to Fettercairn's distillery, is the definition of future-proofing the industry in Scotland.
The whisky from these native barrels is poured from bottles with a label suitably adorned with a small gold oak tree. The colour is dark and rich; the nose is deep with orchard fruit, caramel, and vanilla. It is paired with a pear tarte tatin served simply with a quenelle of Chantilly flecked with vanilla seeds.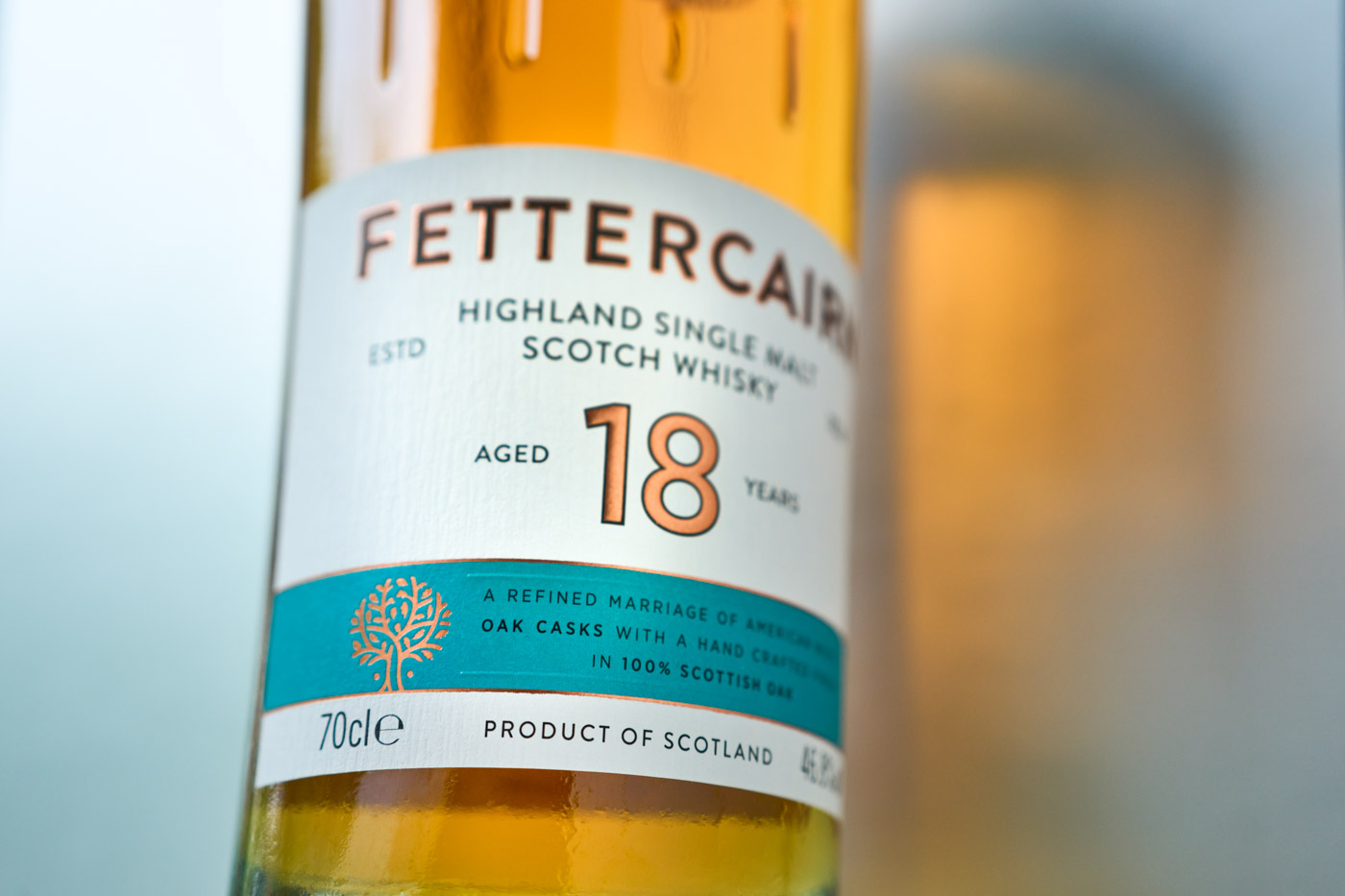 Each is individually delicious, but together they are sublime, a pairing that screams purpose, integrity, and passion for detail. I take another bite, another sip, and watch the sun finally burst through the clouds.
---
Read more spirit stories.