Gone are the days when popping the cork on a bottle of bubbly was reserved for special occasions. Now every day is a cause for celebration, and the popularity of sparkling wine is at an alltime high.
Sparkling wine is one of history's most wonderful mistakes, the result of a wine whose fermentation has halted due cold weather being bottled prematurely, only to wake up in the spring and transform its residual sugars into carbon dioxide. First understood by the Greeks and Romans, sparkling wine was rediscovered by the monks of southern France in the mid-1500s. Its alchemy spread to Champagne in the north, where it was originally seen as a flaw to be stamped out, but it ultimately took root as the most special of wines, still made in a traditional manner today.
What we now consider the traditional method of sparkling wine is also the most laborious. After an initial alcoholic fermentation in a larger vessel, still wine is put through a secondary fermentation with the addition of a sugar and yeast mixture. The carbon dioxide bubbles formed from that second fermentation remain inside the bottle until the cork is released.
Most top-quality sparkling wines continue to be made in this method; the most complex are aged in their bottle for many months, or even years.
Sparkling wine is also produced by putting the wine through its secondary fermentation in a tank and then bottling and sealing the bubbles inside. Called the charmat or tank method, this is the preferred way of making Prosecco.
If you've followed the recent natural wine trend, you may have heard of a rarer technique called pétillant-naturel (pét-nat). Known as the ancestral method, it creates bubbles when still-fermenting wine is bottled, thereby trapping carbon dioxide from the single fermentation. This version is likely the reason for the first fizzy wines made by miraculous mistake in the abbeys of Occitanie.
Now that you have a little background, here are some delicious options to discover.
Created in 1869, Möet & Chandon's Impérial Brut is a premium nonvintage Champagne made from a blend of over 100 wines composed of pinot noir, chardonnay, and pinot meunier. Emblematic of the fresh and vibrant Möet & Chandon house style, this dry, well-loved Champagne delivers buttered apple brioche, acacia, wild honey, and tangy red berry aromas. Creamy with lively tiny bubbles, it is brimming with quince, lemon, and hazelnut flavours.

Also from Champagne, the dreamy 2015 vintage Philipponnat Royale Réserve Rosé Brut is utterly seamless. Established in 1522, Philipponnat is one of the most distinguished houses in the region, and the Royale Réserve range is made from some of the finest premier cru and grand cru vineyards in Champagne.
A blend of pinot noir, chardonnay, and pinot meunier, this pale-salmon-hued fizz suggests toasted baguette slathered with charred orange marmalade, red currants, and forest-floor aromas. Sublimely harmonious, it rolls out flavours of Cointreau, peach, and red berry brûlée; bright and complex, it is truly complete.

Township 7 Vineyards & Winery claims boasting rights as one of the first wineries in British Columbia to make a traditional method sparkling wine, named Seven Stars, back in 1999. After sporadic vintages, Seven Stars was revived in 2015 when sparkling wine expert Mary McDermott joined Township 7 as winemaker. Now its own brand, Seven Stars comprises five sparkling wines, the newest being Sirius. Named for the brightest star in the evening sky, Sirius is a 2015 blend of chardonnay and pinot noir from the winery's Langley vineyard. A bubbly with elegance, it's scented with apple crumble, lemon biscuits, and bread dough. The acidity is racy with a bold citrusy undertone.

Established in 1890 by the Medici family of Emilia-Romagna, Medici Ermete has established itself as a lambrusco house of unprecedented quality. The wines the house produces are not the cloying frothy versions common at the end of the last century but complex wines made from the region's lambrusco salamino grapes. The flagship is the Concerto Lambrusco Reggiano DOC, whose 2020 vintage is stained deep purple with notes of pomegranate, maraschino cherry, rose petals, and star anise. It has a creamy mousse and oodles of fresh purple berry flavours.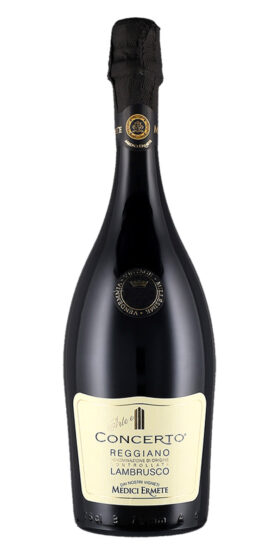 We can't leave Italy without a nod to the world's current bubbly obsession, Prosecco. Established in the 1960s in Treviso, Le Rughe makes wine from grapes within the DOCG of Prosecco Conegliano Valdobbiadene as well as outside its borders. This nonvintage brut Prosecco is made entirely of northeastern Italy's autochthonous glera grape variety. With more complexity than many Proseccos, Le Rughe leads with aromas of apple skin and lemongrass woven with acacia, tangerine, and a whiff of basil. Juicy and pristine, it has a delicate character with a lovely fruit expression.
There you have it, five stylish sparkling wines ready to be uncorked for all your holiday celebrations.
---
Read more Wine stories.