Vancouver is constantly changing, evolving. There is always something new to see: a shiny high-rise; a fresh artisanal ice cream joint; a restaurant boasting intimate share plates. It can be exciting, always having somewhere different to try—but there is also something to be said for consistency. For familiarity. For tradition.
That is Gotham Steakhouse & Bar's golden ticket.
The heritage building, one of Vancouver's last remnants of the art deco architecture style, sits right on Seymour in the heart of busy downtown. But walking through its grand doors, guests are greeted by a distinctly calming and welcoming atmosphere. There are elements of a classic steakhouse, to be sure—think white tablecloths, plush deep red booths, and high ceilings—but it is all woven together with impressively contemporary service.
"We really hang our hat on the service aspect," says restaurant general manager Benjamin MacMaster, sipping water inside Gotham's piano lounge. "We pride ourselves on a lot of intuition: 'What's the diner in the mood for this evening?'" Whether the client is out with friends, on a date, or having a business meeting, the servers here are experts at tailoring each individual experience. "This is the best team I've ever worked with," says MacMaster, who recently moved to Vancouver from Gotham sister restaurant Hy's in Toronto. "They care more than any team I've worked with. It's been quite easy to come in and steer the ship."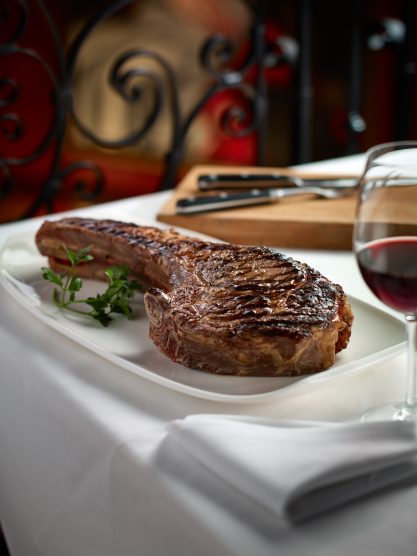 Of course, service is only part of the puzzle—the food must be good, and it is. A warm starter crab cake with fresh crab, roasted jalapeno tartar sauce, and pickled cucumber sets the mood, followed perhaps by a sweet beet and burrata salad and a tuna poke dish with soft sashimi-grade tuna, Maui onions, crunchy macadamia nuts, and a tart sesame-soy honey dressing. Save room for mains, of course: indulge in the pan-fried, panko-crusted organic free-range Chicken Paillard with arugula, confit cremini mushrooms, and delectably creamy romesco sauce, or go for the Medallions of Beef Forestiere (with Canadian Prime meat, of course) served alongside broccolini and creamy mashed potatoes. Pair it all with a glass of refreshing Kanazawa Sakura pinot noir rosé boasting fresh fruit notes and a healthy dose of acidity.
It seems hard to order wrong, though, with a perfectly-sized menu to choose from; there is easily something for everyone, but the offering is not so large that you begin to wonder if they can execute everything properly. At Gotham, quality is paramount; the food is elevated and yet simple, allowing the natural ingredients to play their starring role.
"There is a lot of great dining in this city," MacMaster acknowledges. "The Vancouver diner is sophisticated." And so is Gotham. As the city continues to morph and meld, it becomes ever more important to have classic staples that are tried and true. This restaurant stands out for its consistency; yes, the menu changes, but the food is always at the same high level, and certain fan favourites never go away. It is a place of indulgence but not pretension. Everyone is welcome, and everyone is valued. In turn, it seems everyone values Gotham right back.
---
Still hungry? Read more about the food scene in Vancouver and beyond.