Before interviewing for the position of bar manager of Nammos Estiatorio in Vancouver's Fraserhood, Lucas Simon anonymously dined at the Greek restaurant. He had to be sure that the food was good.
The first dish he tried was Melitzanosalata: heavenly smoked and chilled eggplant mixed with onion and tomato, and served with warm oregano-sprinkled pita. It was the only convincing he needed.
"I had that and said, 'Yeah, I could work here,'" Simon says, standing inside the bright space accented with blue and adorned with Greek memorabilia.
Opened in 2016, Nammos occupies a gaping space—literally and figuratively—in Vancouver's food scene. Literally, the restaurant resides in the former location of vegan eatery Graze, and adds some necessary colour to the burgeoning intersection of Fraser and King Edward. (You've got to eat dinner before that Earnest Ice Cream dessert, after all.) Figuratively, Nammos fills Vancouver's need for authentic Greek food. No, not chicken souvlaki set on top of a mountain of rice, potatoes dripping in oil, and pita bread from the grocery store. This is real Greek cuisine, served family-style and cooked by a Greek chef.
"The biggest thing is authenticity," says owner Petros Kerasiotis. The young restaurateur comes from a "big family" of entrepreneurs behind many Vancouver entertainment and food businesses, including Fortune Sound Club, Colony, and Celebrities. He spent years working in the nightclub scene but eventually realized that he was more suited to the pace and style of a restaurant. Growing up in Vancouver with Greek parents and frequently visiting the homeland, Kerasiotis noticed that the abysmal offering of Greek food here was frustratingly westernized. So he opened Nammos, not really to change the conversation but rather to start a new one entirely.
"My vision is: take whatever you think about Greek food and throw it out the door," he says. "This is how it's supposed to be."
Before Nammos opened, Kerasiotis and his family were on a vacation at Thermae Sylla Spa & Wellness Hotel outside Athens and fell in love with the resort's food—so much so that they pulled the chef aside and asked him if he wanted to cook at a new Greek restaurant in Canada. Somehow they convinced Manos Grammatikogiannis to come to Vancouver for a visit, and when he was here, he fell in love with the city—and with the opportunity to leave struggling Greece and cook his traditional food for a whole new audience. He is now a permanent Canadian resident sponsored by the restaurant, which has since sponsored five additional Greek chefs. "We have a joke that my dad is trying to save Greece," Kerasiotis says, "one chef at a time."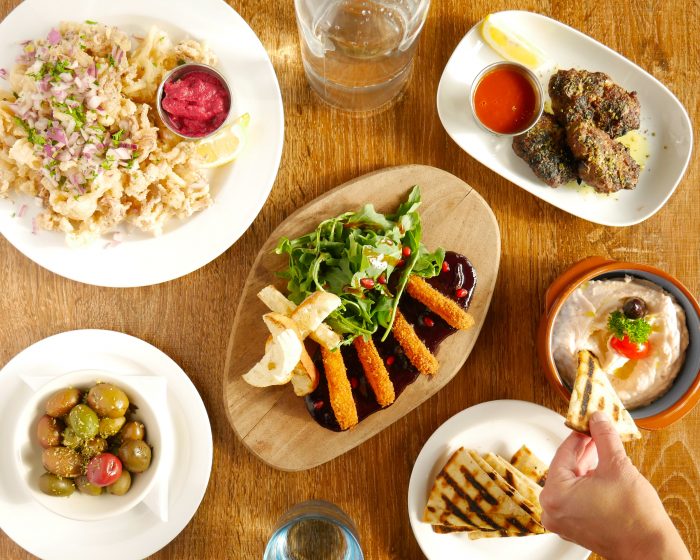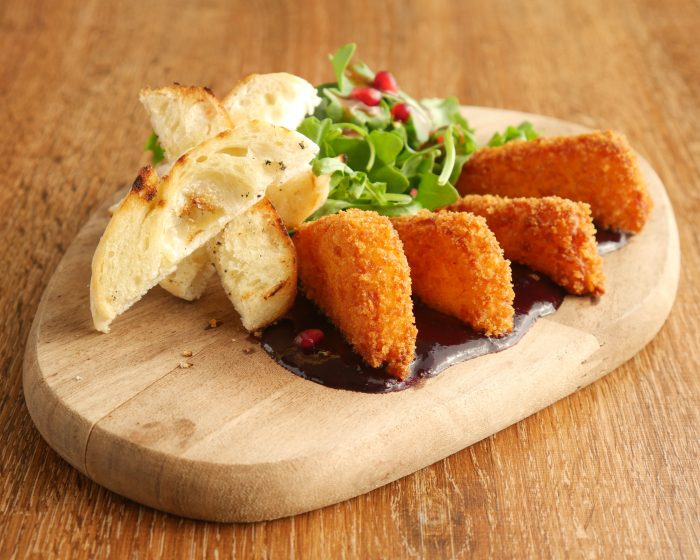 The menu that Grammatikogiannis created is a choose-your-own-adventure (though sometimes it's best to let the server decide), spanning appetizers, salads, pasta, seafood, and meat. After some of the aforementioned eggplant, it's hard to go wrong with Horiatiki (Greek salad of thickly-cut tomato, red onion, green pepper, and cucumber plus capers, extra virgin olive oil, barrel-aged feta flown in from Greece, and chewy ciabatta); another more decadent option is the Saganaki (kefalograviera cheese, fried for a crispy golden crust that surrounds salty melted goodness on the inside), a perfect complement to the crunch of salad or cool richness of eggplant.
When it comes to meat, Nammos is known for its lamb, including the Paidakia: juicy grilled chops with tzatziki and the very traditional bulgar: Greek endive that is braised until it's almost mush, intended to be eaten with lots of fresh lemon juice and salt. Bitter and a little slimy, it is certainly an acquired taste, but the dish also packs a lot of nutrients and is known in Greece as a superfood. "Some people tell us to take it off the menu," Simon says of bulgar. "Try telling that to a Greek chef!" Fish-lovers can dig into the whole grilled Mediterranean seabass, which is caught off the shores of Greece and transported frozen to Nammos within 30 hours. A few squeezes of lemon wedge and some intense de-boning later, it's a feast for the eyes and stomach.
All this is not even to touch on Simon's cocktail list, which includes playfully Grecian takes on old favourites. There is the Between 2 Ferns, which combines ouzo with Aperol, gin, sugar, and lemon plus a garnish of cherry tomatoes and fresh site-grown basil; the acidity of the lemon and tomato mixed with the pungent basil makes for an ouzo cocktail that doesn't, amazingly, taste overwhelmingly like black licorice. For dessert, the Yaiya's Breakfast could work in place of baklava; the beautiful white drink is made with Greek yogurt, peach, vanilla, bourbon, sugar, cinnamon, and Metaxa Seven Star brandy. Similarly, the Espresso Negroni is a nice aperitif with espresso, gin, rosso black, and walnut bitters. On top of that is a growing Greek wine list, which Simon wants to make the best of its kind in Canada.
Vancouver's prominent cultures are well represented with a plethora of authentic Chinese, Japanese, and Italian restaurants, but its smaller immigrant communities have a harder time being noticed. The Greek population here is small, numbering only about 15,000 according to Kerasiotis—so Nammos is as much about providing a taste of home for them as it is for educating the rest of the Lower Mainland.
"We're lucky to have Greeks come and support us," Kerasiotis says. "Most nights we have Greeks in here. It makes me happy. It makes me feel like I'm doing something right." With a potential second location on the horizon, Nammos is charging ahead with its mission. Time to squeeze some lemon overtop and dig in.
---
Try more Food and Drink.