"If it wasn't for the coffee, I'd have no identifiable personality whatsoever." David Letterman said that once, and many people would agree with him. When it comes to seeking a good latte or cappuccino (or pastry, if that's more your thing), Vancouver is spoiled with a variety of cafes. Here are five new spots to try, each with their own sweet touches.
Their There
Walking into West 4th Avenue's Their There, certain design elements—the Lego structures, the colourful Bearbrick replicas, the 10-year-old sunburnt Nikes—clearly associate this space with AnnaLena. Indeed, Their There (which opened in June 2018) is created by the same team behind the popular Kitsilano restaurant, but this is a different chapter in chef Michael Robbins and bar manager Jeff Parr's story.
"I really wanted to do something other than open a restaurant, and this is a transition that's understandable for our industry but still new," Robbins says, seated on one of the cafe's stools made from stacked plastic crates. With a delicious pastry program led by Lucy Kirby (previously of Hawksworth and Nelson the Seagull) and a breakfast and lunch sandwich menu created by Robbins, the food at Their There already has the town talking, whether it be about the Vietnamese sub or the fried chicken on a bun. However, Robbins has been changing the menu frequently (which he admits some customers haven't been impressed about), so favourites will come and go quickly. Portland's Heart Coffee is the choice roaster, and if taking to-go, beverages are served in playful cups designed by Robbins alongside Brussels-born, Vancouver-based artist Ella Duret. Come afternoon, Their There also serves wine and beer.
As for the design, Robbins needed everything to flow together. "I wanted a really earth-tone, natural room," he says, pointing out the small details found scattered within the space, from the footprints on the floor (his, of course) to the mixed marble tables, which were inspired by a Céline store. Robbins wants Their There to be more than a coffee shop—he wants it to be a local haunt. "Why does it have to be one thing?" he questions. "Why can't you just think, 'This is a neighbourhood hangout where everyone goes for whatever they need'?"
Buns + Boba
It's a beautiful thing to walk into a sun-drenched cafe early in the morning and see fresh dough being rolled out. Adding to the changing intersection of Kingsway and Broadway, Buns + Boba offers a fresh menu of drool-worthy, made-in-house goods. Owner and co-founder Katrina Louie and a staff member have been in the shop since 6:30 a.m. this morning preparing various flavoured buns, which use a recipe developed by Louie herself.
Having a cafe and bakery has been a dream of Louie's since she was 18, and after quitting her job in real estate last year, she finally took the plunge. Opening its doors in July, this establishment also specializes in boba; known more commonly as bubble tea, the boba served here is as fresh as can be. Instead of using the concentrates and powders found in most bubble teas, Louie's team opts for whole milk and real, all-natural ingredients to create an organic Taiwanese classic.
As for the coffee, which can be paired with regular milk or made in-house oat and nut milks, Louie selected Squamish-based roaster Counterpart. "I liked the idea of being in an emerging neighbourhood," Louie says, noting the building Buns + Boba now calls home was a complete blank canvas when she moved in. The space is bright, minimal, and clean, just how Louie intended it to be; there is a cute "But First Boba" sign and a large custom moss wall by local interior plantscaping company Greenstems, both very photogenic. "I could picture how I wanted to use this space," Louie says with a smile on her face. Delightful treats and wonderful drinks—now that's a dream come true.
Leisure Center Café
Fans of Balenciaga, Loewe, and Comme Des Garçons can now finish off their shopping experience with a few bites and nibbles from Yaletown's one-of-a-kind shop—a place where fashion, art, and music mix together effortlessly. Within Leisure Center's 22,000-square-foot space sits a leafy cafe serving up an array of tasty goods. This includes a lunch menu created by chef Jefferson Alvarez of Cacao, featuring fresh salads and decadent tartines, and desserts almost too pretty to eat courtesy of two Vancouver vendors, Butter Mere Patisserie (based inside Torafuku) and Off On Wednesdays. If wanting something more health-focused, New York-based herbal remedy company The Alchemist's Kitchen has made its first expansion outside New York right here inside Leisure Center.
The abundance of greenery in the cafe, courtesy of Celsia Florist and Kermodi Living Art, is enchanting. Glass tables and lounge chairs are surrounded by adorable black and white illustrations of Paris, a collaboration with Parisian design studio OMY; eventually, Leisure Center wants guests to unleash their inner artists and start colouring in the wall.
"The name here is Leisure Center because we want, at this moment, to help people find leisure time," Mason Wu, co-owner of the store, says to a small group on the cafe's opening day in July. "We tried to bring something interesting to Vancouver." Although the cafe is gearing up to be one of the city's most fashionable hangout spots, there is one key element still missing from this coffee shop. "There's the question: where's coffee?" Wu says, met with a crowd of laughs. "It's coming." He notes that he is still on the lookout for a roaster that meets his standards, but he does promise that whoever he chooses will be a delicious fit.
Laurence & Chico Café
Alice found Wonderland, and it's inside womenswear label Laurence & Chico's new surreal concept cafe. Colour is everywhere here, a reflection of Laurence Li and Chico Wang's larger-than-life creations—which have been spotted on the likes of Cardi B and Charlie XCX. The Vancouver- and New York-based designers dreamed up the outlandish space as part coffee shop, part afternoon tea house.
Take a latte made with 49th Parallel beans and fall into one of the shaggy Cookie Monster-esque chairs equipped with unicorn horns as gigantic mannequins draped in garments from the latest collection hover nearby. From the wallpaper to the tile, furniture legs to chandelier shades, the cafe uses the brand's signature intricate handiwork to craft an enchanting world. Fringed stools, some looking like wigs out of Lady Gaga's early tour arsenal, will be changed seasonally; even the washrooms are amazing, one of them filled with actual rubber ducks and the other looking like a trippy light show.
The cafe, which opened in late June, has an easy grab-and-go service, with viennoiseries and croissants by Temper Pastry and macaron ice cream sandwiches by La Glace, complete with fashionable paper takeaway bags and to-go coffee cups decorated with Li's creepy eyeball illustrations. If dining in, the Afternoon High Tea Set menu offers a nice choice; it is a collaborative effort between Li, Wang, and chef Tobias Grignon of Rabbit's Foot Supper Club. Juices are also available, with one selection named after Li (a lemon and lime combo) and another after Wang (a kale-based concoction). Fashion is everywhere in this cafe, and minimalism is nowhere to be found—which is what makes it so remarkably refreshing.
Our Town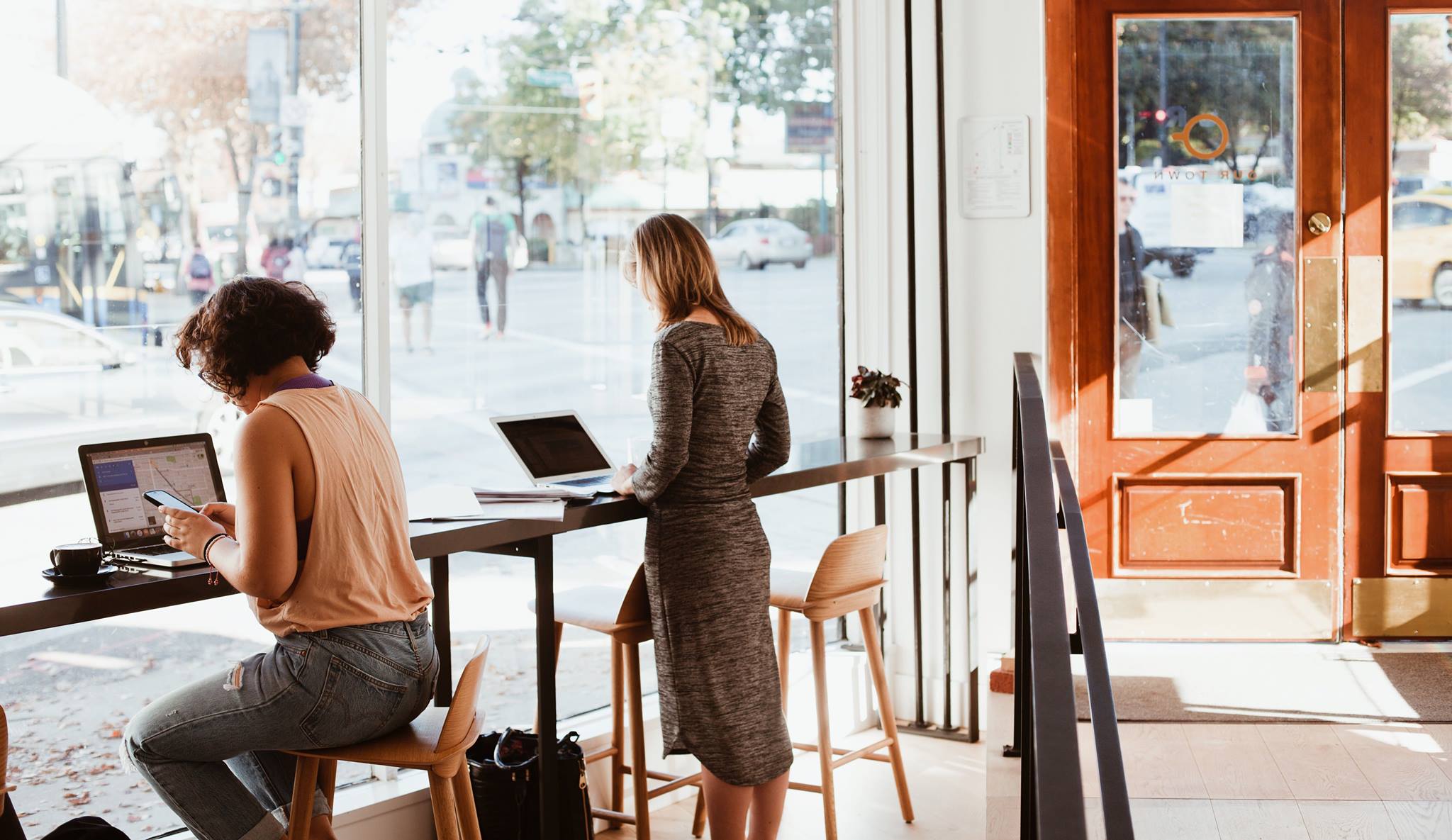 When news broke that Mount Pleasant's beloved (if a bit tired-looking) neighbourhood cafe Our Town was closing its doors after 14 years, locals mourned yet another victim of Vancouver's rapid growth. But lo and behold, a year later, Our Town is back in its Kingsway and Broadway location (its Kingsway and Knight location, meanwhile, has become a Pallet Coffee) with a major facelift.
Brought to life by Sophie Burke Design, the space has all the elements of a modern coffee shop: endless light, marble countertops, wood accents, and brick pillars, not to mention costume handmade plants by North Vancouver's 2 Plant Girls. There's a feeling of tranquility as orders are placed for one of the many coffee beverages offered, which range from drip to Spanish lattes, and pour over to nitro cold brews. And just like with many Vancouverites, local matters to Our Town; the cafe works with a number of city roasters, including Modus, Timbertrain, and Cuppa Joe. It's the perfect spot to order an avocado toast for breakfast, or a battered and breaded portobello mushroom burger for lunch. If running to work, there are a variety of made-in-house sweet and savoury treats, including the popular raspberry oat muffin.
From day one of both its old and new iterations, community has been at the nucleus of Our Town's purpose. The cafe is continuing to provide a platform for local artists and musicians with its Nook space, an area near the back that is perfect for live performances.
Good coffee, good food, good conversation—it all starts with a walk through the doors of a favourite cafe.
---
Read more from Food and Drink.