A pair of B.C. foodies have collected more than 70 recipes from chefs, restaurants, cafés, and wineries in Okanagan Eats: Signature Chefs' Recipes from British Columbia's Wine Valleys. This beautifully photographed new cookbook also features interviews with many of the people behind the mouthwatering food.
---
Freshly caught halibut is one of the treasures of the west coast of B.C.: tender yet firm, mild but rich—and delightful when seared to a caramelized crust. Here, Mission Hill's executive chef Patrick Gayler serves it with humble vegetables and a fragrant dill "pistou," which is similar to pesto but made without nuts or cheese.
B.C. Halibut with Dill, New Potatoes, and Corn-Glazed Cauliflower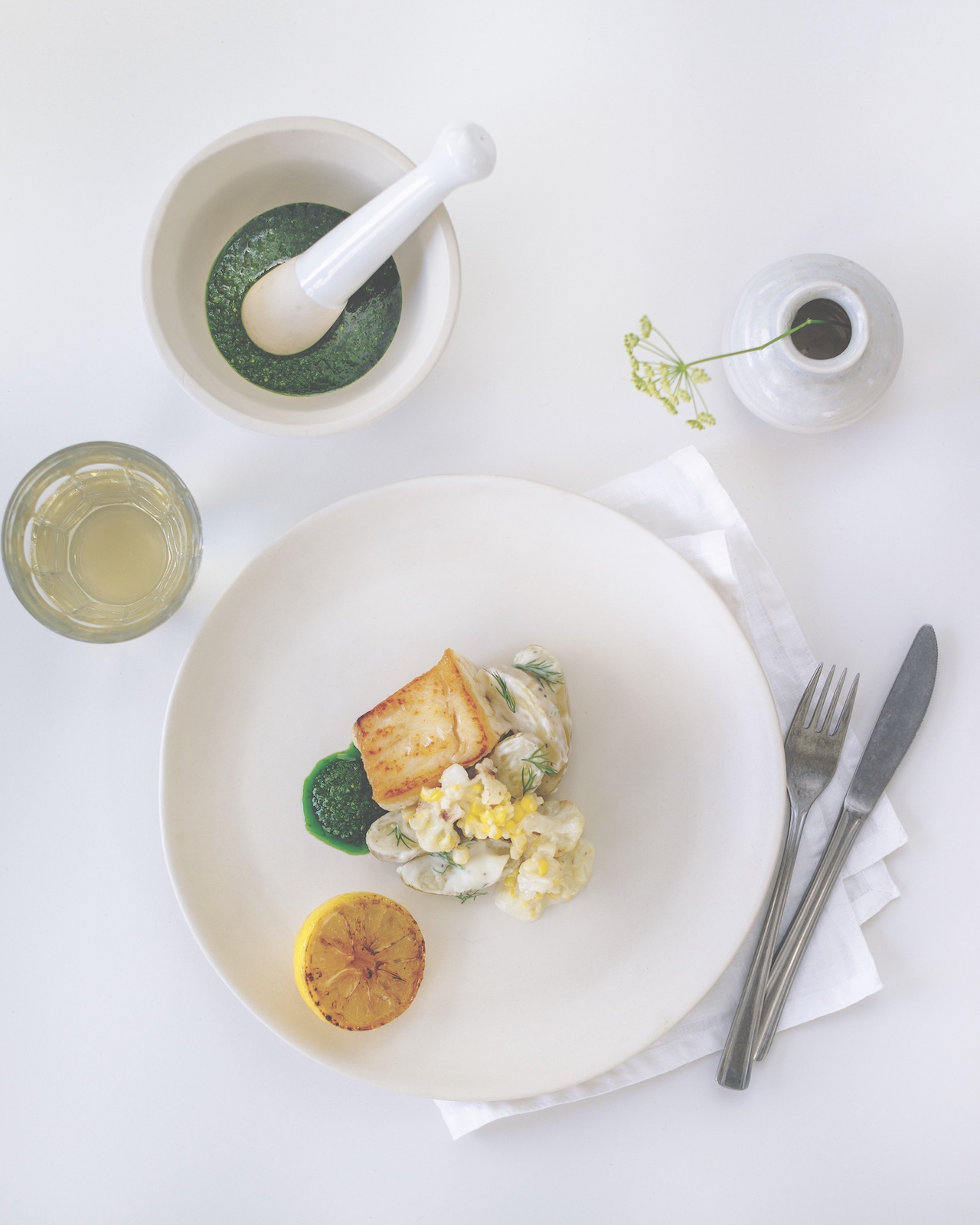 Serves 4
Wine pairing: Mission Hill Perpetua Chardonnay
Ingredients
Halibut
4 (4-oz) skinless halibut portions
Potatoes
1 lb new potatoes, such as Sieglinde or fingerling
1 shallot, sliced
1 clove garlic, crushed
1 cup apple juice
Grated zest and juice of 1 lemon
Pinch of salt
Pinch of black pepper
Dill pistou
4 oz dill, leaves chopped and stems reserved (about 2 cups)
1/2 clove garlic, finely chopped
1/4 cup olive oil
2 Tbsp water
2 tsp grainy mustard
Grated zest of 1 lemon
Salt and black pepper, to taste
Assembly
2 Tbsp butter (divided)
1 cup cauliflower florets
1/4 cup reserved potato cooking liquid, plus extra if needed
4 ears of corn, shucked
Salt and black pepper, to taste
2 Tbsp canola or grapeseed oil
6 to 10 reserved dill stems
1 lemon, quartered and seeded
2 lemons, halved and grilled, for garnish (optional)
Method
Halibut
Place halibut portions in the fridge on a paper towel-lined plate for 2 to 3 hours to dry out. This helps prevent the fish from sticking to the pan so it can brown properly.
Potatoes
In a medium saucepan, combine potatoes, shallots, garlic, apple juice and lemon juice and zest. Add salt and pepper and enough water to just cover potatoes. Bring to a simmer, then cover with a tight-fitting lid and cook for 15 minutes, until potatoes are fork tender. Remove from the heat and set aside to cool to room temperature.
Strain cooking liquid into a bowl and reserve for later. Halve or quarter potatoes to desired size.
Dill pistou
Using a mortar and pestle or food processor, grind all ingredients except the dill stems together until it has a pesto-like consistency. Season with salt and pepper. Set aside.
Assembly
Melt 1 tablespoon butter in a frying pan over medium-high heat. Add cauliflower and sauté for 5 minutes, until lightly golden brown. Add potatoes and 1/4 cup potato cooking liquid and warm through. Stir in corn and sauté for 3 minutes. If needed, add more potato cooking liquid to create a saucy, chowder-like consistency. Season to taste with salt and pepper. Keep warm.
Heat oil in a large heavy-bottomed frying pan until just beginning to smoke. Season halibut generously with salt and pat the surface dry with a paper towel. Once pan is hot, carefully press fish into it. Sear for 1 to 2 minutes, then flip over and sear for another 3 to 4 minutes, until edges brown and halibut is golden. If oil begins to smoke heavily, remove the pan from the heat for 1 minute to cool slightly.
Turn off the heat and flip halibut over. Add dill stems and the remaining 1 tablespoon butter and baste for 30 seconds until fragrant and fish is slightly caramelized. Squeeze lemon quarters overtop. Be sure not to overcook the halibut. It should have some firmness to it and just flake slightly to your touch. If slightly uncooked, rest in the warm frying pan for another minute.
Distribute the potato and cauliflower mixture evenly among 4 bowls. Top with halibut and dill pistou, and garnish with grilled lemon halves (if using).
---
Excerpted from Okanagan Eats: Signature Chefs' Recipes from British Columbia's Wine Valleys by Dawn Postnikoff and Joanne Sasvari. Photography by Jon Adrian. Copyright © 2023 by Dawn Postnikoff and Joanne Sasvari. Recipes copyright © 2023 by individual restaurants. Excerpted with permission from Figure 1 Publishing. All rights reserved. No part of this excerpt may be reproduced or reprinted without permission in writing from the publisher. Discover more recipes.