YouTube star and Vancouverite Pailin Chongchitnant is also the author of the bestselling Hot Thai Kitchen. Her latest book, Sabai, is filled with 100 Thai recipes that express the meaning of "sabai": the state of being when you're at ease. The book will be available in stores on March 14, 2023.
---
Tom yum soup can be made with any kind of meat or seafood, but the version with shrimp is the most popular outside Thailand, probably because it has an intense, rich flavour thanks to the Thai chili paste. The chicken version, however, has a simpler, cleaner-tasting broth, and it is one of the most soul-soothing dishes we have to offer. You can use boneless chicken, but I love using chicken wings in this because they have an extremely high bone-to-meat ratio, which means that in 20 minutes the wings will turn plain water into chicken stock that's richer and tastier than any stock you can buy. Wings also don't require any chopping, and I'm all about less cleanup any time!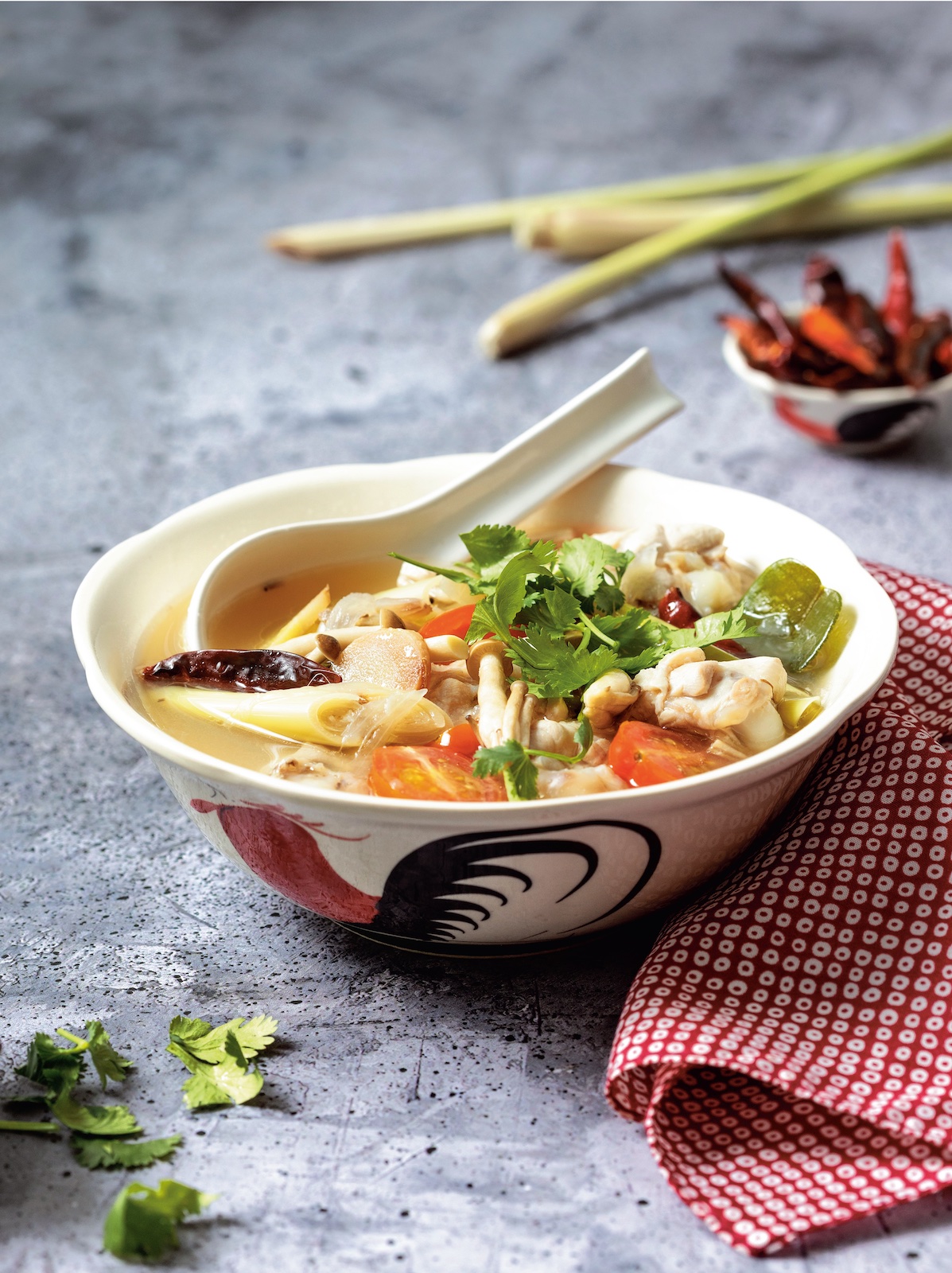 Chicken Wing Tom Yum Soup (Tom Yum Peek Gai)
Serves 4
Ingredients
5 cups water
1½ pounds chicken drumettes (see note)
½ cup coarsely chopped shallots
3 to 4 tablespoons fish sauce
2 to 3 teaspoons granulated sugar
5 spicy dried chilies, such as Thai chilies or chiles de árbol, or more to taste
2 stalks lemongrass, bottom halves only, smashed and cut in 2-inch pieces
10 thin slices galangal
10 makrut lime leaves
3.5 ounces shimeji or oyster mushrooms
1½ cups halved cherry tomatoes
3 to 4 tablespoons lime juice
7 to 8 sprigs cilantro, chopped
Jasmine rice, for serving
Note: Drumettes are easier to eat in soups than whole wings. If you've got the whole wings, save the flats for fish sauce wings.
Method
Bring the water to a boil in a large pot over high heat. Add the chicken drumettes, shallots, 3 tablespoons fish sauce and 2 teaspoons sugar. Simmer for about 20 minutes, until the chicken is fork-tender.
While the chicken is cooking, char the dried chilies for additional smoky flavor. Place the chilies in a dry skillet over medium-high heat and stir them for a few minutes, until they develop charred spots and smell smoky. Keep an eye on them and don't walk away! Once charred, set aside.
When the chicken is tender, add the dried chilies (keep them whole for a milder soup, break them up for a spicy soup), lemongrass, galangal, and mushrooms. Twist the makrut lime leaves to bruise them and release their aroma before tearing them into big chunks and adding to the pot, discarding any big centre stems. Simmer for 5 to 7 minutes.
Add the tomatoes and cook for about 2 minutes, or just until the tomatoes are soft but still hold their shape. Turn off the heat and stir in 3 tablespoons lime juice. Taste and adjust the seasoning with more fish sauce, sugar, or lime juice as needed. You want it to lead with sour and salty. The sweetness is there for balance, but the soup should not taste distinctly sweet. Before serving, you can remove the herbs, as they are not meant to be eaten, though they are traditionally left in the soup. I like to remove only half to make it a little easier to eat while keeping the traditional look. Be sure to remind your guests not to eat them!
Garnish the soup with cilantro and serve with jasmine rice. The meat should be super tender and easy to pry off the bones with a spoon.
Boneless Chicken Tom Yum
If you don't want to navigate chicken bones while eating soup, I get it. You can opt to use 1 pound bite-sized pieces of boneless chicken thighs instead, but then you must use unsalted chicken stock instead of water. Without the bones, the meat will not give a rich enough broth and the soup will not be nearly as good.
---
Excerpted from Sabai by Pailin Chongchitnant. Copyright © 2023 Pailin Chongchitnant. Photographs by Janis Nicolay. Published by Appetite by Random House®, a division of Penguin Random House Canada Limited. Reproduced by arrangement with the Publisher. All rights reserved.
Discover more recipes.