Embracing a true "bean to bar" philosophy, world-renowned chocolatier Pierre Marcolini travels the globe to connect with other like-minded cacao enthusiasts and discover the purest ingredients for enhancing his exquisite truffles, macarons, and other confections.
"What I love about chocolate is its universal appeal," the Belgian says over the phone. "Whether Asian, American, or European, everyone can enjoy the fascinating flavours and complex aromatic qualities, such as spice, floral, fruit, and more. It's very interesting and challenging to work with chocolate because you have so many opportunities to create flavours. Inspiration comes from everywhere—and when you put all these inspirations together, you have thousands of possibilities of chocolate creation."
Well respected for his chocolate-making techniques, Marcolini is considered the first chocolatier to implement the "bean to bar" process, which is now used by many boutique chocolate houses worldwide. His legendary talents and dedication to quality have helped him become an industry icon. With tastes and textures ranging from light and airy to dense and spicy, his chocolates are known for their complex and layered palates.
In addition to his culinary expertise, Marcolini is the author of several books honouring the art of chocolate-making, including his recently-published Cacao: From the Cocoa Bean to the Chocolate Bar (February 2017). This hardcover volume contains a collection of 170 recipes featuring his favourite decadent desserts. Referring to book as his "baby," Marcolini says the recipes demonstrate to readers that it's not difficult to make their own delicious confections: "Through the book, I really hope people will discover all the diverse ingredients and wonderful creations you can make with chocolate."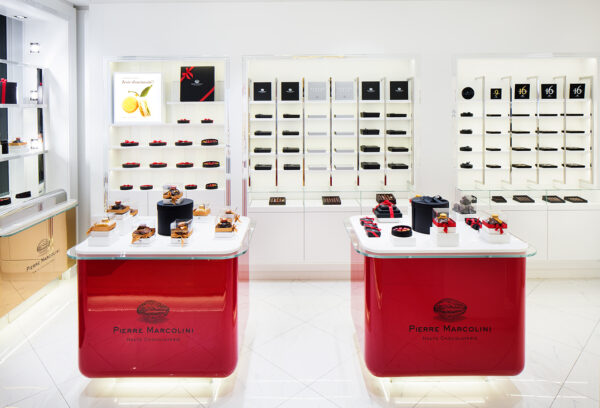 Demonstrating a deep passion for his craft, he sources beans directly from independent cocoa farms in Latin America—including Mexico, Venezuela, Cuba, and Peru—as well as other locations in Ghana, Madagascar, and Vietnam. Known for his high ethical standards, Marcolini is committed to paying well above market value for his beans—an unusually generous gesture in an industry that has not traditionally treated the growers fairly. By doing so, he supports the farmers and promotes sustainability.
Much like the wine-making process, cacao beans are strongly influenced by the type of soil in which they grow, as well as the weather conditions of their location. Marcolini says that he can't pick a favourite growing place, as he finds fantastic beans all across the globe—primarily because of the passion of the farmers who he connects with. "It's important for me to have to a personal relationship with all the farmers we are working with so they are involved in the entire process," he says. "When I find an exceptional bean, there are always exceptional humans growing them."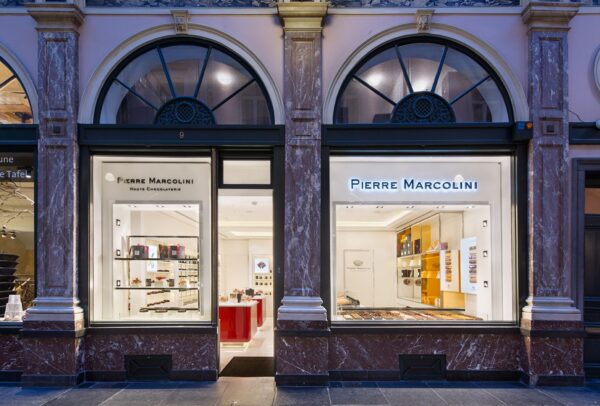 He also enhances the cocoa with other imported ingredients that elevate the taste of the beans, including Moroccan pink peppercorns, Iranian pistachios, and Tahitian vanilla, along with rose petals, bergamot, and lemons from Sicily, cinnamon from Sri Lanka, hazelnuts from Piedmont, and nougat from Montélimar.
Marcolini is the creative director of Maison Pierre Marcolini, which he founded in 1995. He is still involved in the entire process of chocolate production, which happens at his state-of-the-art workshop in Brussels, where the cocoa beans are grinded and roasted. Today, he has over 350 employees and 30 stores in a number of countries, including France, Britain, Monaco, China, and Japan.
Committed to excellence, Marcolini uses modern technology blended with traditional chocolate-tempering methods. "In order to produce the best flavours, we made our chocolate under very specific and precise conditions," he explains. "We find the exact temperatures for roasting and melting that bring out the optimal flavours from the bean and the chocolate."
Marcolini started working with chocolate as a young teenager, and his passion steadily grew over the years. "Growing up in Belgium, chocolate is part of our DNA," he says. "We have memories associated with chocolate from when we are very young, such as fresh bread with chocolate for breakfast. When you grow up, you discover and enjoy more complex flavours."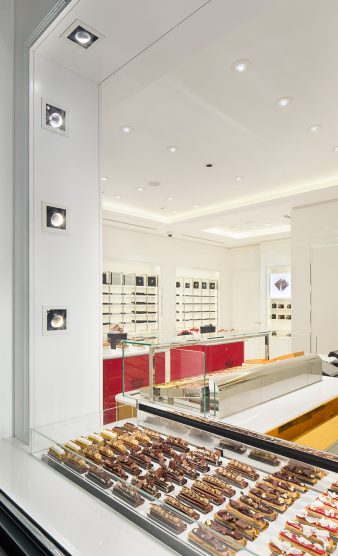 In addition to his deep respect for tradition, Marcolini is known for his artistic innovations. For example, for this Easter, he has introduced a brightly-coloured, Japanese-inspired collection that features an assortment of chocolate dolls, intricately-designed Asian fans, and eggs filled with an array of pralines. Too beautiful to eat. Almost.
In addition to whipping up chocolate delights, writing cookbooks, and travelling across the world, Marcolini hosts master classes on occasion, has collaborated with the likes of fashion design house Peter Pilotto, and even launched a recent seasonal beverage program with the Park Hyatt Paris-Vendome. The property's lounge-style restaurant, La Cheminée, currently features Marcolini's new 100 per cent natural chocolate beverage, called Belle à Croquer, which is available at the property until late spring.
Although he does not currently have any shops in North America, Marcolini reveals that plans are in the works for more stores, though there is no specific timeline yet. As for the future of chocolate as a whole? "There are more and more people today who are working from bean to bar," Marcolini says. "So I think we will be discovering some really interesting and authentic tastes in chocolate in the coming years."  
---
Dig in. Read more Food and Drink stories.