Angus An, the chef and owner of Maenam, Fat Mao Noodles, and Freebird Chicken Shack, shares his recipe for his favourite bowl of comforting quarantine noodles:
---
We often go out for pho as a family on Sunday mornings at Linh Café. It's become an unofficial tradition. Since the COVID crisis started, I have been cooking every day at home and enjoying every minute of it. I love preparing long braises and soups.
This was one of the first dishes I made during the first week of COVID closures. I think with the uncertainties that surround our society, I naturally gravitated towards a comforting dish. We had it for brunch that first weekend, and I have made it several times since.
Quarantine Oxtail Pho
Serves 6
Broth
4 lb oxtail
1 whole onion
6 star anise
1 cassia bark
1 tbsp whole coriander seeds
1 tsp whole clove
8 whole white cardamom pods
1 tsp whole black peppercorns
2 bay leaves
1 tea bag
1 whole carrot
3 whole spring onions
1 hand of ginger (roughly sliced)
150-200 ml fish sauce
8 litres water
Blanch the oxtail by covering with cold water and bringing it to a boil, discard the water, and rinse the oxtail. This frees the oxtail and the broth of impurities and blood coagulates. Cut the onion in half; burn the onion directly over open flame on a gas stove—the onion gives the broth body and colour. If electric stove or induction stove is used, burn the onion in a pan.
Combine all the spices into the tea bag; this ensures the spices stay together and can be fished out easily. Put it and all other ingredients in a heavy 10-litre pot; top with cold water. Bring the pot to a light boil and turn it down to a low simmer (no movements but small bubbles). Cover and simmer for 6-8 hours until oxtail meat is tender; I prefer almost falling off the bone.
Taste the broth and adjust seasoning if needed. If broth evaporates too much and becomes too rich, add a cup or two of water and simmer for 5 more minutes. A pho broth should be rich in flavour but light in body.
To serve
8-12 Vietnamese beef balls (optional)
1 lb pho noodles, frozen (I prefer this over the dried stuff)
1-2 lbs bean sprouts (depending on preference)
4 stalks green onion
Chili oil with paste
Handful of picked cilantro leaves
2 bunches Thai basil
Lemon or lime wedges on the side
Quarter the balls and simmer them with the broth. Thaw the noodles and separate into individual portions. In a pot of boiling water, simmer each portion of noodles with some bean sprouts in a noodle basket. Cut green onion into sections and lightly simmer them in the broth.
Ladle oxtail into a bowl with noodles and bean sprouts, and finish with broth. Garnish the broth with 1 tbsp of the chili paste with oil, cilantro, Thai basil, and serve.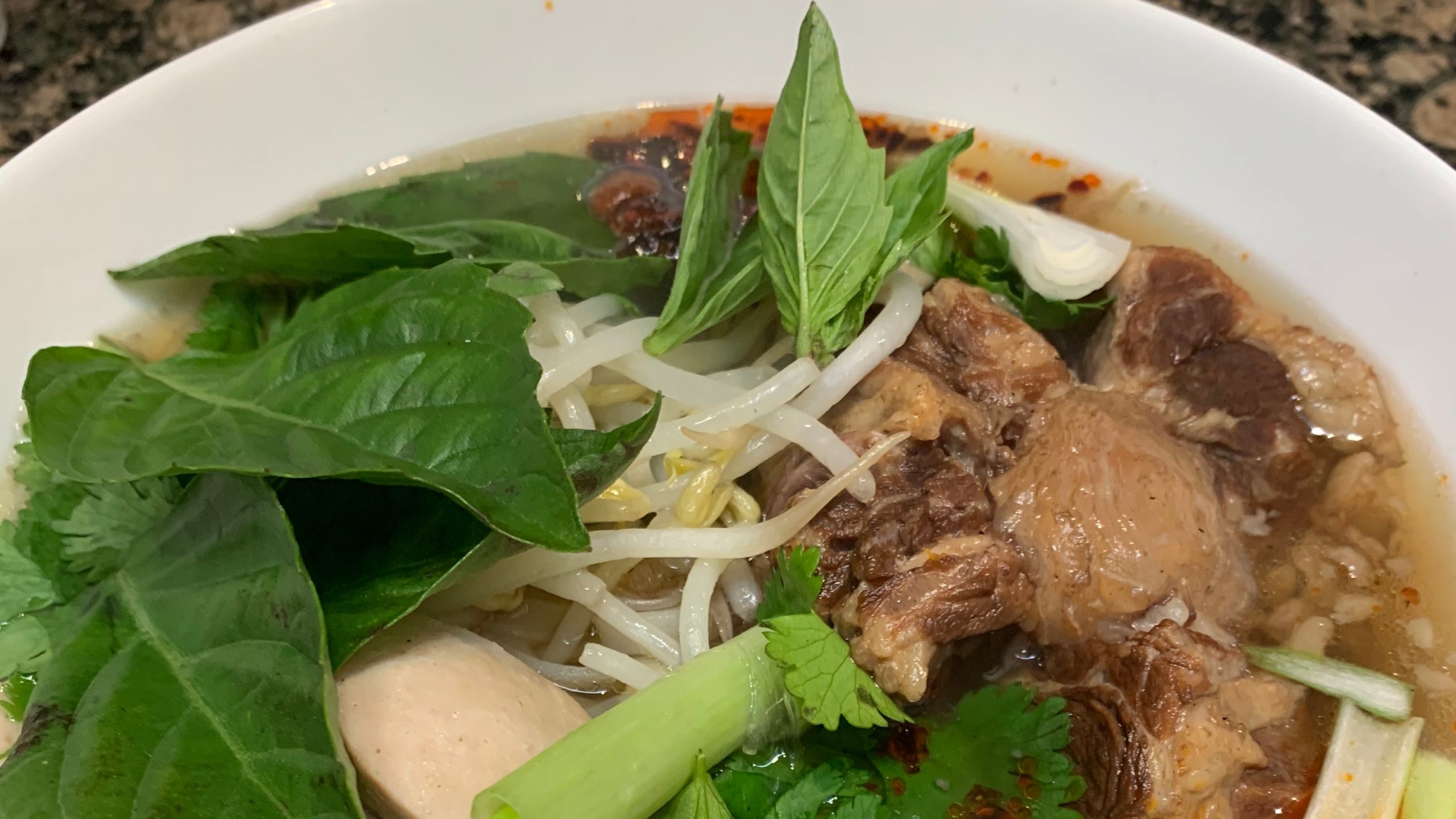 ---
Read more Food and Drink stories here.