TV personality Jillian Harris and dietitian Tori Wesszer grew up feeling more like sisters than the cousins they actually are. The B.C. residents' gorgeously photographed new cookbook, Fraiche Food, Fuller Hearts, is filled with simple, family-friendly recipes, many of which are plant-forward and easy to adapt to vegan versions.
---
Finding wholesome, hearty plant-based meals that are approved by everyone is not always easy. One day Jillian tried a vegan spin on gyros, a Greek dish traditionally made with roasted meat served in a folded pita. Rather than filling them with the traditional meat, Jillian decided to fill hers with roasted butternut squash, and they were an instant hit with her family! Both the kids and Justin loved these squash gyros, and they have since earned a permanent slot in their dinner rotation.
These gyros taste great with a side of classic chickpea hummus, and should you feel ambitious, try making pita-style flatbreads. Use hot paprika instead of sweet paprika to add heat to the gyros. Pepperoncini peppers will also do the trick!
Butternut Squash Gyros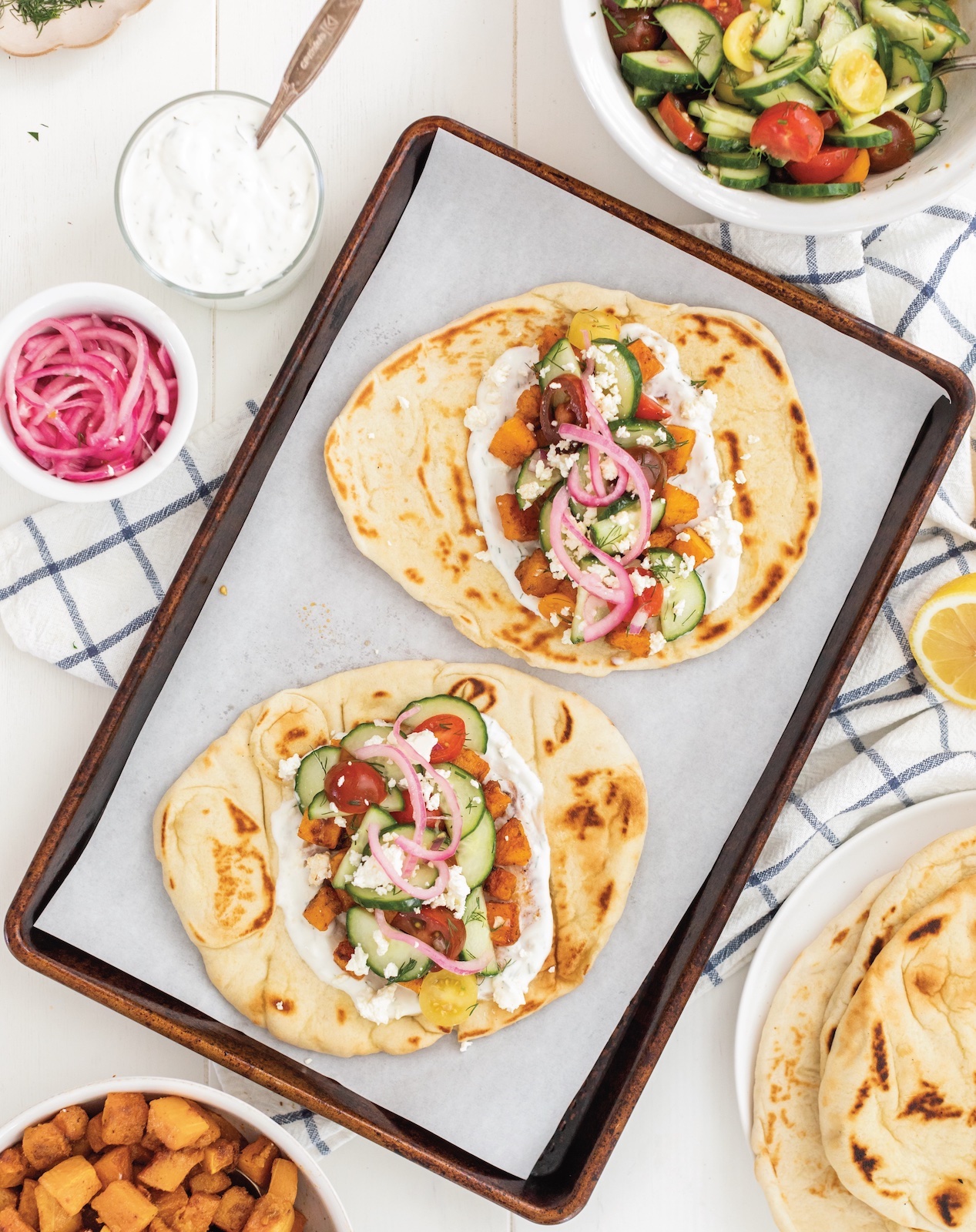 Vegetarian • Vegan option • Gluten-free option • Nut-free
Serves 4
Ingredients
Butternut Squash Filling
1 medium butternut squash (2½ pounds), peeled and cut into ½-inch cubes (6½ cups)
3 tablespoons avocado oil or vegetable oil
1 teaspoon ground coriander
1 teaspoon ground cumin
1 teaspoon garlic powder
1 teaspoon sweet paprika
½ teaspoon salt
¼ teaspoon pepper
Salad
1 English cucumber, diced
2 tomatoes, diced
2 tablespoons finely diced red onion
1 clove garlic, minced
2 tablespoons extra-virgin olive oil
2 tablespoons chopped fresh dill, plus more for garnish
1 tablespoon pickled red onion brine or white vinegar
Salt
Garlic Dill Sauce
1 cup plain full-fat Greek yogurt or non-dairy plain yogurt
2 tablespoons mayonnaise or vegan mayonnaise
2 tablespoons fresh lemon juice
4 cloves garlic, minced
1 tablespoon chopped fresh dill
Pinch of salt
For serving
4 large Greek pitas
Olive oil, for toasting
Quick pickled red onions (see below)
Feta cheese or vegan feta cheese, crumbled (optional)
Fresh dill
Method
For the squash filling:
Preheat the oven to 425°F and line a baking sheet with parchment paper.
In a large bowl, combine the squash, avocado oil, coriander, cumin, garlic powder, paprika, salt, and pepper. Toss to mix well. Spread the squash mixture evenly on the prepared baking sheet. Roast until the squash is golden brown and tender, about 30 minutes, tossing halfway through.
For the salad:
In a medium bowl, mix together the cucumber, tomatoes, red onion, garlic, olive oil, dill, and pickled red onion brine. Season with salt.
For the garlic dill sauce:
In a small bowl, stir together the yogurt, mayonnaise, lemon juice, garlic, dill, and salt.
Assembly:
Heat a dry medium nonstick frying pan over medium-high heat. Working with 1 pita at a time, drizzle a little olive oil on each side and heat in the pan until lightly toasted, about 1 minute per side.
In the centre of each pita, layer the roasted butternut squash, salad, garlic dill sauce, pickled red onions, and a sprinkle of feta, if using. Garnish with the dill and fold the sides together.
To make vegan: Use non-dairy yogurt, vegan mayonnaise, and vegan feta cheese.
To make gluten free: Use gluten-free Greek pitas.
Quick Pickled Red Onions
Makes 1 cup
Prep time: 5 minutes, plus 30 minutes setting
You are guaranteed to always find a jar of these in Tori's fridge! If you are looking for the perfect tangy, crunchy, flavourful addition to just about any dish, this is it. This simple staple is the best addition to tacos, burritos, burgers, salads, or truly anything your heart desires. Enjoy them in recipes like fish tacos, butternut squash gyros, or loaded hummus.
Ingredients
1/3 cup unseasoned rice vinegar
1 tablespoon sugar
1½ teaspoons salt
2 cups thinly sliced red onion
Method
In a medium non-reactive bowl (stainless steel, plastic, or glass), combine the vinegar, sugar, and salt. Whisk until the sugar and salt are dissolved.
Add the red onions, stir to combine, and let sit at room temperature for 30 minutes, tossing occasionally.
Transfer the red onions and the pickling juice to a mason jar. Seal with the lid and store in the fridge for up to 3 weeks.
---
Adapted from Fraiche Food, Fuller Hearts by Jillian Harris and Tori Wesszer. Copyright © 2023 Jillian Harris and Tori Wesszer. Photography by Rachelle Beatty. Published by Penguin, an imprint of Penguin Canada, a division of Penguin Random House Canada Limited. Reproduced by arrangement with the Publisher. All rights reserved. Discover more recipes.