The floods that overwhelmed the Fraser Valley in November have been devastating for the blueberry farmers of Sumas Prairie and the Matsqui Flats, many of whom lost crops, fields, and even homes. A thousand acres of blueberry plants were submerged, some of which will have to be entirely replaced in the industry's long road to recovery.
According to B.C.'s Minister of Agriculture Lana Popham, we can support our local industry by keeping demand for blueberries high, and choosing local B.C. berries at the supermarket. While fresh season won't return until summer, you can find B.C. blueberries frozen by looking for "cultivated" and "high bush" as well as "Buy BC" and "Product of Canada" on packages.
Aside from blueberry pie, blueberry muffins, or blueberry sauce, we reached out to the BC Blueberry Council for inspiration on eating local blueberries in winter. They sent us this creative recipe combining blueberries with savoury Italian flavours.
Savoury BC Blueberry Scroll Biscuits
Makes 12 scrolls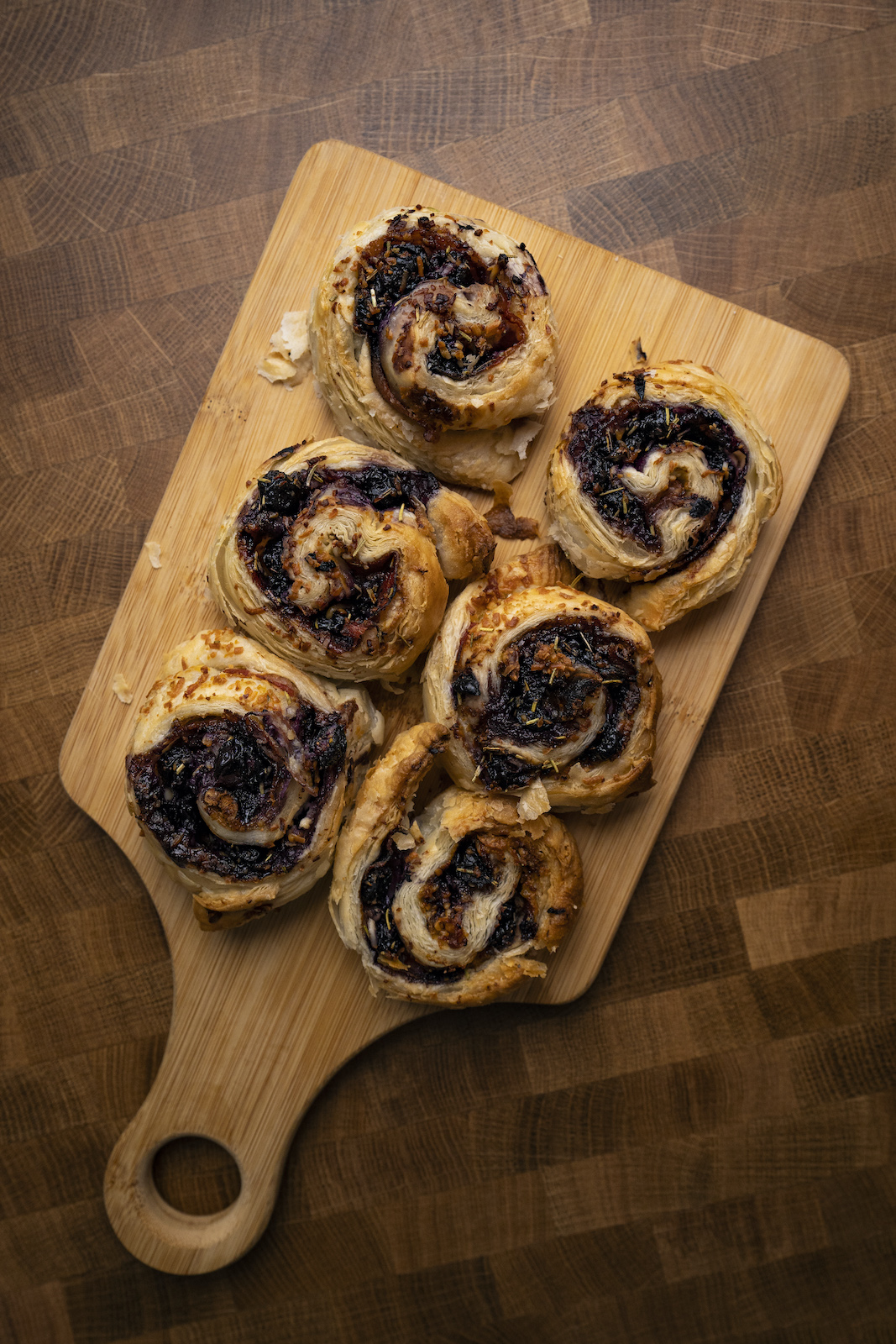 Ingredients
2 tablespoons roasted garlic, cooled and mashed into a paste (optional)
2 tablespoons all-purpose unbleached flour
1 sheet puff pastry, thawed (keep cold)
6 slices prosciutto or serrano ham (thin slices)
1 cup Asiago cheese, grated
¾ cup B.C. blueberries, fresh or frozen (do not thaw if using frozen)
1 tablespoon lemon zest, finely grated
2 teaspoons fresh rosemary, finely chopped (or substitute 1 teaspoon dry)
Method
Once the roasted garlic is prepared, preheat oven to 400°F with the oven rack positioned in the centre. Line a large sheet pan with parchment paper.
Dust 2 tablespoons of flour onto a clean surface. Roll out cold puff pastry, turning over to coat in flour, to form a 14-inch-square sheet.
Spread the roasted garlic evenly on the cold puff pastry. Arrange a single layer of ham slices, then sprinkle evenly with grated cheese, blueberries, lemon zest, and rosemary.
Roll the pastry into a cylinder and cut into 12, 1-inch discs.
Carefully transfer each disc to the lined sheet pan, lay them on their sides, and gently press down to flatten.
Bake in the centre of a preheated oven for 20–25 minutes until golden brown.
---
Discover more recipes.