East Vancouver's Fable Diner is known for taking classic, salt-of-the-earth diner food and kicking it up a notch. When TV chef Guy Fieri stopped in for a 2019 episode of his show Diners, Drive-Ins, and Dives, chef Josef Driemel served the homiest of dishes, meatloaf, finessed with duck gravy and fried onions.
Fable owner Ron MacGillivray says the diner's meatloaf includes nutmeg to round out the flavour of the meat, similar to the classic Québécois tourtière. The panade, bread moistened with milk, cream, or eggs, binds the meat and creates a delicate, moist texture.
At Fable, preparing this meatloaf is a two-day process⁠—chilled overnight then sliced and grilled the next day. Despite the time commitment, it's easy to cook and serve.
Fable Diner Meatloaf
Ingredients
3/4 cup peeled and diced shallots
3/4 cup large-diced carrots
1/3 cup chopped mushrooms
2 teaspoons crushed garlic, divided
Grapeseed oil
2 teaspoons kosher salt
1/2 teaspoon paprika
1/4 teaspoon nutmeg
1/4 cup barbecue sauce
4 teaspoons Worcestershire sauce
2 slices sourdough bread, diced
1/4 cup heavy cream
2 eggs
1 pound lean ground beef
1 pound lean ground pork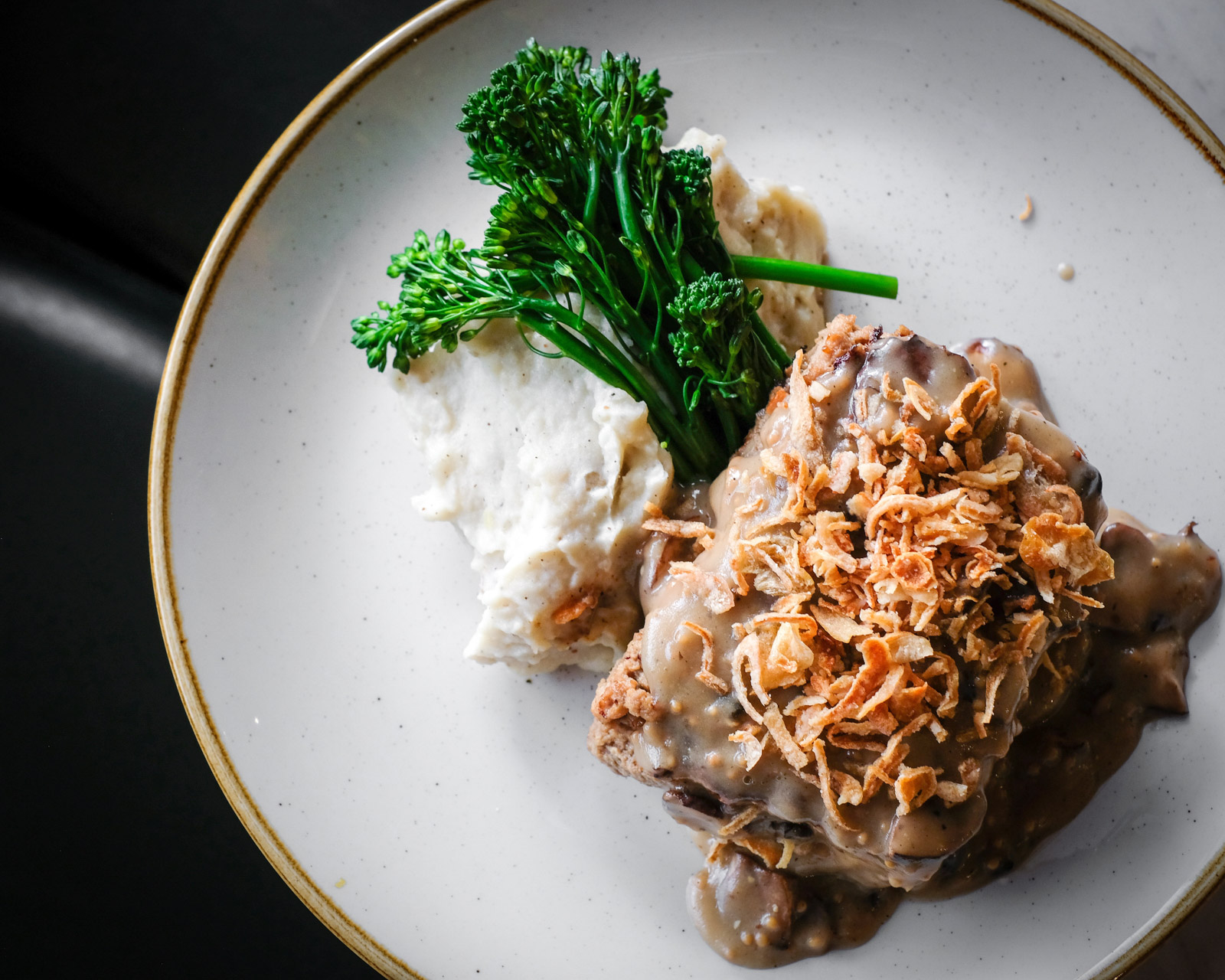 Method
Preheat the oven to 250°F.
Sautée the shallots, carrots, mushrooms, and garlic in a large pan with grapeseed oil. Add the spices and 1 teaspoon of the salt, and sautée for another minute. Add Worcestershire and barbecue sauces, and remove from heat.
Make the panade by mixing the bread, cream, and eggs in a blender or food processor until it forms a paste.
In a large bowl, season the beef and pork with the remaining 1 teaspoon of salt, and add the cooled vegetable mixture and panade. Mix vigorously until tacky.
Line a small loaf pan with parchment paper, and fill with the meatloaf mixture. Cover the pan with foil and bake for at least 1 hour, until the internal temperature reaches 165°F.
Allow to cool, then chill in the refrigerator overnight before reheating and serving. At Fable, we serve our meatloaf by browning slices on the grill, then plating with mashed potatoes, seasonal vegetables, duck gravy, fried onions, and blue-cheese butter.
---
Read more Recipes from local chefs.