Once a week for several months, a group of culinary entrepreneurs met at Café Medina after the popular Vancouver brunch spot had closed for the day. They sat around a small table, sharing bread and hummus, and discussed launching a new venture together. Middle Eastern food had been on all of their minds; but instead of competing against each other in the same market, they thought: why not collaborate?
Fast forward to today, and the product of those brainstorming sessions is Superbaba, a casual counter-service eatery in Victoria brought to you by Tacofino owners Jason Sussman and Ryan Spong; Café Medina owner Robbie Kane; Josh Carlsen and Mike Dawson of Tacofino Victoria; and Abdallah El Chami of The Dallah Menu. "We realized there are a lot of advantages to working together. There's less risk involved and more expertise in a lot of different things," El Chami says as he takes a break at the coffee shop a few storefronts over from Superbaba.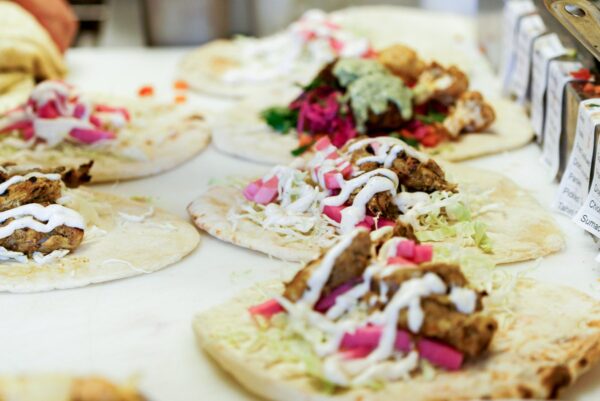 The restaurant opened on July 19, 2017 and sold out its first four days. For months before the doors opened, the floor-to-ceiling windows were plastered with signs that read, "This is not a Tacofino," creating intense curiosity about what would replace the much-loved Pig BBQ. Despite the frenzy of the opening weeks, El Chami is relaxed, praising the support and patience of the Victoria community. With authentic yet accessible flavours and artful presentations, the food is certainly worth the wait.
There is the fresh falafel bowl, which comes with rich labneh (strained yoghurt) and tahini, and in-house pickled turnips coloured with beets and crispy fried cauliflower (which diners may recognize from the cauliflower burrito at the Yaletown Tacofino). El Chami is especially proud of the pita bread—a marriage of West Coast and Middle Eastern grains—so also worth trying is the chicken kebab sandwich. The meat is spiced like a chicken shawarma, but cooked on the grill, and the wrap comes stuffed with shredded cabbage, pickled turnips, fries, and sumac mayo, which has that familiar garlic flavour without the unfortunate after-effects—a trade secret El Chami won't reveal. Creamy iced halva coffee belies its dairy-free nature, and dessert includes turmeric cookies and apple pie baklava. "The menu is a big collaboration," says El Chami. "There are a lot of techniques taken from Tacofino and a lot of influence from Medina. We all worked together to create accessible dishes that you could eat every day."
The name Superbaba comes from the cliché way in which some shawarma shops describe their offerings ("super falafel," for example) and "baba," which means dad in Arabic and is also a term of endearment that transcends cultures. "There's a familial feeling to the word and that's what we wanted to create," El Chami explains. The kitschy-cool atmosphere reinforces that level of comfort with an old-school diner feel complete with neon signage.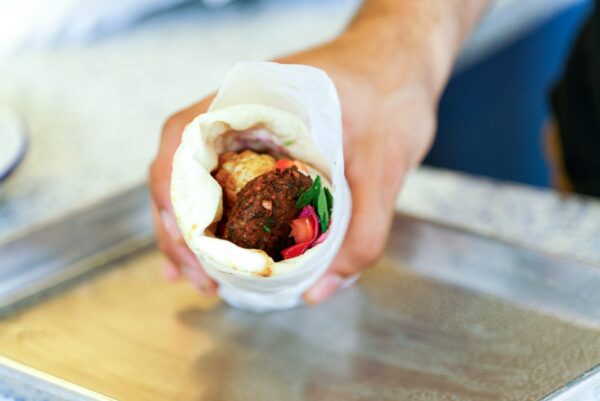 El Chami has fond memories of gathering around his grandparents' harvest table in Lebanon, where family members and neighbours would pop in to enjoy lively meals together. Last summer, before Superbaba was even in the works, El Chami felt a pull back to his ancestors: he quit his job in the tech sector and went to Lebanon for six weeks to research traditional countryside food, learning from his mother and other women in the community. "I was trying to learn as much about the history of the food as possible," he says. "I needed to get reacquainted with the food, with my roots."
That trip also included a stopover in Copenhagen, where El Chami worked at famed taqueria Hija de Sanchez, earning him street food cred with the Tacofino folks he had yet to meet. Upon his return to Vancouver, Tacofino's Ryan Spong showed up at one of his The Dallah Menu pop-ups (which he had been running while working in tech) and they started chatting about a Middle Eastern concept. Soon after, Robbie Kane of Café Medina contacted El Chami about doing a pop-up in his restaurant (fittingly, the connection was made through their chickpea supplier) and they also ended up discussing a Middle Eastern eatery. Great minds think alike, as they say.
But El Chami doesn't sugarcoat it—with any group of passionate people working together, there's going to be friction, but it's all about harnessing that energy to put forward the best food and the best experience, he says: "Having restaurants work together, having people work together, we really need it because we don't do it enough."
---
Taste more from our Food and Drink section.