Early one mid-September morning, a flatbed truck loaded with a crane is hoisting letters, one by one, up and onto a building where they are then affixed. Altogether, the letters come together to spell something very exciting: Two Rivers Meats.
This is where the company's new retail shop, restaurant, and deli is now open, just off First and Fell in North Vancouver, at 180 Donaghy Ave. Dubbed The Shop, the space is quite large, at 2,500 square-feet, with plenty of display room. The cases are strictly temperature and humidity controlled, and custom-made by Arneg, a world leader in the sector. There are two large freezers as well, and an expansive curing rack room in which dozens of beef cuts are already hanging, aging just the right amount. (In fact, one team member looks after the rack room full-time.) There is also a curing chamber for the house-made charcuterie, including several different types of sausages.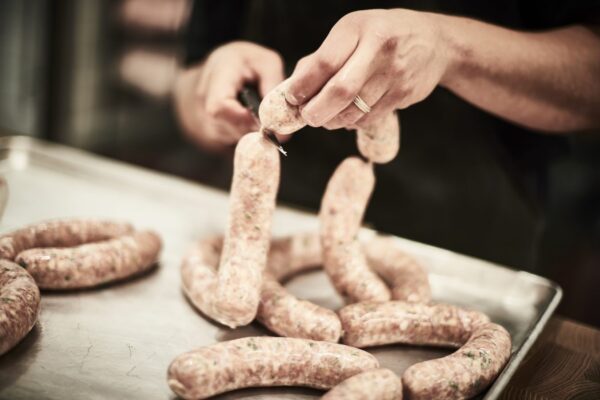 The kitchen, with its industrial Garland stove, small rotisserie, and wood-fired grill, is poised to please virtually any palate. Chef Tony Starratt is today testing out the rotisserie with three ducks, which are already sending out irresistible aromas. "We can do just about anything here," he says. "It is going to be a great place to stop in, enjoy a meal or a snack, and of course shop." For years now, Two Rivers has supplied some of the Lower Mainland's best restaurants with the finest locally-raised meat. But it is only now, thanks to The Shop, that consumers can buy steaks and breasts and sausages to cook up at home.
Two Rivers was founded in 2007 by husband and wife Jason and Margot Pleym. Margot's family have been cattle ranchers in the Pemberton Valley for decades at Pemberton Meadows Natural Beef, and she and her husband continue this tradition today, ensuring, in the process, that Two Rivers has a consistent supply of ethically-raised, wholly natural beef.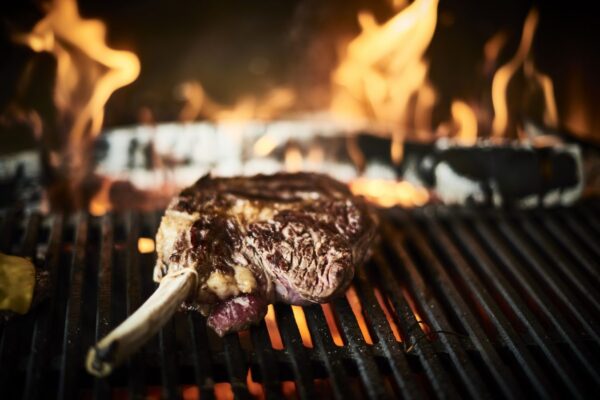 Aside from Pemberton Meadows, the company also works with such worthies as Yarrow Meadows Farm, Thiessen Specialty Poultry, Peace Country Lamb, Canadian Rangeland Ranch, Small Batch Farms, and Hog Wild, each one partaking in the highest levels of ethics and organics in their operations. This means antibiotic-free, hormone-free, and ethically-raised meats, with no animal byproducts, across the board. "Part of what we are doing is supporting a local, ethical set of producers," says Jason. "We know, as ranchers ourselves, how difficult it can be to make a simple living at this. So, knowing you have a market to sell to is such an important part of it."
Head butcher Pasqual Stufano, who has worked previously at places including Armando's on Granville Island and Sebastian and Co. in West Vancouver, is excited about the opportunities for variety at The Shop. "Here we do seam butchery, which is a lot more work, but it means we can offer some really exotic cuts of beef—with tremendous flavours—that are not only the rib-eyes and tenderloins," he says. "We can give you a lot of great options." Indeed, Two Rivers cuts run the gamut, and they taste decidedly above average, with discernable tenderness, freshness, and flavour. As such, The Shop is a destination. And even if you find the array of possibilities somewhat bewildering, you will be in very good hands, getting just the right meat for your evening dinner, or for that weekend battery of guests you want to impress.
---
Follow our latest in Food and Drink.