The Vancouver rains have begun in earnest, and as we sit inside and watch the winter mist close in, it's natural to reach for something warming and nourishing to sustain us through the darkness. We asked chef Chris Lam of Vancouver's Straight and Marrow restaurant for his techniques for preparing a comforting bone broth. Lam's background in fitness training and nutrition, and his beak-to-tail approach to cooking with meat, bones, and organs, make him the perfect source for a nutritious sipping broth. 
---
A good bone broth can be both nourishing and restorative, as well as quite delicious. It is packed with nutrients⁠—including protein, collagen, and minerals.
The secret to a good bone broth is to extract as much flavour and nutrients from the bones as possible. It is best to use collagen-rich bones such as beef knuckle and to cook the broth longer than usual.
This is my personal recipe; it's great for everything from sipping to soups, and much cheaper than from the store. I typically use beef bones, but chicken works as well. For a chicken bone broth, whole chicken carcasses and wing tips are ideal. I keep this broth very basic and adjust seasonings depending on how I use it.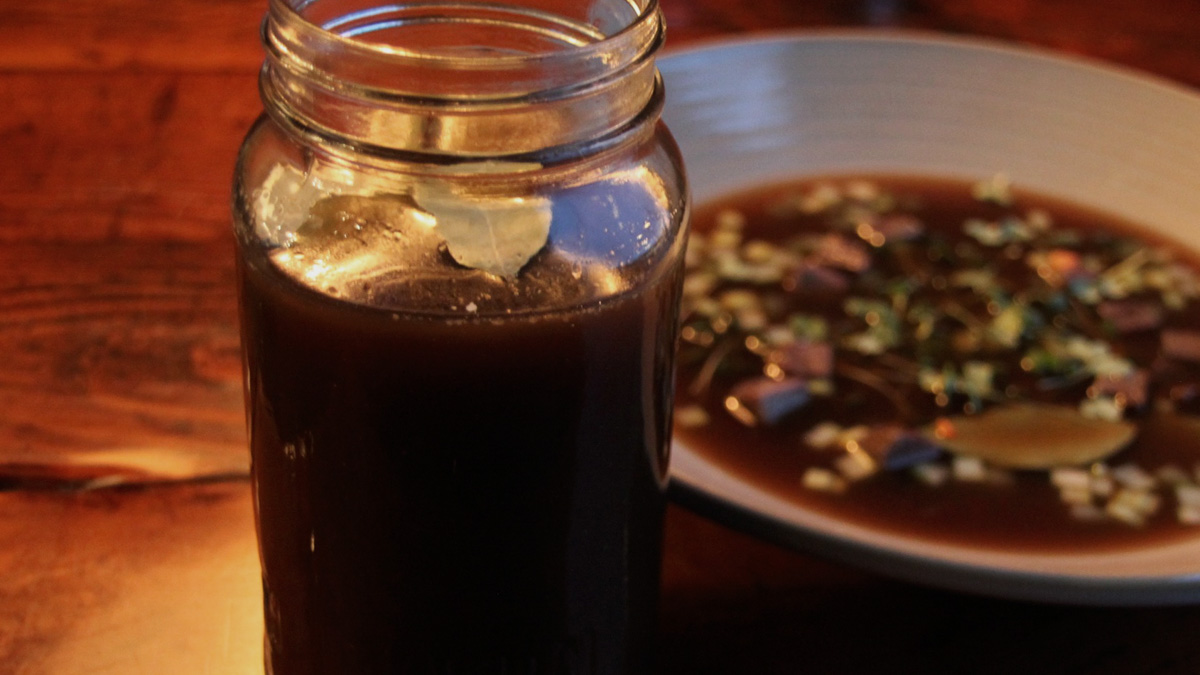 Chris Lam's Bone Broth
Ingredients
2 pounds beef marrow bones
1.5 pounds beef knuckles
1 large carrot
1 yellow onion
1 tablespoon black peppercorns
4 bay leaves
5 garlic cloves
1/2 cup white wine
1 lemon
1 tablespoon apple cider vinegar
2.5 tablespoons salt
Method
To prepare the bones for cooking, cover them with cold water and add 2 tablespoons of salt. Soak in the refrigerator for 12 hours. This removes blood and impurities. Some prefer to blanch the bones instead, but I find that soaking reduces nutrient loss.
After 12 hours, remove the bones and rinse them. Dry the bones with paper towel before placing in a roasting pan. Roast the bones at 425°F for roughly 35 minutes, until golden brown, turning them after 15 minutes. Remove the bones and place in a large stock pot.
Quarter the onion and carrot, and add them to the roasting pan, along with the peppercorns, bay leaves, and garlic. Roast at 425°F for another 10 minutes. Remove the roasting pan and deglaze by adding the white wine. Use a wooden spoon to scrape off all the brown bits⁠—they are packed with flavour that you will want in your broth. Now place all contents from the roasting pan into your stock pot.
Add water to the pot until the bones are barely covered (about 14 cups). Halve the lemon and add along with the remaining 1/2 tablespoon of salt and the apple cider vinegar. The apple cider vinegar will help break down the collagen in the bones.
Bring the broth to a simmer, making sure it never boils. Simmer the broth for 12–16 hours. Add water to keep the bones barely covered as the broth reduces, and skim off foam every couple of hours for a cleaner taste.
When the broth is done cooking, strain it through a fine mesh strainer or cheesecloth. Refrigerate for 4 hours or until completely cooled. The broth will split into a hard layer of fat with the broth underneath. Remove the hard fat layer and reserve⁠—it's great for cooking. The broth can be stored for 5 days in the refrigerator or up to 6 months in the freezer.
---
Read more Food and Drink ideas from local chefs.